College Football: The 5 Coolest Uniforms Heading Into 2015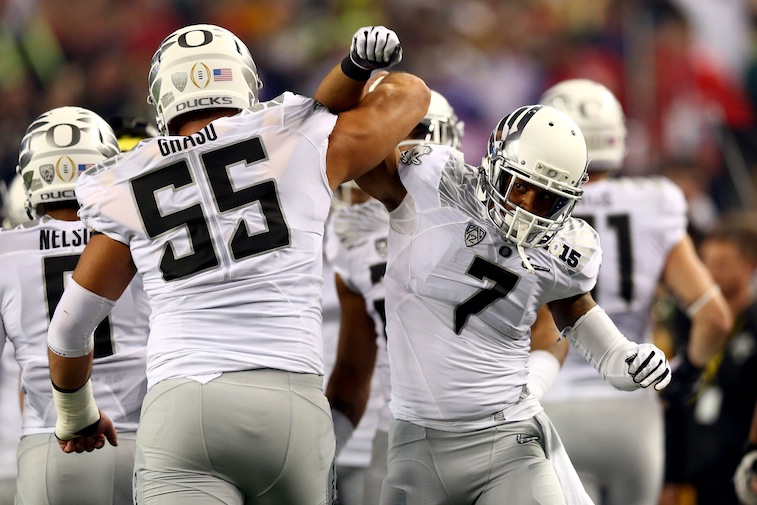 We love college football.
We love how players battle for pride, bragging rights, tradition, and each other. We love the rivalries between universities and we love the season-long quest for the Heisman Trophy. We get excited just thinking about it.
But one thing that makes college football stand out in the sports universe, is how most teams are constantly making alterations to their uniforms. As it is with the team they put on the field, schools are always looking to make improvements. And trust us, when it comes to the small details of the uniforms, players, recruits, and fans of the game all take notice.
Very few people take it as seriously as Paul Lukas and the Uni Watch team. In fact, in order to make sure that fans of the game stay informed about the gear changes throughout college football, they make it a point of emphasis to do a "uniform-based" preview for the upcoming season. It's pretty cool — and definitely worth your time.
According to Uni Watch roughly 80 of the 128 FSB made some sort of alteration to their uniforms heading into this upcoming season. That's a lot of change. And while not every move was made for the betterment of the team's overall look, some adjustments were super cool.
So with the 2015 college football season about to kickoff, here's a look at the five uniforms that stood out among the rest.
1. Miami Hurricanes
Miami's primary looks for this season. pic.twitter.com/R6GnrUEucU

— Paul Lukas (@UniWatch) August 17, 2015
With the Miami Hurricanes switching from the Nike swoosh to the three stripes of Adidas, it was only a matter of time before we got to see what kind of uniforms this team had in store for the upcoming season. And based on this fresh gear, it's clear the U is ready to run its "metallic stripes" all over the opposition. The highlight of these duds, is the new "treadmark"pattern featured on both the jersey and pants — it's super sleek. Will the Hurricanes win the ACC this year? We don't know. But they'll look good trying.
2. North Carolina Tar Heels
The major change in UNC's new uniforms/rebranding is argyle on the fball helmets/uniform trim: http://t.co/zDPNbKYNZk pic.twitter.com/QaUKkF8raA — CarolinaBlue.com (@CarolinaBlue247) April 21, 2015
The Tar Heels of North Carolina are not predominantly recognized for their skill on the gridiron. However, with the university's decision to make the argyle pattern a focal point of the football team's uniform, we expect this group will certainly garner its fair share of attention. If nothing else, you have to applaud UNC's attempt to remain stylishly relevant.
3. Army West Point Black Knights
Unmatched tradition. Unwavering strength. @ArmyWP_Football takes a fast step forward. http://t.co/rZtTK4KcMQ pic.twitter.com/VdLTmaD4G5

— Nike Football (@usnikefootball) April 14, 2015
It's clear that Army meant business when it looked to rebrand its entire athletic department. Through its collaboration with Nike, West Point made sure to craft uniforms that paid tribute to the rich history of the Army, while also emphasizing overall strength and power. If the intention was make sure all Army football players looked like fierce warriors, we'd say it was a resounding success. Mission accomplished.      
4. Syracuse Orange
Have wanted SU to go Orange top and blue pants since I got here. Looks like it is happening this fall. @PhilHecken pic.twitter.com/Kg47YuOiVN

— Seth Goldberg (@sethgoldberg17) March 23, 2015
While we aren't exactly fans of Syracuse's decision to unretire the No. 44 jersey (and neither is Jim Brown), we can't fault the university's new uniform choice. These duds are sweet. We love the use of predominantly solid colors. We also love how the orange jerseys look when paired with the all blue bottoms. No matter the outcome on the battlefield, these new uniforms are a big win for Syracuse. 
5. Michigan State Spartans
Michigan State Nike Mach Speed Uniforms @CHADO_55 @MSU_Football pic.twitter.com/lRXJpYW6lu — JuCo Football Forer (@JuCoFootballACE) July 26, 2015
With Heisman Trophy candidate Connor Cook back under center this season, expectations have never been higher for Michigan State. And with their new uniforms heavily centered on Greek-themes, the Spartans appear more than ready for a fight. Nothing screams strength, focus, and college football, quite like Nike Mach Speed innovation uniforms. We can't wait for Michigan State to suit up and get its battle on.
To see the the rest of the uniform tweaks for the upcoming college football season, courtesy of the "2015 Uni Watch college football preview," click here.