College Football: The 5 Top Performers From Opening Night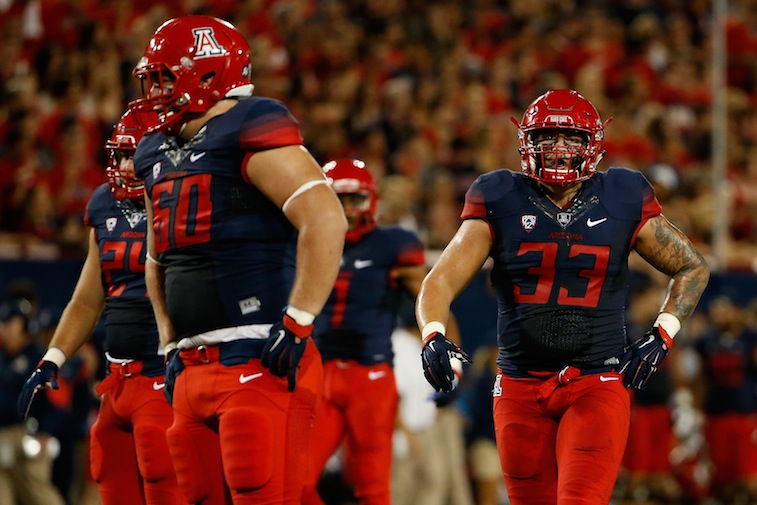 Thursday night marked the start of the 2015 college football season. And with it, we were once again reminded of how much we love this sport.
Pride, passion, and total commitment to the team above all else. These are just a few examples of what makes college football truly special. Regardless of which game you happened to tune into on Thursday night, you were able to witness each of these things on full display. And just think, we have only just begun.
While we have no doubt the games this season will continue to get more intense and competitive, there were still a few individuals who took the opportunity to make a statement on opening night. If you weren't fortunate enough to catch these players in action, no worries. We've got you covered.
Therefore, in honor of the kickoff of the 2015 college football season, here's a look at the five top performers from opening night.
1. Skai Moore, linebacker, South Carolina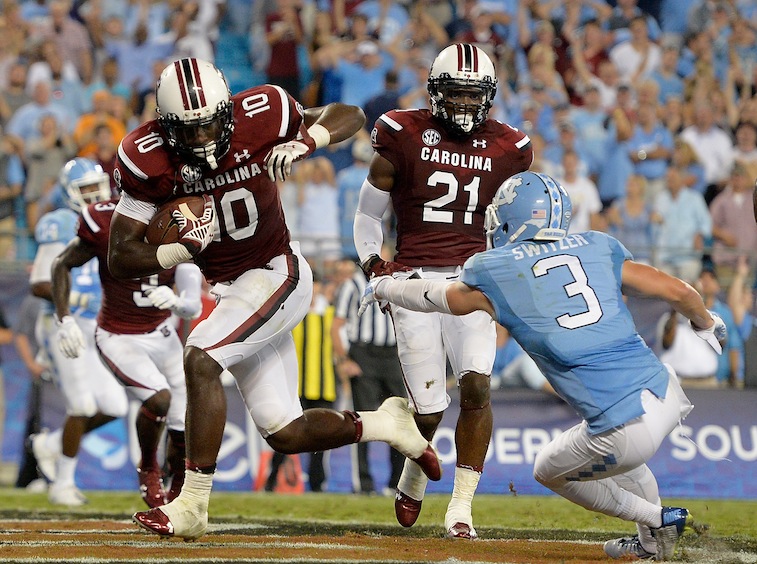 It wasn't a pretty win for Steve Spurrier and the South Carolina Gamecocks, but they still managed to hold on to defeat the North Carolina Tar Heels by a score of 17-13. As this was clearly not an offensive shootout, the night's game ball had to go to someone on the defensive side of things. Cue South Carolina's junior linebacker Skai Moore, whose interception in the end zone late in the fourth quarter helped seal the win for the Gamecocks. We should mention this Moore's second interception of the night — the other one also taking place in the end zone. What a beast.
2. Travis Wilson, quarterback, Utah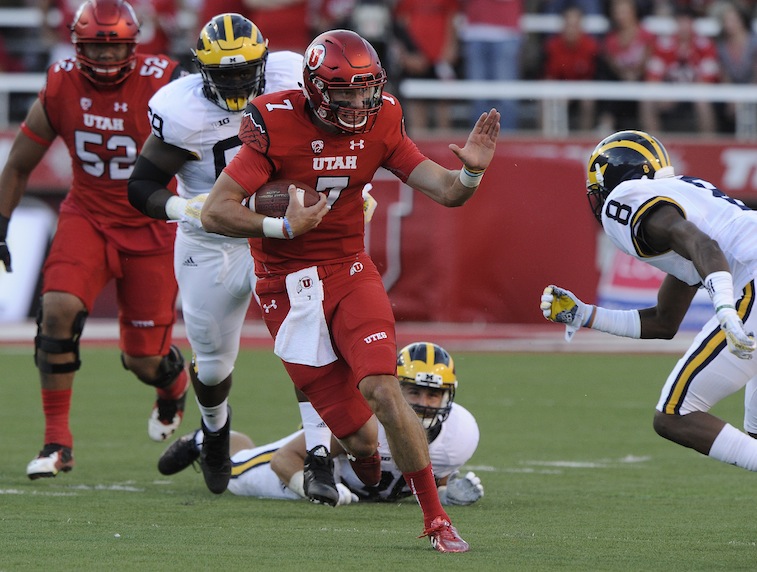 Led by senior quarterback Travis Wilson, the Utah Utes managed to slow down the Jim Harbaugh hype train — for at least one night, anyways — defeating the Michigan Wolverines 24-17. While there wasn't anything exceptionally flashy about Wilson's numbers (24 for 33, 208 passing yards, one interception; 53 rushing yards and one touchdown) you have to give the senior credit for remaining calm throughout this entire game. His job was to limit mistakes and keep the Michigan defense honest. Mission accomplished.
3. John Wolford, quarterback, Wake Forest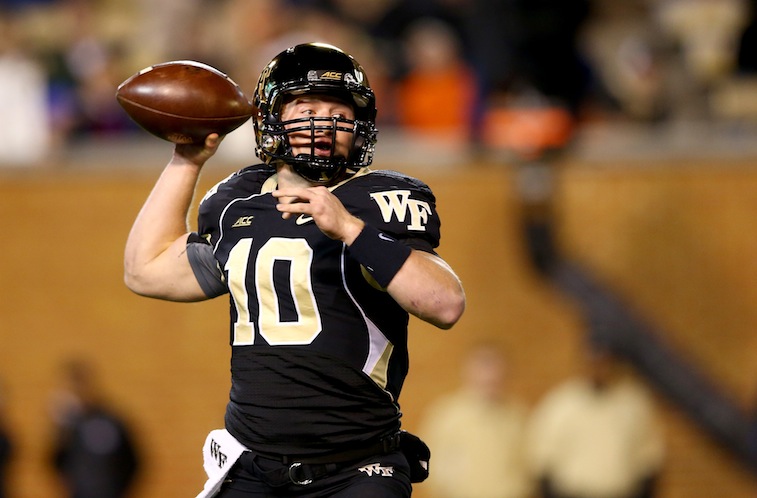 If you're not one to put much stock into a performance where an FBS team throttles an FCS opponent, then you probably won't feel the need to give Wake Forest quarterback John Wolford his due. But game recognizes game, and Wolford had himself a game.
In the Demon Deacons' 41-3 beatdown of Elon, the sophomore QB amassed 323 yards in the air and three touchdowns on 20 of 27 passing. Wolford also added a 70-yard touchdown run for good measure. It won't be long before we learn whether or not he can do this against better competition. However, for right now, second-year head coach Dave Clawson has to like what he's seen so far from No. 10.
4. Anu Solom0n, quarterback, Arizona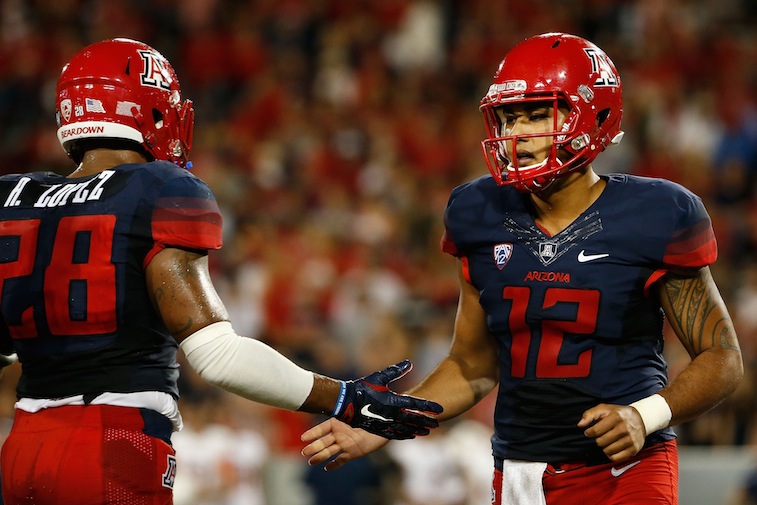 The No. 22 ranked Arizona Wildcats managed a 42-32 victory over Texas San Antonio, but they weren't able to come out of their opening contest completely unscathed, as Scooby Wright III left the game in the first quarter with a knee injury.
While Rich Rodriguez and company wait on the MRI results that will tell them the fate of their all-everything linebacker, at least the coach can find comfort in knowing that quarterback Anu Solomon is off to a blistering start in 2015.
The sophomore QB threw for 229 yards, four touchdowns, and no interceptions. The Wildcats' season will hinge on whether or not Wright can continue. Yet, at least the team is aware that their young quarterback is ready to take care of business. That has to feel good.
5. Marcus Marshall, running back, Georgia Tech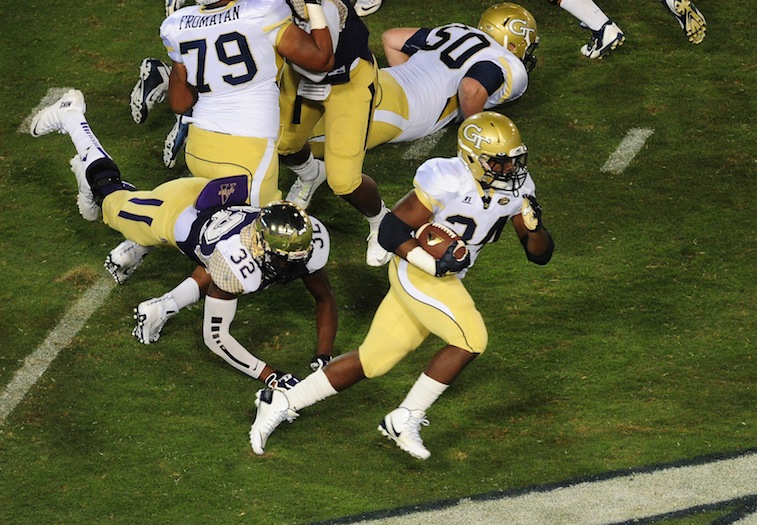 There was no doubt that Georgia Tech was going to defeat Alcorn State. The only question was, by how much? The Yellow Jackets were up 34-0 after the first quarter. By halftime, the score was 48-0. In the end, the final score was 69-6. Not much of a nail-biter. Of course, that doesn't mean certain individuals didn't shine. They did. Especially running back Marcus Marshall.
Playing in his first-ever collegiate game, the 5-foot-1o freshman scorched Alcorn State's defense to the tune of 184 rushing yards. Grante, Marshall wasn't perfect on the night. He did lose a fumble. However, he more than made up for his mistake by scampering for touchdown runs of 49 and 64 yards respectively.
No. 16 Georgia Tech was far from tested on opening night. Eventually, they will be. That's a fact. Here's another one: Marcus Marshall has arrived. You better believe it.
All statistics are courtesy of SR/College Football and ESPN.go.com.