College Football: The Top 5 Player Performances From Week 3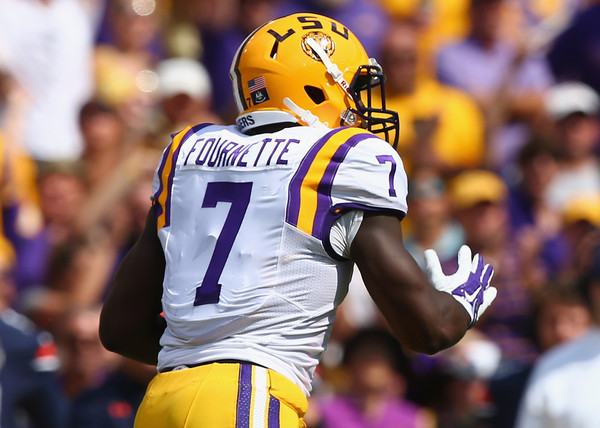 Players that are dominant in college football (or any sport, for that matter) usually have one trait in common that allows them to stand above most of their competitors — they can put their team on their back and carry them to victory. Great athletes know when the moment is big and when they need to be at their absolute best. When they sense this moment and pull it off successfully, it's almost as if they become superhuman.
This past weekend, several players around the nation showed how good they can be by having huge performances. These players played critical roles in their team's success while owning the prime time highlight reel.
With that, here are the five most dominant performances from week three of the college football season.
5. Aaron Burbridge, Michigan State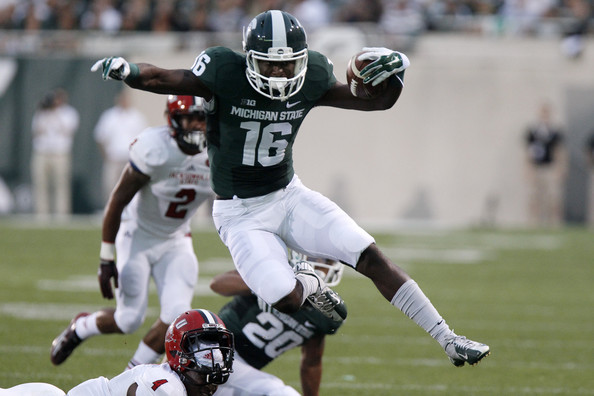 The Michigan State Spartans jumped all the way up to No. 2 in the AP poll after their victory on Saturday with their crushing performance (coupled with an Alabama loss). They handily won a contest that they were supposed to win against Air Force, winning by what felt like more than 14 points. Even though they played so well, had they been without a dominant wide receiver, things could have been different.
Aaron Burbridge lit the Falcons' secondary up on Saturday to the tune of 156 yards on eight receptions with three touchdowns (all of which were 21 yards or longer). Burbridge showcased his big play-making ability with an average reception of 19.5 yards. The senior receiver has played well all season for the Spartans, going over 100 yards in each of their first three games.
For a Michigan State team that prides itself on playing tough defense, having a great weapon on offense like Burbridge to assist the play of QB Connor Cook makes the team terrifying. Burbridge could turn out to be one of the best receivers in the nation if he keeps this level of play up.
4. Baker Mayfield, Oklahoma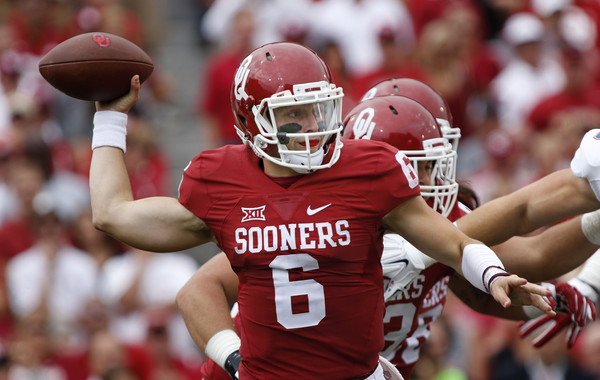 Coming into the season, the Oklahoma Sooners' offense was supposed to run through Heisman-hopeful running back Samaje Perine. Perine had a great season in 2014 and showed signs of being as good a running back as the Sooners have had since Adrian Peterson, so it made sense. Their junior quarterback, however, is proving that he too is a big part of this attack.
Baker Mayfield played some simply outstanding football against Tulsa this weekend, going 32 for 38 (84.2%) for 487 yards and four touchdowns (along with a total of 572 yards of offense), leading Oklahoma to a 52-38 victory. Sure, these stats came in a shootout. Sure, these stats came against a suspect Tulsa defense. None of that takes anything away from Mayfield's performance, however. A transfer from Texas Tech (where he was Big 12 Offensive Freshmen of the Year), Mayfield has remade himself with this Sooners' team and is now a part of one of the most dangerous offenses in the country.
Perine was great on Saturday as well (152 yard, 1 TD), but if Mayfield keeps playing like this, he will be the one competing for the Heisman by the end of the season.
3. C.J. Prosise, Notre Dame
Thinking about teams that really needed someone to step up in week 3, few teams ranked above the Notre Dame Irish. The injuries had piled up and the schedule was getting tougher, with Georgia Tech on deck. Everything could have went swirling out of control had the Irish lost this weekend. Their stud running back wasn't going to let that happen.
C.J. Prosise came to play against the Yellow Jackets, running 22 times for 198 yards and three utterly crucial touchdowns. His performance led Notre Dame to a clutch 30-22 victory, keeping the team's record perfect in what was its toughest test of the season. Georgia Tech came in ranked 14th with a brilliant rushing attack of its own, seeming like a prime opponent to take advantage of an undermanned squad. Prosise truly put the team on his back.
Each college football season has defining "Heisman" moments for several players. Prosise had his with this performance. Few players mean as much to their team as Prosise does to the Irish right now. He seems more than capable of owning that role.
2. Trevone Boykin, TCU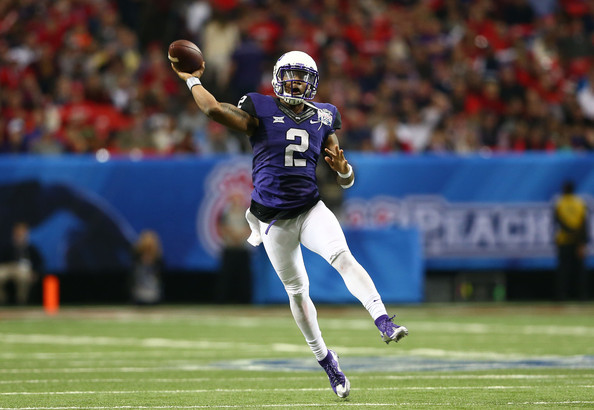 People may have forgotten that TCU is a top 3 team this season. Sure, with a lot of the focus on those SEC schools, it makes sense that the Horned Frogs have fallen under the radar. They also haven't played a true marquee opponent yet, which doesn't help. Still, this is an extremely talented club that will be right in the mix for a playoff berth at season's end. The Heisman-favorite QB proved that he is ready to lead the team there with his dynamic performance in week three.
Trevone Boykin feasted on the SMU Mustangs' defense on Saturday, tossing for 454 yards and five touchdowns. The Mustangs kept things decently close going into the fourth quarter of this one, so Boykin needed to play huge to give his team the best chance to win. That's exactly what he did. After SMU cut the lead to five midway through the fourth, Boykin connected with Josh Doctson (who also played big) for a critical 42-yard score, putting the game on ice.
There is no questioning just how important Boykin is to the Horned Frogs. He gives them a chance to win each week and keeps them relevant in the national picture. When he plays like this, TCU is nearly impossible to beat. If he keeps this up and gets his team into the playoff, a Heisman trophy could be on his mantle.
1. Leonard Fournette, LSU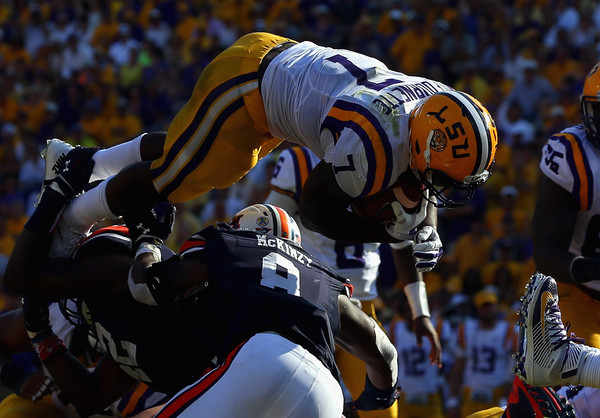 LSU had everything to gain and everything to lose this weekend. It was going up against an Auburn team that many people had given up on, which can be a difficult thing for an opponent to deal with. A win would propel LSU into the upper tier of the nation. A loss would almost surely crush all of its preseason aspirations. Luckily for LSU, one of the best (if not the best) running backs in the nation plays on its team.
Leonard Fournette ran like a crazed animal against Auburn, compiling 228 yards on just 19 carries with three touchdowns. Simply put, he looked like man amongst boys on Saturday. Auburn had no answer, and Fournette literally ran over them at times. His performance led LSU to a completely dominant victory in Baton Rouge, propelling them to a fresh top 10 ranking.
As a sophomore, Fournette is the heart, mind, body, and soul of this LSU offense. Its passing game is questionable, but with the ability of this running back, who needs a passing game? Fournette's talent gives the Tigers a chance to develop their aerial attack while continuing to win. There might not be a more vital player to one team than Fournette is to LSU. His Heisman-caliber season is already well in the works.