College Football: Top 7 Favorites to Win the Heisman Trophy
As the calendar reaches mid-September, it's time to take a look at the updated odds for college football's most prized individual award. Here are the seven players most likely to win the Heisman Trophy, according to Bovada's odds.
Will it be a quarterback again in 2014? A running back? Can Jameis Winston repeat? Or will the nation's most powerful conference, the SEC, produce its most outstanding player this season? Three of the seven players with the best odds to win come from that league. Here's the list, along with the Bovada numbers, moving from worst odds to best.
Nick Marshall: 16/1
One of three players with identical 16/1 odds to take home the hardware, Auburn quarterback Nick Marshall is hoping to parlay a strong junior season into even greater things in 2014. Marshall led the Tigers to the BCS championship game in his first year running Gus Malzahn's offense, and the junior college transfer may very well do the same thing this time around.
Marshall finished the 2013 campaign with over 3,000 yards of total offense, including more than 1,000 on the ground. So far in 2014, his numbers aren't eye-popping, but he also hasn't played four quarters in the same game yet either.
Everett Golson: 16/1
The next Heisman candidate is also a quarterback that finished his most recent season as a national runner-up. Notre Dame's Everett Golson missed all of 2013 due to an academic suspension, but is picking up on the field where he left off the year before. Golson ranks second among starting quarterbacks in Irish history for winning percentage, and has accounted for eight total touchdowns in a pair of 31-point wins this season.
With the prestige of playing quarterback at Notre Dame, Golson is certain to receive consideration for the Heisman if he can continue to tie touchdowns and wins together. Taking care of the ball has helped him succeed, too; Notre Dame hasn't committed a turnover yet in 2014.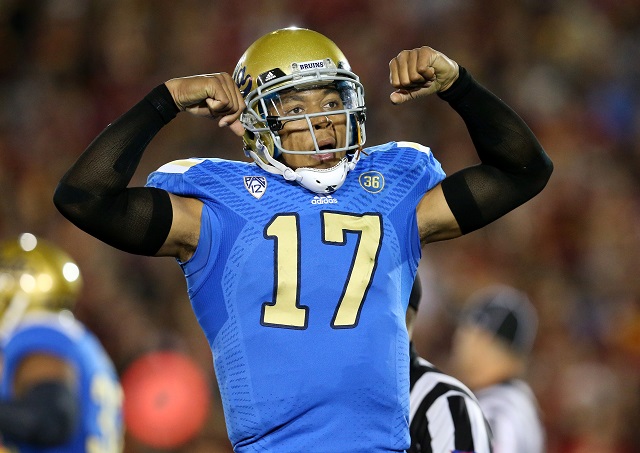 Brett Hundley: 16/1
UCLA's Brett Hundley entered the 2014 season fresh off the best passing year in UCLA football history. Hundley broke Cade McNown's school record with 3,740 yards through the air in 2013, and after two games this year, is on pace to match or break the new mark.
Hundley is averaging 319 passing yards a game in wins over Virginia and Memphis, and can look to impress voters with a 'Heisman moment' in Saturday's nationally televised prime-time showdown with Texas.
Jameis Winston: 8/1
The reigning Heisman winner (and youngest in history) has nothing left to prove after merely leading his team to an undefeated national championship season as a freshman. Can Winston claim both the individual and team trophies again this year? Winston is averaging 313 passing yards a game in 2014, although the Seminoles haven't looked quite as dominant as expected in a 37-31 win over Oklahoma State and a 37-12 victory over The Citadel.
The top-ranked 'Noles are off in Week 3, and then host No. 23 Clemson in prime-time the following Saturday. Expect Winston to put up big numbers in a big game — if so, as a past Heisman winner. It won't take much to put him back in the No. 1 spot the next time the 2014 odds are released.
Kenny Hill: 15/2
One guy that is putting up massive stats in the early going is Texas A&M quarterback Kenny Hill, who already has 794 yards through the air and seven scores after only two weeks. Hill's Aggies stunned then-No. 9 South Carolina on the road in a 52-28 Week 1 rout, and merely followed that up with a 70-point win over Lamar last Saturday.
Whether the storyline has been 'Kenny Football' or 'Johnny Who?,' Hill has burst on the scene as a starter in the span of 120 minutes of football. From unknown to top-three Heisman favorite in two games is a meteoric rise for the sophomore, and Hill will have every chance to earn the Heisman on the field with the numerous huge games playing in the SEC brings (including games at Alabama, at Auburn, and against LSU in a five-game span to end the regular season).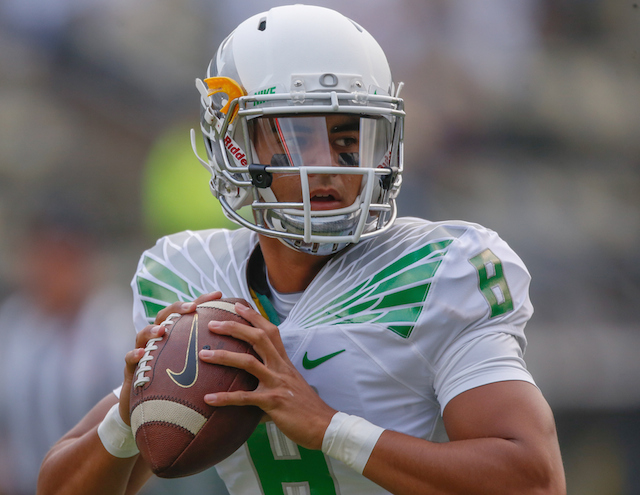 Marcus Mariota: 11/2
Mariota threw for 3,665 yards, 31 touchdowns, and only four interceptions a season ago, and will get plenty of snaps to build on those numbers in the Ducks' fast-paced offensive system. So far in 2014, Oregon is 2-0 (including a win over then-No. 7 Michigan State) and Mariota has six touchdown passes to go along with 585 passing yards.
Mariota's Heisman hopes might make or break when Stanford comes to town on November 1. Of the three losses in his college career to date, two have come at the hands of the Cardinal. If the Ducks are still unbeaten two months from now, Mariota may very well be the favorite to hoist the Heisman Trophy, and a strong performance against his nemesis could be the final piece on his resume.
Todd Gurley: 5/1
The Heisman favorite right now is none other than Georgia running back Todd Gurley, whose stock is on the rise after a career-high 198 rushing yards in Week 1 against Clemson. Gurley found the end zone three times in the opener after scoring 10 rushing touchdowns in only 10 games a year ago.
Piling up mammoth rushing performances in the week-in, week-out grind of the SEC will not be an easy feat, but Gurley's Heisman chances should be boosted slightly by the absence of Alabama and LSU's imposing defensive fronts from the 2014 schedule. Gurley leads the 'Dawgs into South Carolina Saturday for a national CBS game that could help the junior capitalize on the momentum from his strong showing in Week 1.