College Football: Which Non-Power Conference Team Is the Best?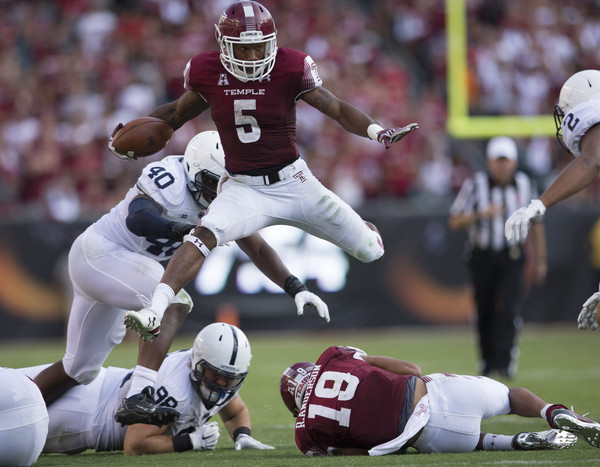 More than any other season in recent memory, the AP Poll in college football appears to be loaded with a bunch of nontraditional teams in the bottom half of the top 25. Teams have made some notable impressions this season, throwing their hats in the ring of schools that could make a potential surprise run at the College Football Playoff.
The top of the list of this season's surprisingly unbeaten schools includes three teams from the American Conference and one from the MAC. In the American Conference, the Memphis Tigers and Houston Cougars have each broken into the top 20, while the Temple Owls loom at No. 21. Right in front of the Owls is none other than the Toledo Rockets at No. 20. All of these teams have picked up surprise victories this season, but it's hard not to question their presence this high in the rankings simply because they aren't household names.
While it's unlikely that one of these teams makes a significant run, it's worth analyzing their strengths to determine if they have staying power for the rest of the campaign. Let's look at each team to see just how far they can make it in 2015.
Houston Cougars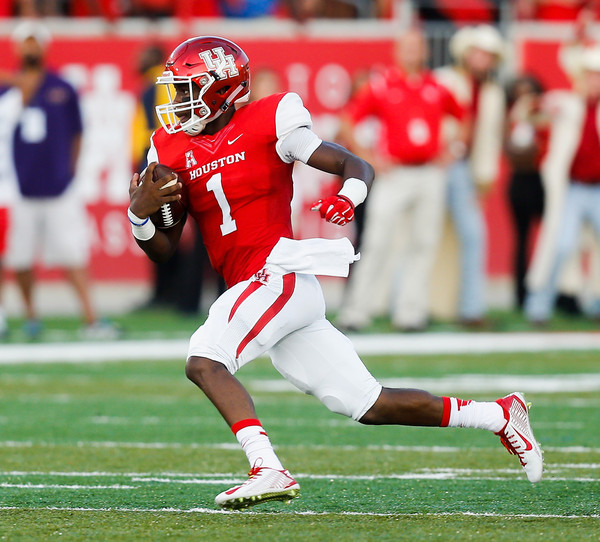 The Houston Cougars are all about offense with their underrated dual-threat quarterback. Greg Ward Jr. not only leads the team in passing yardage with 1734 yards, but he also leads the Cougars in rushing with 677 yards. He has even picked up 15 rushing touchdowns to go along with his 10 TD tosses. To say the offense runs through Ward would be an understatement. Looking at those numbers, it's hard to believe that the guy isn't receiving more Heisman attention, especially when you consider the fact that Houston is unbeaten through seven games.
While the Cougars' run looks impressive at first glance, it loses value when you see who they've played. Their best win of the season probably came against Louisville in Week 2, but a win over the Cardinals isn't a terrific resume booster by any means.
Of course, all you can do against a weak schedule is assert your dominance each week, which Houston has mostly done. It's difficult to judge just how good this team is until they play a worthy opponent. They have one game in a couple weeks — against the American Conference for Memphis — that could provide the test.
Houston's No. 18 ranking is a sign of two things: First, it shows that the American Conference is getting some respect. Second, and more importantly, it's a sign of how dominant this team is and just how good Ward is. With a weak schedule though, it's tough to see this team as anything more than an unbeaten squad in a good bowl game, but certainly not the College Football Playoff.
Toledo Rockets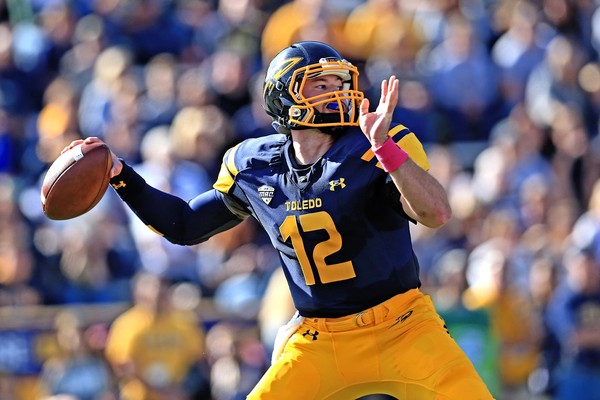 Out of all of the teams mentioned here, the Toledo Rockets are easily the most unlikely team to be ranked this high in the late season. The team is living off an early season victory over the Arkansas Razorbacks, who are in the top 20 as of now. Arkansas has really proved to be a disappointment this season, so even that win doesn't seem that great for the Rockets. However, they are ranked No. 20 in the nation with a 7-0 record in the MAC.
However, Toledo does play a great brand of football. Phillip Ely is a solid QB with 15 touchdown passes, and the defense has had some terrific performances during many of the Rockets' wins. It's all against a MAC schedule though. Their second-best win of the season was against Iowa State, who has been terrible this season.
The team deserves some respect for knocking off an SEC school. While they very well could go undefeated (Who stands in their way?), it will result in nothing more than a nice bowl game for the Rockets.
Temple Owls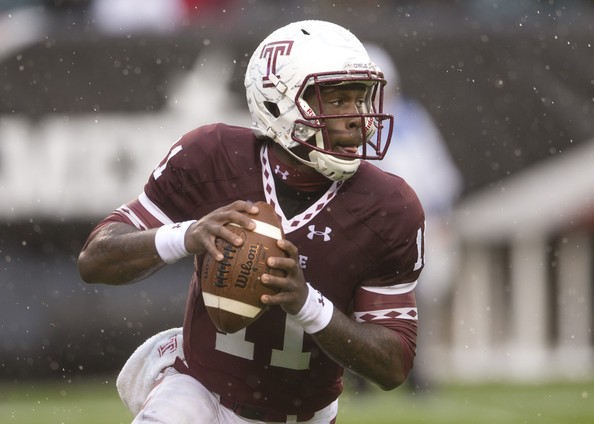 Temple, similar to Houston, is another team that proves the American Conference is getting some serious respect this season. The Owls are ranked No. 21 right now and haven't beat anybody worth noting. Penn State was a nice win, but not spectacular, even though they did look good in that game. Other than that, it's been a matter of beating teams that the Owls were expected to beat. However, if Temple wins this week, none of the previous games will really matter.
Notre Dame will be traveling to Philadelphia to take on the Owls in Week 9, providing one of the marquee matchups of the weekend. The Irish are ranked No. 9 in the nation and appear to be a heavy favorite against Temple, even on the road.
However, this is not a team the Irish can take lightly. Temple's tailback, Jahad Thomas, has 12 rushing TDs and over 800 yards on the season. The Owls' defense is also dominant at times. Notre Dame has playoff aspirations, but they could easily come crashing down this weekend in the City of Brotherly Love.
If the Owls find a way to beat Notre Dame, their status on the national landscape will become somewhat legit. Then, if they can beat Memphis in a few weeks and finish undefeated, they could be that one dark horse contender to shockingly sneak into the playoffs.
Memphis Tigers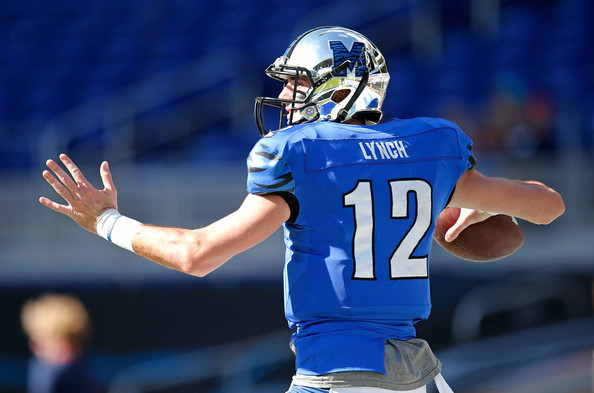 Of all the teams making surprise noise this season, the Memphis Tigers appear to have the most legitimate chance to do something incredible. After beating Ole Miss (who is No. 13) a couple of weekends ago, Memphis has elevated themselves to the No. 16 spot in the nation heading into Week 9.
With a powerful offense powered by an NFL caliber QB in Paxton Lynch (who has over 2,300 yards passing and 17 touchdowns), this is a Tigers team that might have enough firepower to beat almost anyone that comes their way.
Beating Ole Miss was clearly a great resume booster, but Memphis still has two more chances to pick up wins against currently ranked opponents in Houston and Temple. How much weight will those wins carry if Memphis prevails? An unbeaten record with wins over three solid teams would seem to be enough for almost any team to sneak into the College Football Playoff, but you have to remember this is a team that still plays in the American Conference, not the SEC.
Regardless, the Tigers seem to have the most staying power and the best shot at surprising everyone by the end of the season. These teams all provide nice stories of football programs that have remade themselves, which is great for the game. Time will tell how things end up, but it's a positive thing to have great football programs in every conference. Maybe one of them will do something unbelievable, but at least they have reminded the nation of their presence this season.
All statistics courtesy of ESPN.