College Football: Which Top 25 Teams Are Vulnerable This Weekend?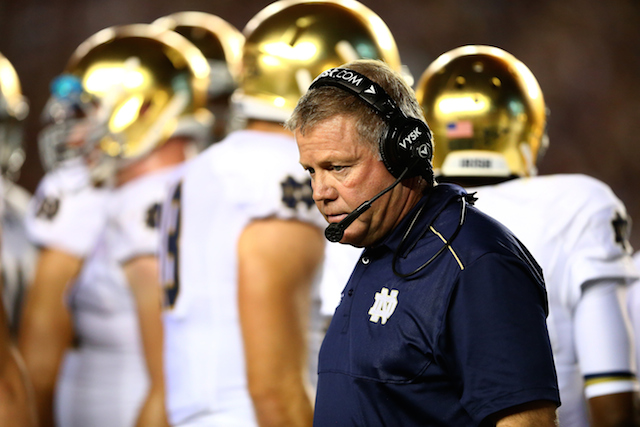 It's ok to admit it: as ready as you thought you were for some football during the NFL preseason, two consecutive weekends of the real thing – between college and the pros – have likely sent you through the roof. Your fantasy team is already a disaster, you've paid way more money into DraftKings than you've won out, and you have consumed a year's supply of nachos, pizza, and beer before the official start of fall. (Not that any of this makes you wrong, by the way)
Part of what gets us so amped up to watch these games — investing heart, soul, and hard-earned dollars — is the unpredictability. Is there anything better than when ESPN cuts away from some boring Power 5 beatdown of a non-conference opponent to tune us in to Chattanooga leading Alabama by seven with three minutes to play? (Relax, it's just a dream)
While it's all fun and games for those of us at home, it can be incredibly deflating for those higher ranked and highly favored teams we're gleefully watching fall flat. More than that, these losses – especially early in the season – can be damaging for the playoff prospects of these squads as well.
Yet, inasmuch as we'd like to feel sympathetic, it's hard not to root for an underdog. And given the way in which the first two college football weekends have played out, it seems almost a given that at least one ranked team is going to fall in an otherwise winnable game this week. Who could it be? Let's take a look at Week Three's two most prime possibilities to follow in Stanford and Arkansas's footsteps.  
No. 9 Florida State (at Boston College)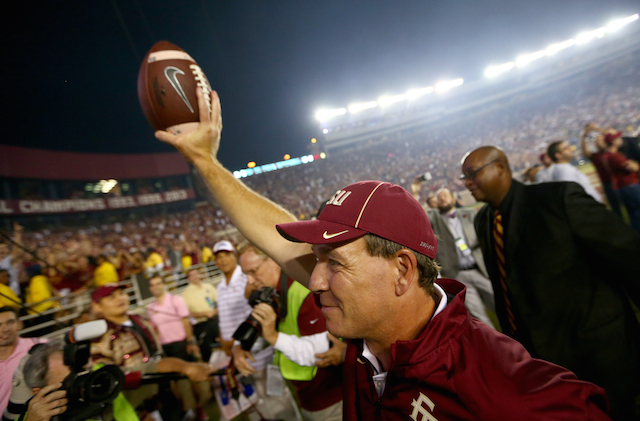 Admittedly, this could be as much of a heart pick as a head one. Florida State is a very hateable college football team, up there with 'Bama, Penn State, Notre Dame, and Oregon. Yet, for as much as most of us would like to see the Seminoles be taken down on their trip up to Massachusetts, it's not at all an unlikely proposition or some far off fantasy.
For starters, the line is conspicuous: FSU is favored by just seven and a half points. And this was a game they almost lost last year when it was played down in Tallahassee, squeaking by 20-17. Making things more interesting is BC's far and away most dominant defense in the nation. Now granted, their numbers were generated in blowout victories over Maine and Howard, but the optimist in you might point out that they kept the clamps on long after those games had effectively been decided.
The stats? Only 102 total yards allowed, including just 14 on the ground. Florida State's offense has looked fine so far, but this early season test might prove to be among the staunchest defenses the face all season long. 
No. 11 Clemson (at Louisville)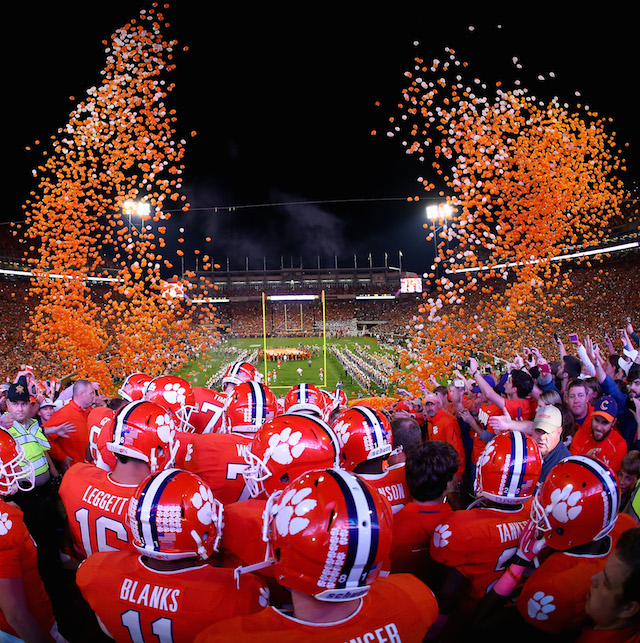 Bobby Petrino and the Cardinals are hanging their hat on the fact that their 0-2 start includes losses by just a touchdown to Auburn (who was almost last week's BIG victim) and by a field goal to Houston. And really, why shouldn't they? It's not as though they haven't been competitive.
Although the path for them is less clear – they aren't dramatically different from Clemson in many ways, just a bit worse – the thing they have going in their favor is that, at 0-2, they're out of most postseason or bowl conversations already. Clemson, meanwhile, has everything to play for in an ACC where Jameis Winston is gone and they can rightfully feel like maybe their moment has come.
Before they can get to those looming, monumental games against Florida State and Georgia Tech (not to mention Notre Dame), however, they need to take care of business in a road game where they too are suspiciously favored by a slim margin — just seven points in the spread. An upset might be all the ammunition naysayers need to remind the world that these Tigers cannot change their stripes, and their conference rivals would love to be the ones to supply it.
Stats and Information provided by ESPN
Connect with Tamer on Twitter @iamtamerabouras