College Football: Who is Ohio State's Best Offensive Player?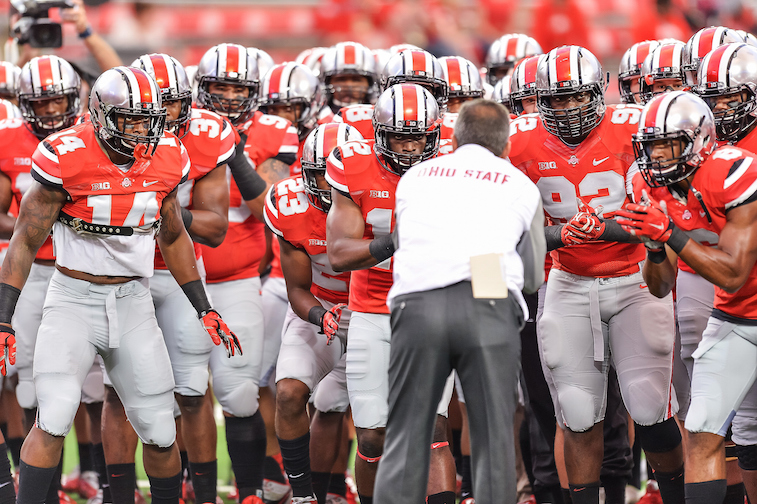 No one was really doubting Ohio State this season; and they're especially not doubting them now. After the Buckeyes put on an offensive showcase worthy of a professional team in their 42-24 season-opening victory over the Virginia Tech Hockies, Ohio State's practically the team to beat.
But it wasn't all touchdowns and fun—there were a few struggles along the way. After all, it was just junior quarterback Cardale Jones' fourth career start: a number that would scare many fans and coaches in most situations. Then again, most newly starting quarterbacks don't have victories in the Big Ten Championship game, College Football Playoff, and the National Championship. Jones didn't look perfect, though, throwing for 186 yards on nine of 18 attempts, two touchdowns and one interception. Where he lacked in accuracy he easily made up for with his feet, scampering for 99 yards and a single score.
What's funny is that Jones wasn't even the big news of the game—despite being his first career college opener. No, it was receiver Braxton Miller. The quarterback-turned-wide receiver (a former Heisman candidate quarterback at that) looked like the reincarnation of Percy Harvin under Urban Meyer back in his Florida days. He would line in up in the slot, or in the backfield, or wide, and he was an all-purpose offensive weapon. Enough so where he finished with six rushes for 62 yards and a touchdown, and two receptions for 78 yards and a touchdown.
The offensive torrent didn't end with Jones and Miller. There was also Ezekiel Elliot, the bruising back who turned 11 carries into 122 yards and a touchdown. For a running back that finished last season with 1,878 yards, it seems pretty ridiculous that he had less carries in the season opener than Jones did at quarterback. Then again, that's Ohio State for you: a multi-headed offensive beast that appears to be unstoppable.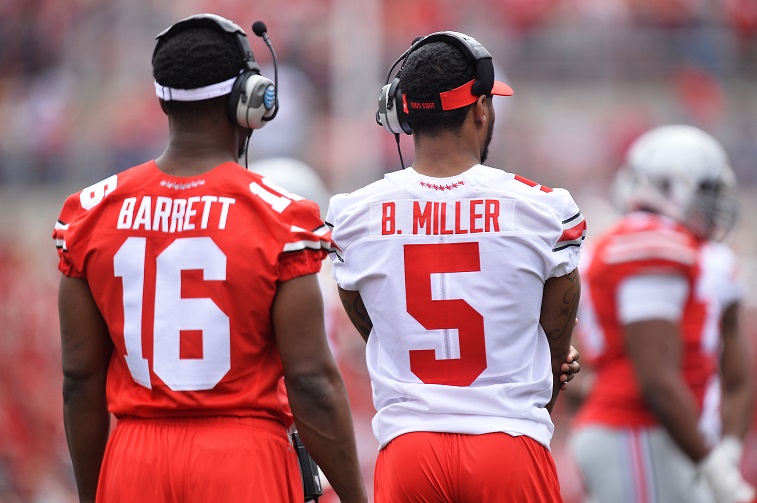 And therein lies the issue. The Buckeyes' offense is so good and has so many weapons, can we even decide if there's a best player? Which one, if not more than one, will have his eyes set on a Heisman Trophy come the end of the year? It isn't unfathomable to think that all three of the players already mentioned could find themselves in the running, though it would be quite difficult considering there are only so many yards and touchdowns to go around per game.
First you have Jones. It's always easy to call the quarterback the best—or at least most important—player for any offense. His track record's near spotless, and the six-foot-five quarterback has an arm for a cannon, unprecedented size, and suprising speed for a bigger player. But with a great arm comes the potentiality for interceptions, and in his career, he has 11 touchdowns and 4 interceptions…relatively unimpressive.
Jones' issue (if you want to even call it an issue: he might be one of the best quarterbacks in all of college) comes to a head when you consider that his backup, J.T. Barrett, was a Heisman candidate a year ago before he went down with a season-ending injury in the final game of the regular season. Barrett finished 2014-2015 with a 64.6 completion percentage, 2,834 passing yards, 34 passing touchdowns, just 10 interceptions and 938 rushing yards for another 11 touchdowns. He'd be a starter at almost any other school.
Thus, as the season progresses, the quarterback position will likely continue to be up for grabs. Though Jones remained the starter for almost the entirety of the Virginia Tech game, Barrett did throw one pass for a 26-yard touchdown, showing that he still has it.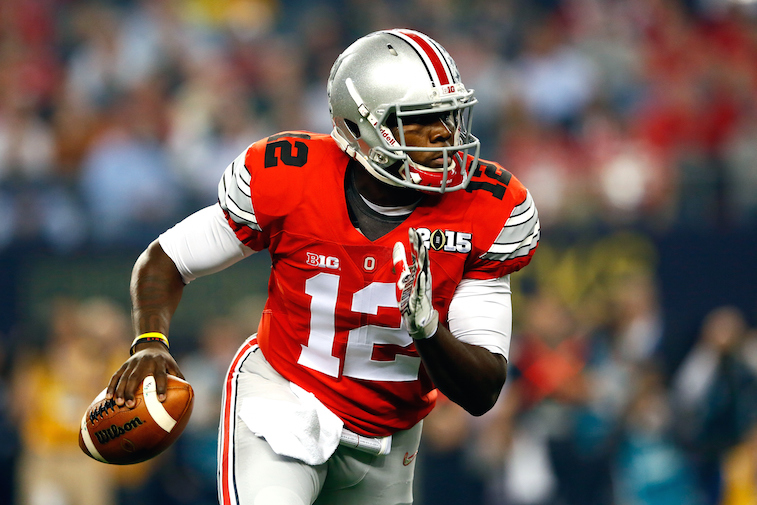 Whether it's Jones or Barrett at quarterback, though, Miller will assuredly remain the same kind of threat. However, with the bevy of other offensive talent outside of the players already named, Miller can only do so much. Sure, he might be one of the most exciting and all-around best players in the NCAA, evidenced by his performance last week, but as long as the Buckeyes' continue to spread the ball out, he'll have to accept his role.
This brings us to the final point. Elliott: by far one the nation's best running backs. He did rush for an impressive 122 yards in the season opener, but if you take away an 80-yard touchdown run, he had 10 attempts for 42 yards. It seems like he might be underused this season. That is until the Buckeyes come up against a defense that can stop them. When that happens, every team, no matter who they are, will rely on the run, especially with a proven offensive line.
While the passing attack and overall play of Miller at wide receiver will likely be the impetus behind Ohio State's success, Elliott will be the anchor of the offense—not always moving the boat, but definitely keeping it steady. Calling this a problem would be ridiculous; it's a problem any team wouldn't mind having. But it will be interesting to see as the season progresses who shines the most: or even who finishes behind center. And while it's not a guarantee, don't be surprised if multiple Buckeyes are vying for the Heisman this December.