College Football: Who Will Ultimately Make the Playoffs?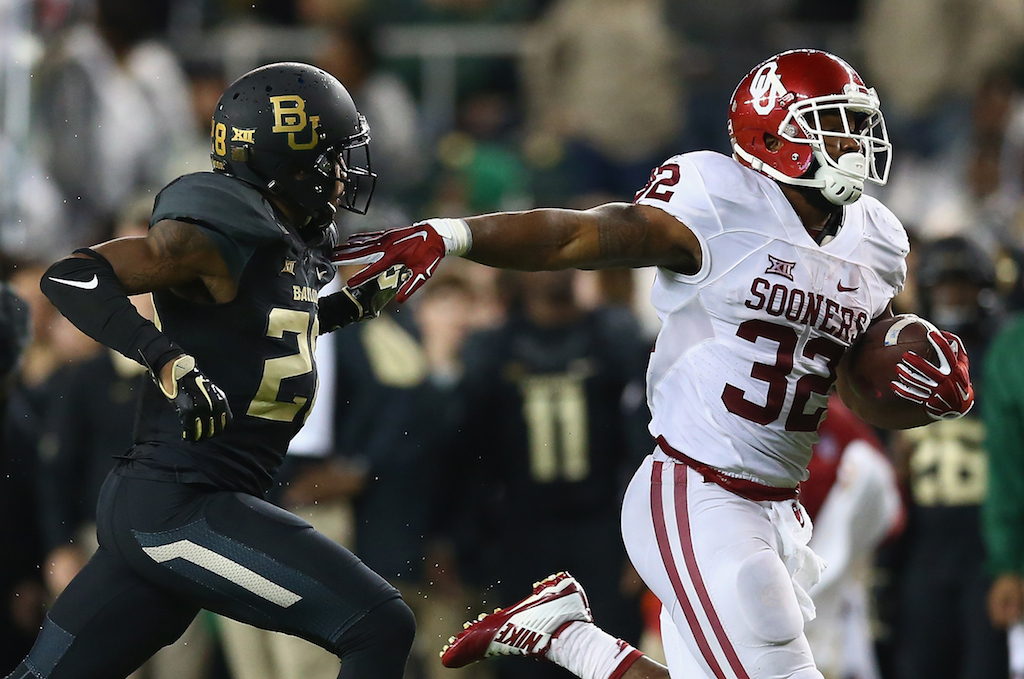 Another week, another set of upsets. That's what we saw last weekend in the world of college football. Top teams in contention for the game's ultimate prize like Stanford, Utah, and LSU saw their championship hopes all but come to an end with excruciating losses, leading the way for others, like Oklahoma, to have a revival of expectations. All of the mania from the past weekend was reflected in the new College Football Playoff Rankings this week, but don't believe for a second that this will be the end of the mass shuffling of those playoff projections.
Most teams around the nation still have two critical weeks of regular season action remaining, so the likelihood for more upsets is strong. That's before conference championship games are even played, where we should see even more unexpected results. So just because Clemson, Alabama, Ohio State, and Notre Dame would make up the four-team playoff if the season ended today, it doesn't mean they will stay there come December 6 (when the final rankings are released). Each of these teams have at least one tough challenge in front of them, so it's almost a guarantee that at least one of them will lose.
With that, which four teams have the best shot to survive this final stretch of the season and reach the College Football Playoff? Let's explore.
1. Clemson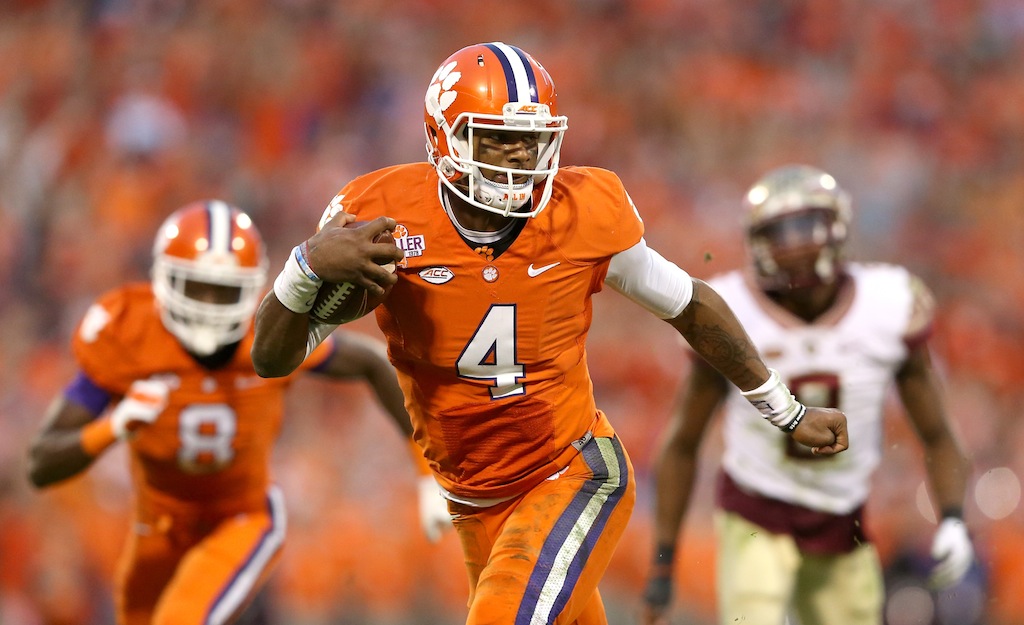 The Tigers are number one right now and nothing on their schedule indicates that their status will change before December 6. All that stands in front of them and a undefeated regular season are two matchups between Wake Forest and then South Carolina in their annual in-state rivalry game. The combined record of those two schools this season in 6-14, indicating that Clemson should be able to roll pretty easily in each contest. Of course, there is always the possibility of a shocking upset, but the Tigers should be able to avoid that situation if they keep their focus and play their game.
After the regular season, Clemson will go to the ACC Championship and face off against North Carolina (in all likelihood). The Tar Heels have been playing some great football since their season opening loss to South Carolina, working their way up the rankings in the process. Their defense should be able to have some success against Deshaun Watson and company, as that unit has been excellent most weeks. The Tar Heels have also shown high potential on offense behind quarterback Marquise Williams. This will be a closer game than many think — and North Carolina has a shot to pull off the upset, which could give them a chance to sneak into the playoffs themselves.
However, with Watson at the helm and a defense that has shut down ability, this is Clemson's season to emerge from the ACC and battle for a national title. They've worked too hard this season to let it all slip away in the ACC Championship and they'll be ready for anything North Carolina throws their way. Out of all the teams in the nation, the Tigers have the best shot to make the playoffs.
2. Ohio State
Ohio State's remaining schedule is brutal. First, they'll get Big 10 rival and heavyweight Michigan State at home this weekend before finishing off the season in the Big House against historical rival Michigan and their vaunted defense. These will be the two toughest games for the Buckeyes all season long, as they haven't faced a single ranked opponent to this point.
If they can survive those contests, Ohio State will get a potentially unbeaten Iowa team in the Big 10 championship. No team has as brutal of a three-game stretch to finish the year as the Buckeyes, so one would think that the team is bound to lose. However, for a team that hasn't lost in the past 23 games (including last season's playoff run), they should be ready to handle it.
The Buckeyes haven't looked superb every time they've taken the field in 2015, but in recent weeks they've really hit their stride. In the past four games, they've outdone their opponents by a score of 143-37, holding each opponent to 14 points or less in each one. Ezekiel Elliott has been running out of his mind, and it doesn't seem to matter which of their two talented QBs are under center; either way, this team has found a way to be dominant on defense while controlling games on the ground.
So yes, the Buckeyes home stretch is notably difficult. Still, no team is as talented as Ohio State in the Big 10, and a playoff berth (for a second straight season) seems pretty likely.
3. Florida Gators
It's probably shocking to see the Florida Gators here, but read closely. Currently ranked No. 8 in the nation, things are set up perfectly for Florida to reach this spot. First off, their dominant defense has already earned them the SEC East title, securing their spot in the conference championship game in Atlanta. That will give them a great shot to pick up a marquee win over the SEC West champion, which in all likelihood will be Alabama.
Further, in their final two regular season games, the Gators will get a favorable matchup against Florida Atlantic before their annual rivalry game against Florida State, which will give them yet another chance for a big win. Also, multiple teams ranked in front of them should lose before the end of the season. It's really a perfect storm when you look at it.
Obviously the key is for the Gators to beat Alabama in the conference championship game, otherwise the team will have no shot at reaching the top four. In that game though, their chances are better than you may think. Their defense is simply dominant, which gives them a shot to win week in and week out even with a mediocre offense. Furthermore, Alabama will be heavily favored, giving the Gators an underdog title that could push them to a surprising victory. When you look at all of the crazy things that could happen before the playoffs, Florida beating Alabama isn't the most farfetched.
4. Oklahoma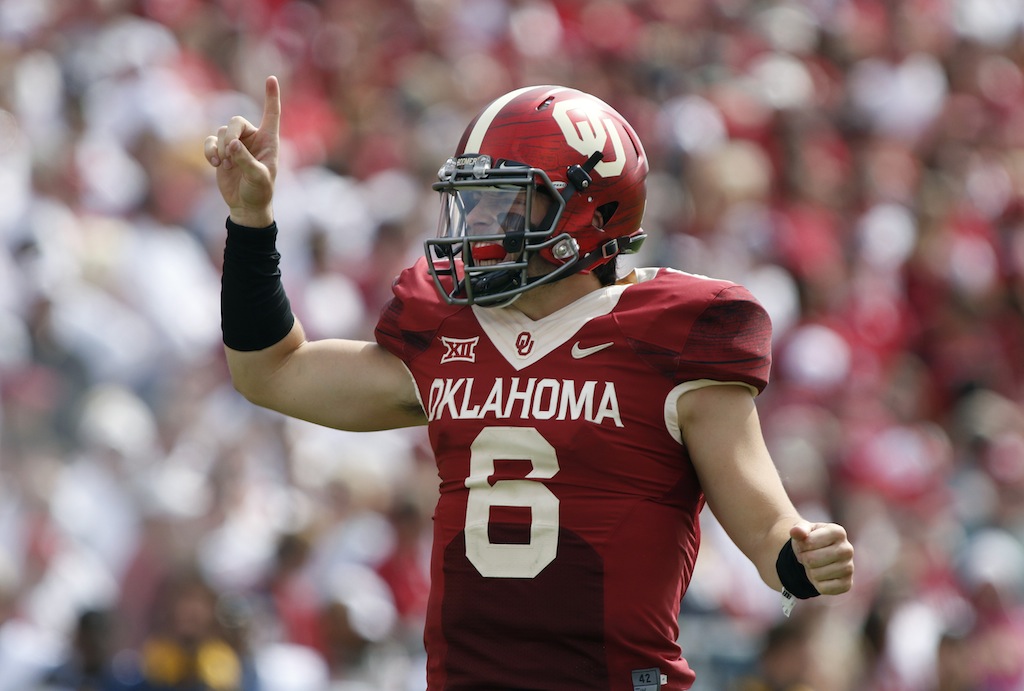 No team is playing as well as the Oklahoma Sooners right now. If it wasn't for a disappointing loss to the Texas Longhorns several weeks ago, they'd probably be the No. 1 team in the nation. In reality though, that loss really woke up the Sooners. In four games following that game against Texas, Oklahoma outscored their opponents by a score of 222-50. Then came last week. In a huge showdown against undefeated Baylor, the Sooners rose to the occasion, putting them firmly in contention for the playoffs. Now they just have to finish the job.
Their final two games of the season will be as difficult of a finish as any team will have to deal with, but if the Sooners survive, it would seem unjust to leave them out of the top four. First, they will get an explosive TCU team at home. Luckily for Oklahoma, though, the Horned Frogs may be without their top offensive threats in Trevone Boykin and Josh Doctson. Still, it should be a shootout in Norman, so anything can happen. In their season finale, the Sooners will travel to play their fierce in-state rival Oklahoma State, who is currently undefeated. That one could very well serve as the Big 12 title game and even as a playoff game, as the winner could get into the top four.
With Baker Mayfield and Samaje Perine playing as well as they are right now, the Sooners are simply a team you don't want to face. Winning won't be easy, but if they maintain their momentum, nobody is stopping this team.
Of course, that leaves out one team in particular, being Notre Dame (remember, Alabama loses to Florida in our prediction). The Irish will also have an impressive resume if they win out, but it doesn't seem to matchup with that of a Big 12 champ. Besides, Notre Dame still has to deal with Stanford in the season finale.
All statistics courtesy of ESPN.com and Sports-Reference.com