College Football: Why Baker Mayfield Should Win the Heisman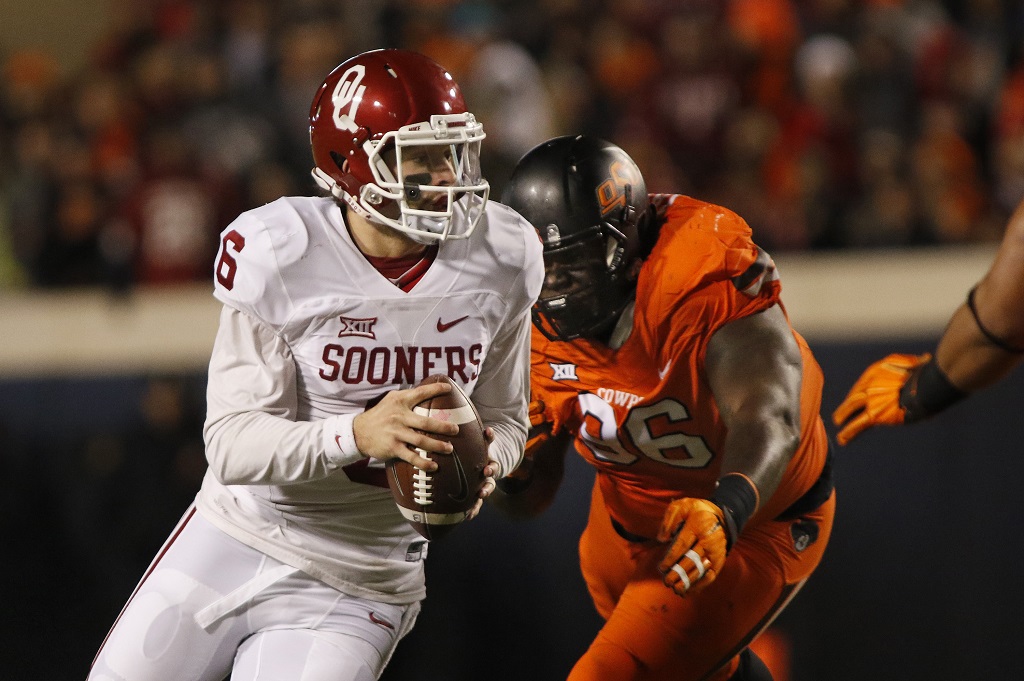 When Baker Mayfield arrived on the University of Oklahoma campus in January 2014, no one could have predicted that he would be contending for the most coveted award in all of college football, the 2015 Heisman Trophy. Could Mayfield be the next Sooner to join a list that includes Steve Owens, Billy Sims, Jason White, and Sam Bradford?
Baker Mayfield is the quintessential underdog. He began his college career as a walk-on freshman at Texas Tech in 2013. After a preseason injury to starting quarterback, Michael Brewer, Mayfield was promoted to the starting position, making him possibly the first true walk-on freshman in a power five conference to start at quarterback in a season opening game.
After a solid freshman campaign, Mayfield decided he would take his talents to Norman, Oklahoma. The unusual part of his transfer from Texas Tech is that he never contacted the Oklahoma coaching staff before arriving on campus — in other words, he has always been somewhat of an unconventional person, consistently going against the grain. He grew up in Longhorn country as a diehard Sooner fan.
Mayfield has the stats to prove he is worthy of winning the award, but he also possesses intangibles that are not found on the stat sheet. He is a competitor, a leader, and may have some of the best dance moves in college football. Unfortunately, the Heisman voters do not take dancing skills into consideration, so perhaps we should examine his stats and how they stack up against the previous 13 Heisman winners at the quarterback position.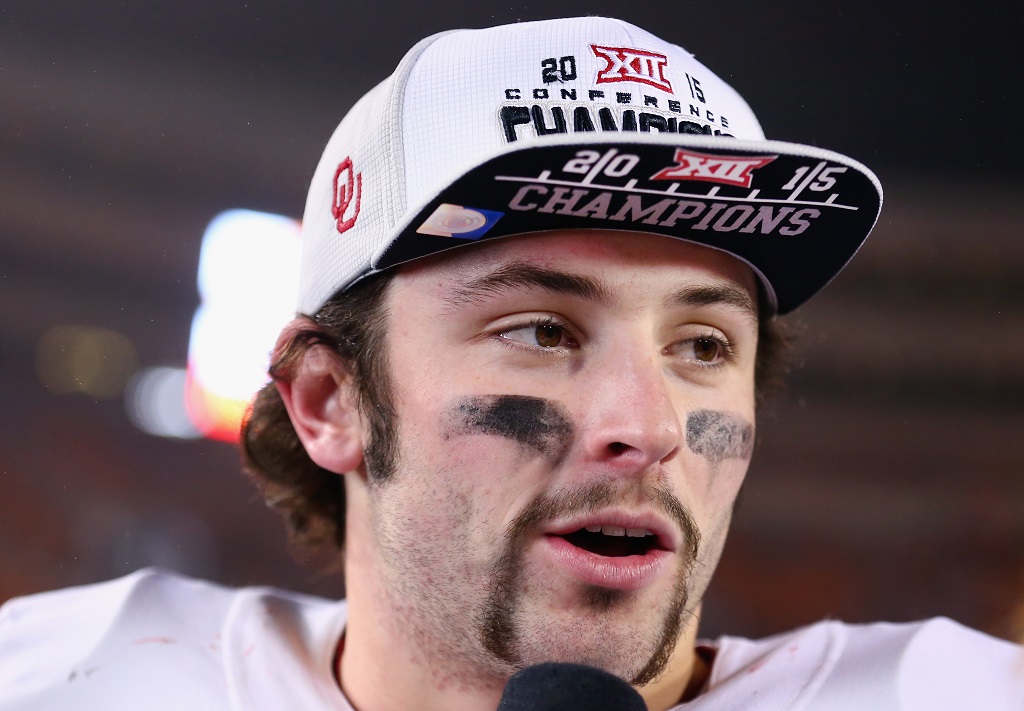 Since the Big 12 does not have a conference championship game, Mayfield's regular season came to an end after last Saturday's lopsided victory over Oklahoma State. He ended his regular season with 42 total touchdowns (35 passing and 7 rushing) and only five interceptions.
His five interceptions are the second fewest among the past 13 Heisman quarterback winners. Mayfield ranks in the top seven of 13 in total completions (243), completion percentage (0.686), passing touchdowns (35), interceptions (5), quarterback rating (178.9), touchdown/interception ratio (7.0), rushing yards per game (35), rushing touchdowns (7), and total touchdowns (42).
Compared to his competition this season, Mayfield is third in the country in passing efficiency, second in yards per attempt, and tied for fifth in passing touchdowns. His 2015 resume also includes numerous Heisman "moments," one in particular that I was lucky enough to witness in person was his late-game performance in Knoxville against a solid Tennessee team. After a slow start, going 8-of-25 for 84 yards, the Sooners found themselves down 17-3. Mayfield then put together two fourth-quarter touchdown drives and eventually won the game in double overtime.
The other game that Mayfield proved himself worthy of Heisman consideration was the November 14 matchup against Baylor, essentially a playoff elimination game for one of these teams. The Sooners QB completed 24 of his 34 passes for 270 yards and three touchdowns with one interception. Mayfield added 76 yards and one touchdown on the ground to cap off a remarkable performance against the then-sixth-ranked Baylor Bears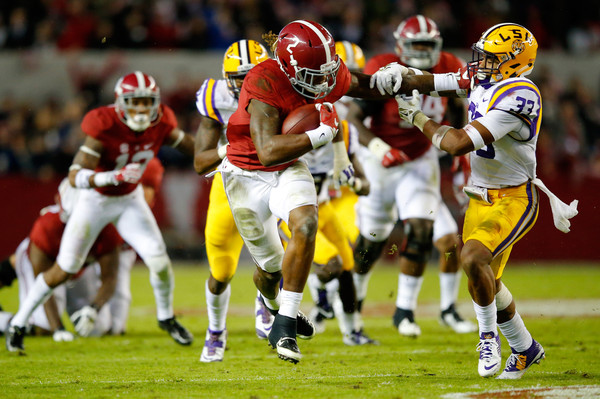 So how does Baker stack up against the other Heisman hopefuls? Many people believe that the Heisman Trophy winner is already a forgone conclusion. As long as Derrick Henry doesn't fumble the ball 10 times in the SEC championship game this weekend he should come away with the hardware, right? As the great Lee Corso says, "Not so fast my friend." Granted, Henry has had a remarkable season and deserves to be the next Heisman trophy winner, but he would not receive my vote.
At 6-foot-3 and 242 pounds running behind a star-studded offensive line such as Alabama's, there is absolutely no way to stop this man. Everyone in the world knows the ball is going to Henry about 95% of the time, but defenses still can't stop it. He is a one-dimensional player, only catching 10 passes for 97 yards all season, which leads me to my next point. Henry averages almost 25 carries per game, and was handed the ball a ridiculous 46 times this past weekend against Auburn. You can hand the ball off to me 46 times and I bet I can get you at least 46 yards.
Henry has had an unbelievable second half of the season, but he hasn't put up these numbers all year long. During the first six weeks of the college football season, Henry rushed for 665 yards, ranking him 15th among all other active rushers. He has almost doubled his first half rushing yards in the second half of the season, running for 1,132 yards and ranking first among all other active rushers. The winner of the Heisman Trophy should be based on his performance throughout the entire year and Henry only has the second half of the season in his favor.
Mayfield's other main competition is Clemson quarterback, Deshaun Watson. Watson has led the No. 1-ranked Clemson Tigers to a 12-0 record and an appearance in the ACC championship game this weekend against the North Carolina Tar Heels. His numbers, however, are far less impressive than Mayfield's.
Watson has thrown for fewer yards (3,223), fewer touchdowns (27) and more interceptions (10) than Mayfield. The fact that he is the leader of the No. 1 team in the country should generate votes for Deshaun Watson, but he does not have the numbers or the big game wins that Mayfield has on his resume.
Mayfield has done everything in his power to deserve consideration up to this point, and without a game this weekend to improve his chances, he will have to wait and see if his name is called on Monday to be invited to the Heisman ceremony in New York City. Regardless of whether he makes it to New York or not, Mayfield will have a nice consolation prize of playing in the College Football Playoff for a shot at the National Championship.
Statistics courtesy of ESPN.com and CFBstats.com.