College Football: Why Braxton Miller Is Now the Player to Watch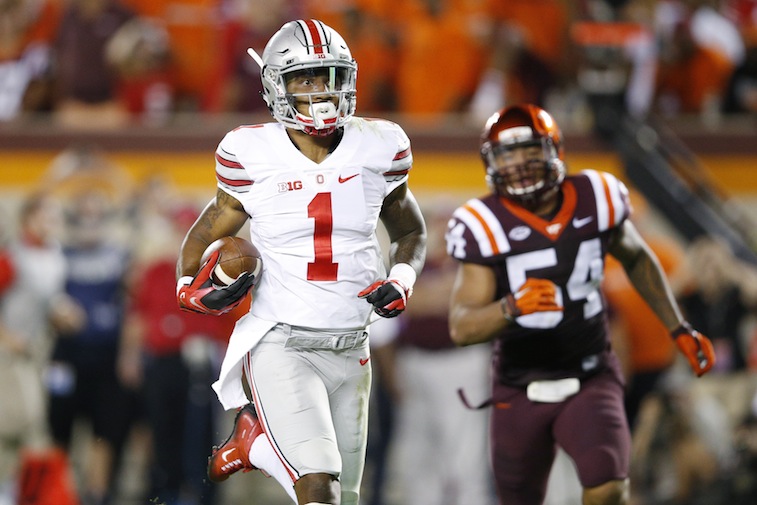 What do the Ohio State Buckeyes think about their former quarterback turned wide receiver, Braxton Miller?
We'll let head coach Urban Meyer fill you in on that one: "This kid's all about the right stuff, and I'm honored to coach him again for a fourth year. I love this guy."
Much of the national chatter has revolved around trying to predict which talented quarterback would start for the defending national champions. And while senior Cardale Jones would get the nod over sophomore J.T. Barrett, by the time Ohio State had finished avenging its lone loss from last season with a decisive 42-24 victory, it was the guy who had bowed out of this summer's quarterback competition who had effectively stolen the show.
"I really would have preferred that third quarterback be over competing for a quarterback job rather than out there as an athlete," said Virginia Tech coach Frank Beamer. "I thought he was pretty special."
If you thought Braxton Miller was explosive during his time as the Buckeyes signal caller, then you clearly haven't seen him in his new role. Whether he's a wide receiver, a halfback, or a combination of both, Miller is now in a position to simply to what he does best: Make plays.
Not only was Miller the most impressive player on the field on Monday night, he very well may be the scariest player in all of college football. And if he is, best of luck to the rest of the nation. You're going to need it.
In Miller's first-ever game as a college wideout, he destroyed the Hokies defense to the tune of 140 yards from scrimmage. Now wearing the No. 1 jersey, Miller had two receptions for 78 yards and a touchdown, while also adding six carries for 62 yards on the ground and another touchdown.
Miller's return to the college football gridiron was so electrifying that, according to ESPN Stats & Info, he became the first Ohio State player with a 50-yard TD run and a 50-yard TD catch in the same game since Ted Ginn Jr. accomplished the feat against Notre Dame in the 2006 Fiesta Bowl. Of course, we don't remember Ginn ever pulling off a spin move quite like Ohio State's new Swiss Army Knife of a playmaker.
In one fluid and effortless motion, not only was Miller off to the races for a 53-yard touchdown run, but he reminded the entire college football community that he was fully recovered from a shoulder injury and once again ready to dominate. This move was so dirty, he even had celebrities, such as Ohio's favorite son LeBron James, singing his praises. What's even harder to fathom is that this is just the start. Just wait until he really gets comfortable in his new position. Look out.
If the Ohio State Buckeyes were looking to make a statement in their opening game of the 2015-16 season, they did. They showcased speed, athleticism, depth, and the kind of determination needed if you're hoping to repeat as national champions. And in a way, with one epic performance, Braxton Miller managed to exemplify all of these traits. We have a feeling his best is yet to come. Talk about scary.
All statistics are courtesy of SR/College Football and ESPN.go.com.