College Football: Why Georgia's Nick Chubb is One to Watch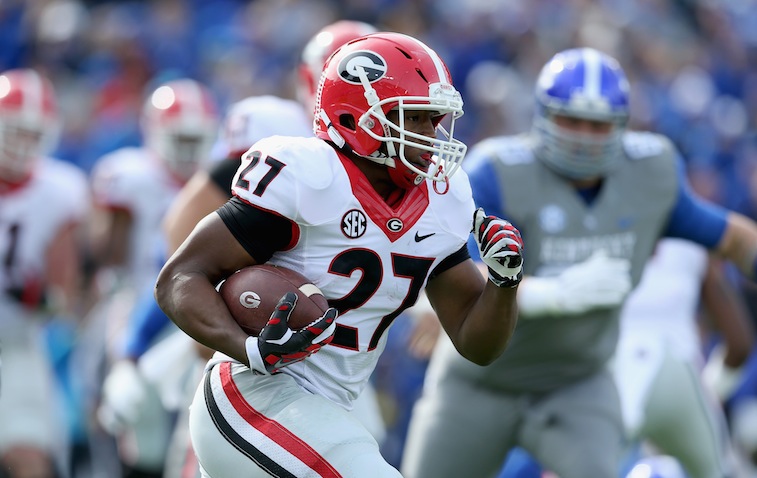 At the 2015 SEC Media Days — prior to the start of the this year's college football season — LSU running back Leonard Fournette was asked about University of Georgia's Nick Chubb. In a moment of complete sincerity, Fournette showed just how much he respected the rival back.
"I think he is hands-down the best running back in the SEC," said the Tigers sophomore. "I'm competing against him every day."
In the world of college football, or anywhere else in the world of sports — amateur or professional — respecting other players is not uncommon. After all, game recognizes game. However, considering how intensely competitive things can get, it is somewhat rare to see that sort of love for another player expressed so publicly. Yet, if you've taken the time to watch No. 27 on the Georgia Bulldogs run the football this season, then you already know the praise is warranted. The dude is just that good.
In fact, while we have no issues with Fournette's proclamation that Chubb is the best back in the SEC, we actually think he's not being generous enough. Based on his play throughout the first two games of the year, we think it's safe to say that Chubb is the best running back in all of college football. Don't believe us? Allow us to explain.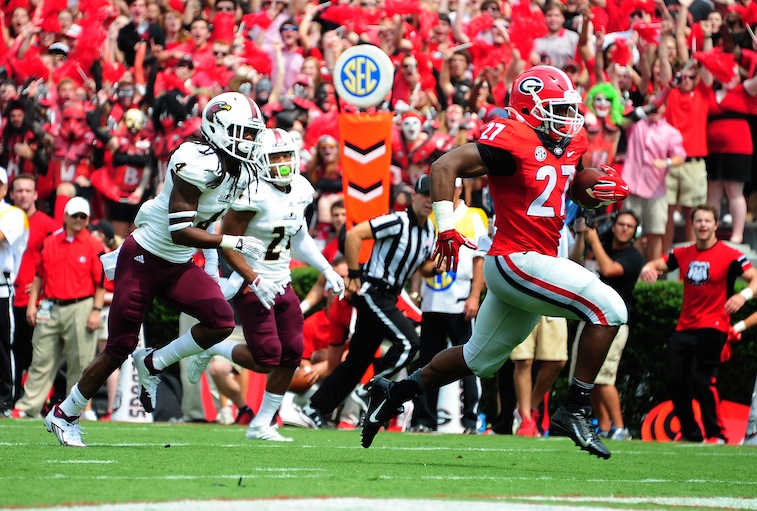 You know you're doing something right if you find yourself on the receiving end of your peers' praise. But when the acknowledgement starts to come from some of the best players in the history of the game, then you know you're on the verge of achieving something truly special.
While speaking on ESPN's College Football Daily, former Heisman Trophy winner — and Georgia Bulldogs legend Hershel Walker had this to say about the current team's standout sophomore:
"Nick Chubb is a throwback. Let me tell you the reason I say he is a throwback. We got running backs today, and they are getting the ball 15 times, maybe 20, at the very most. But Nick Chubb is a throwback, you can give him the ball 30 times a game, and next week you can give it to him again and he is ready to go."
So far this year, Chubb hasn't been forced to carry the ball that often, but his overall numbers are nonetheless impressive. In Georgia's season opener against Louisiana-Monroe, No. 27 had 16 rushes for 120 yards on the ground. He averaged 7.5 yards per carry and also ran for two scores. In the following week's contest at Vanderbilt, Chubb may not have had a touchdown, but he did have 19 carries for 189 rushing yards, picking up 9.9 yards a carry. We'd say that's pretty good. Wouldn't you?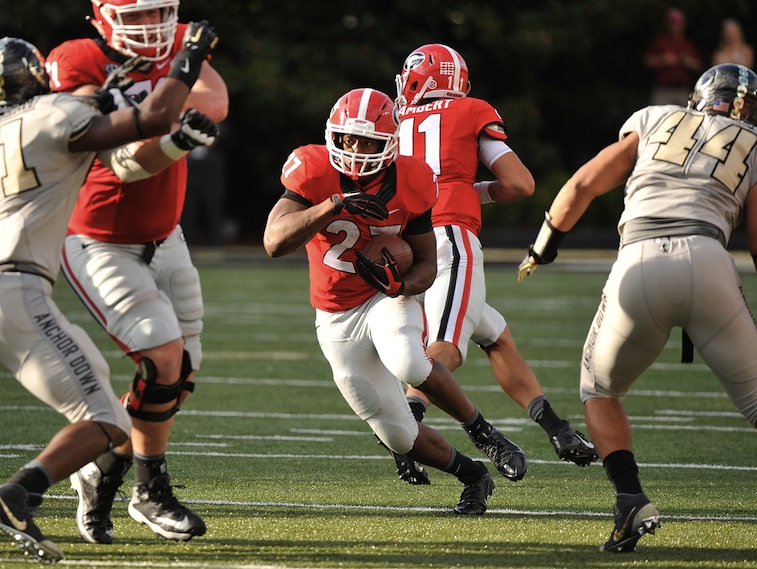 Some may say it's too early to proclaim Nick Chubb the best running back in the country. They will be quick to note that Georgia hasn't played any significant competition yet. Both points are fair, but with SEC play about to get underway, that's all about to change.
This is the same guy who posted ran for 1,547 yards last season as a freshman. If he continues at his current pace, he'll shatter that total. And even if he doesn't, we're still sticking we're still sticking with our original assessment.
Nick Chubb is the best running back in college football. If you don't believe us, watch him play and see for yourself. We promise you will not be disappointed.
All statistics are courtesy of SR/College Football and ESPN.go.com.