College Football: Will the Michigan Wolverines Finish 11-1?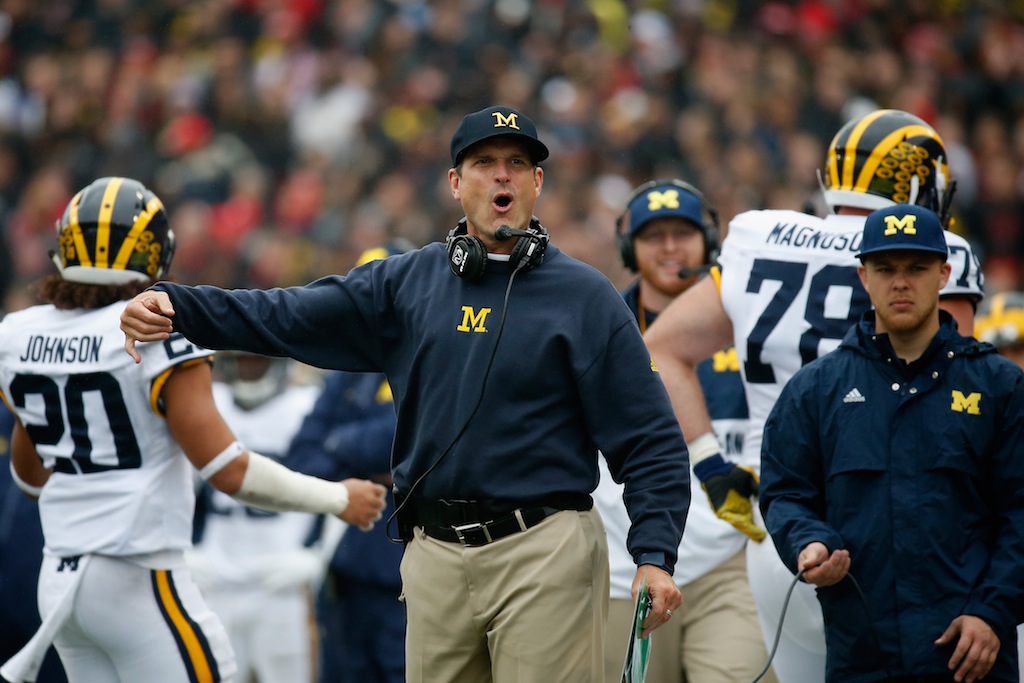 Jim Harbaugh's tenure as the head football coach for the Michigan Wolverines started off less than perfect. Sure, his presence with the program was already starting to be felt through recruiting, social media, and a marked shift in the team's cultural feel, but none of that means anything when compared to the performance on the field. After Week 1 of the 2015 college football season, it became even clear that this team wasn't ready to return to prominence, Harbaugh or no Harbaugh.
While the final score may have read 24-17, Michigan's opening-game loss to the Utah Utes didn't really feel that close. Although this team had their former NFL coach's fingerprints all over it — with a focus on the power running game and an emphasis on a tough and stingy defense — the pieces of the puzzle didn't quite fit. For those expecting Ann Arbor's favorite son to pull of a miracle right off the back, it had to feel like a major letdown. Unfortunately, miracles don't happen overnight.
In college football, turnarounds of this magnitude take time. And if you looked close enough, you could see that Harbaugh's Michigan was making progress. The diehard Wolverines fans had no need to worry. This group was on the right track, all you had to do was be patient. Of course, no one could have predicted how quickly the Wolverines would find their footing.
Six weeks in, the Wolverines haven't tasted defeat since the opening week of the season. They are 5-1, ranked No. 12 in the AP poll, and are growing more confident with each passing day. And while we didn't expect them to be this good this quickly, we can no longer overlook what they've done so far after six games. Believe it or not, the Wolverines aren't simply playing like a team with the ability to win out the rest of the season — and finish the year with an 11-1 record — they are playing like a group with an outsider's chance at the College Football Playoff National Championship.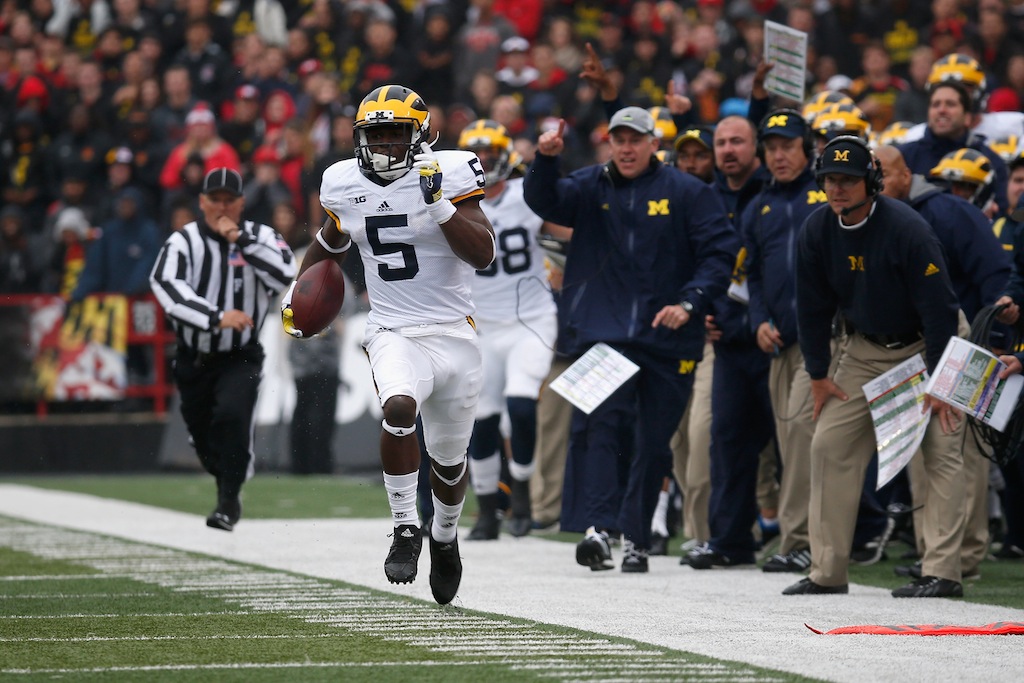 With a track record such as his, it was only a matter of time before Jim Harbaugh was able to turn around the floundering Michigan program. But what he's managed to do in such a brief period of time, is nothing short of unbelievable. And for anyone who's taken the time to watch this group play, you know it all starts with the ferocious defense.
Through six weeks, the Wolverines are only giving up 6.3 points per game — good for first in the country — and, after blanking the previously 13th-ranked Northwestern Wildcats, have now pitched three consecutive shutouts (31-0 over BYU in Week 4; 28-0 over Maryland in Week 5).  This defense has been strong, physical, and unforgiving. Just like Harbaugh likes it. Of course, while the D is clearly the bread and butter of the Wolverines, that doesn't take away anything from an offense that has shown the ability to get things done on the ground.
When you have a strong run game, you can dictate the tempo of a contest. Although the Michigan Wolverines are only putting up 29.5 points per game (67th of 128), they are averaging 201.3 rushing yards per contest. If they can somehow manage to keep this up, it will take the pressure off an average passing attack. And as Michigan begins the hard part of its conference schedule, this will be vital to the team's success.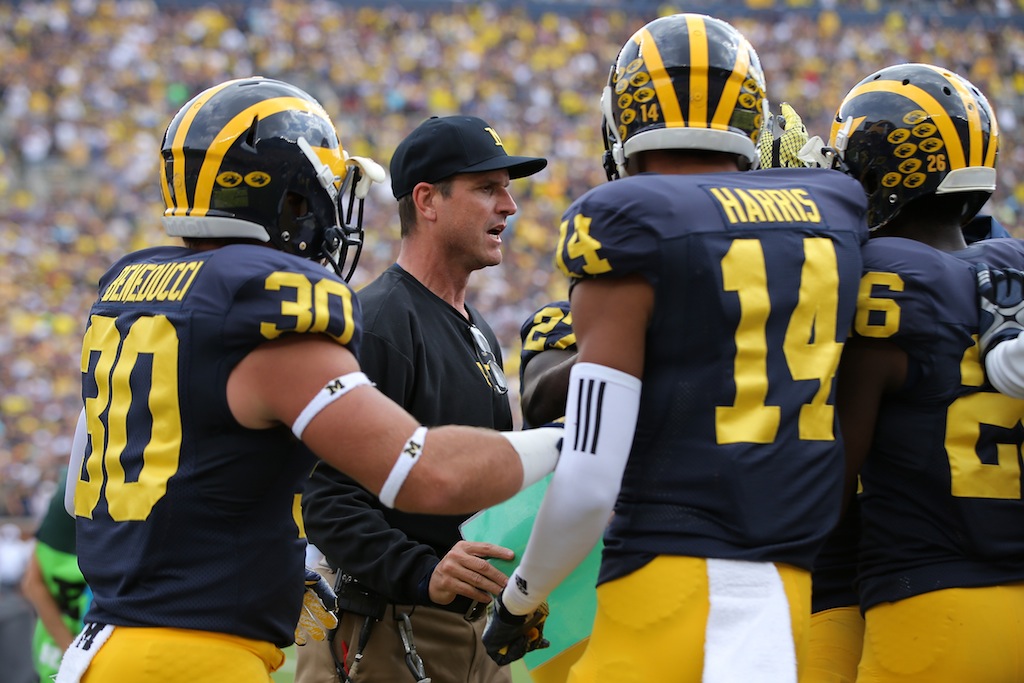 The Big Ten Conference is no pushover. It may not get the same love as the SEC or the Pac-12, but it still bolsters plenty of legitimate contenders. In fact, despite having just manhandled a tough Northwestern team, Michigan won't have any time to celebrate. Up next on the schedule is a date with the undefeated No. 7 ranked Michigan State Spartans. There's nothing quite like an in-state rivalry game to see what you're really made of.
And should Michigan come out of this upcoming battle with the W, and then manage to take care of business throughout the rest of the season, that still leaves it with a showdown against the defending national champion Ohio State Buckeyes in the season finale — a team that ESPN insiders Mel Kiper Jr. and Todd McShay (subscription required) both maintain is still the Big Ten favorite. Suffice to say, the Wolverines have their work cut out for them.
In only six short weeks, Jim Harbaugh has already made the Michigan Wolverines a team to be feared in college football. Over the next few years, things within this program should only improve; especially as his recruits start to arrive in Ann Arbor. Of course, if you're wondering if Michigan has what it takes to finish the rest of the 2015 season unscathed and take home the title, we don't have a definitive answer. The road ahead will be tough, that's for sure.
Still, according to Darren Rovell, that hasn't stopped the Westgate Las Vegas Superbook from giving them 10-1 odds to win the whole thing. It's clear this Michigan team has at least made a believer out of the folks in Sin City. Then again, with a coach of Jim Harbaugh's caliber at the helm, we shouldn't be all that surprised. If there is anyone capable of making a miracle such as this happen, it's Ann Arbor's favorite son.
All statistics are courtesy of SR/College Football and ESPN.go.com.