7 College Quarterbacks Who Are in Their Prime Right Now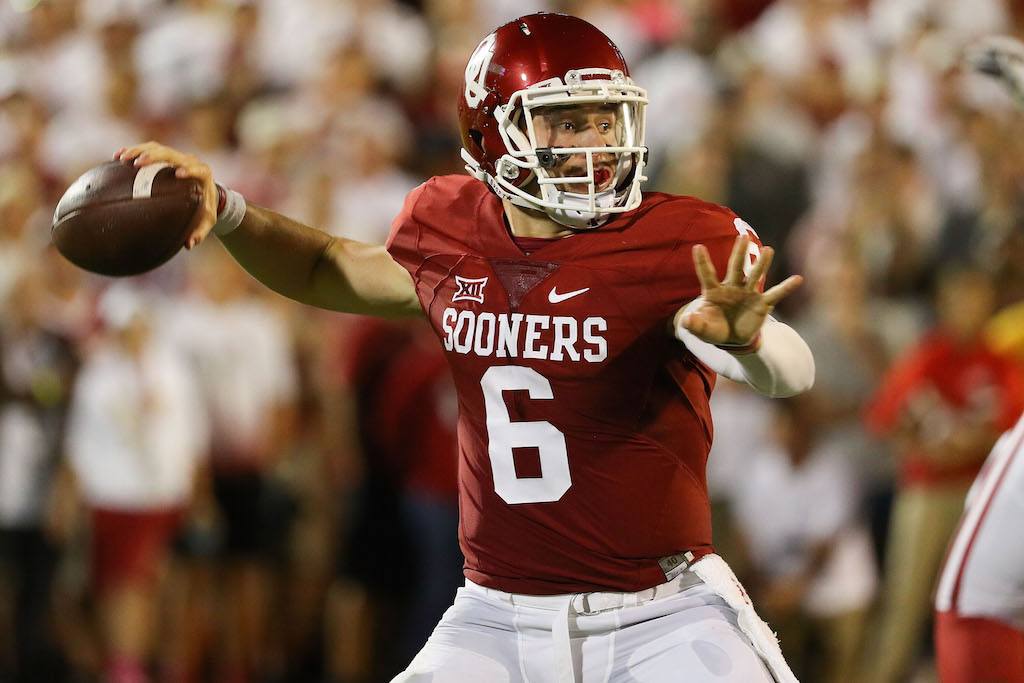 The list of great collegiate quarterbacks is long. This shouldn't be surprising. Year after year, the college ranks are littered with highly-touted recruits, more prepared than ever to become the sport's next big thing. Yet, ask yourself this: How many of said individuals wind up making a mark at the NFL level? Yeah, you probably guessed it — that list is much shorter.
At every level of football, the sport becomes that much more challenging. This fact holds especially true for anyone who represents the quarterback position. Some players, the lucky ones, have what it takes to thrive at every turn. Others, not so much.
So far in 2016, we've seen plenty of talented quarterbacks distinguish themselves from the rest of the country. Unfortunately, for some of these athletes, this is the best it will get; they've officially reached the "peak" of their playing careers. While we can't be certain, if we had to guess, we'd say these seven QBs fall into this particular category.
1. Seth Russell, Baylor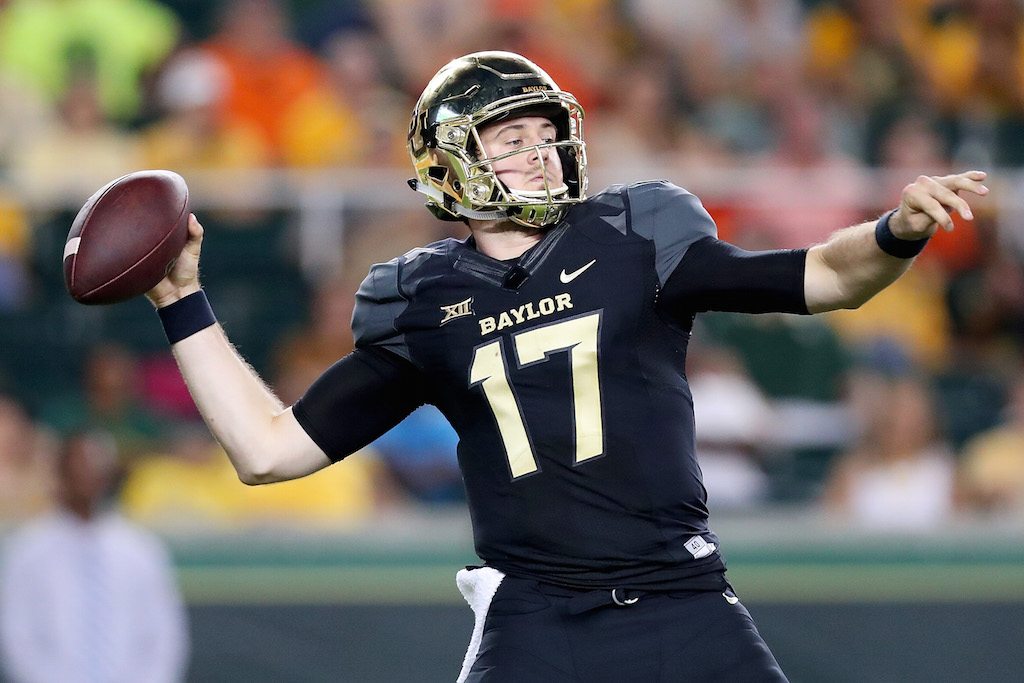 Five weeks into the 2016 season and the Baylor Bears hold a 5-0 record, including 2-0 in conference play; they are putting up 42.6 points per game (17th of 128) and ranking No. 13 in the latest AP poll. Much of this early success is attributed to senior quarterback Seth Russell.
So far this season, the Bears signal caller has thrown for 1,326 yards (No. 4 in the Big 12), 14 touchdowns, and four interceptions. He currently holds a passing efficiency rating of 155.9. With numbers like these, you'd think Russell might have a solid shot at playing at the next level. Unfortunately, we just don't see it. At 6-foot-3, 220 pounds, Russell has the size most NFL teams look for in a quarterback. However, his decision to play college ball at Baylor is a major deterrent among most organizations.
While the Bears are consistently among the most high-powered offenses in college football, their use of the spread offense — utilizing heavy shotgun packages and minimal checks at the line of scrimmage — isn't overly appealing to NFL executives, especially when a quarterback isn't used to playing under center. All of these things, along with his less-than-impressive 59.4% completion percentage, will hurt Russell's future stock. Something tells us this is as far as he'll go as a football player.
2. Josh Dobbs, Tennessee
Ask anyone in Knoxville, Tennessee and they'll probably tell you Josh Dobbs is the greatest thing since sliced bread. So far this season, the senior QB has led the Volunteers to a 5-0 mark (which includes one miraculous comeback after another); a No. 9 ranking in the AP Top 25; and put them in the driver's seat in the SEC East. If you're a massive fan of the Tennessee program, it's easy to get swept up in the hype. Yet, when it comes to the quarterback potentially making a splash after college, that's all it is — hype.
Through the first five games of the season, Dobbs is only completing 57.9% of his passes and has already thrown six picks; one more than he managed to throw in 13 games in 2015. On top of that, the 6-foot-3 passer has a long release (often resembling a hitch) and doesn't always stand tall in the pocket. These deficiencies can get a quarterback killed in the NFL. We could see them hindering Dobbs' chances of playing past this season.
3. Patrick Mahomes, Texas Tech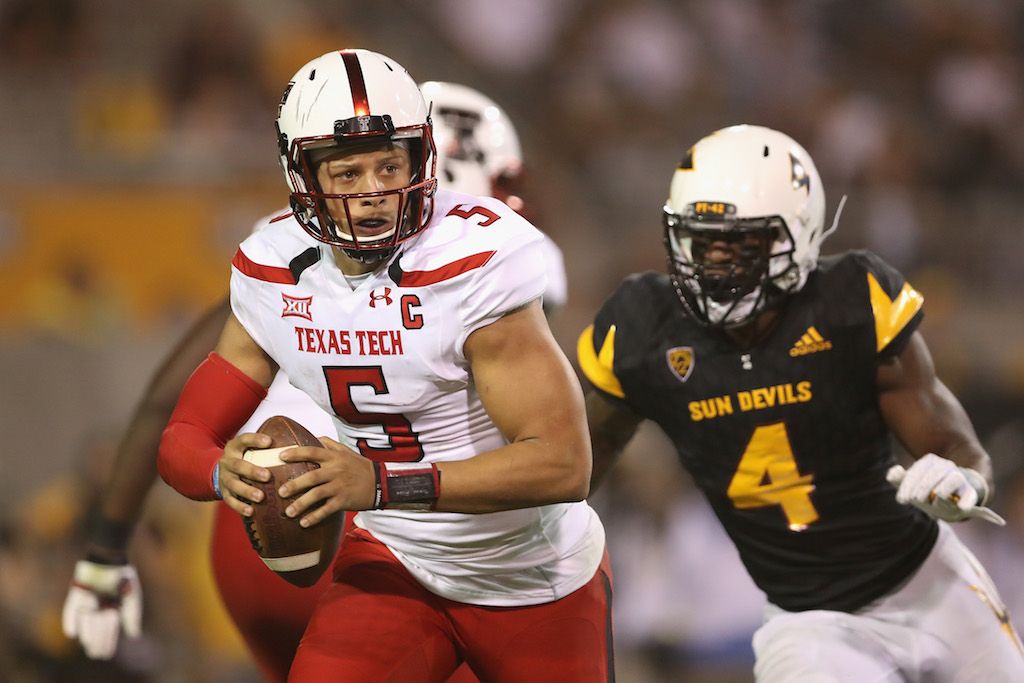 If it was only about numbers, the sky would be the limit for Texas Tech quarterback Patrick Mahomes. In 2015, he completed 63.5% of his passes for 4,653 yards, 36 touchdowns, and 15 interceptions. He also rushed for 456 yards and added another 10 scores on the ground. Through his first four games this season, Mahomes has already thrown for 1,770 yards (No. 2 in the Big 12), 18 touchdowns, and three interceptions. He's completed 72.9% of his passes. Like we said before, the kid puts up serious numbers.
Unfortunately, when you play in Texas Tech's air road offense, stats like these are expected; especially when success in this particular scheme is more about overall athleticism and less about a player's ability to dissect a defense. We could be wrong, but Mahomes, despite having a big arm, seems to fit the bill.
4. Mason Rudolph, Oklahoma State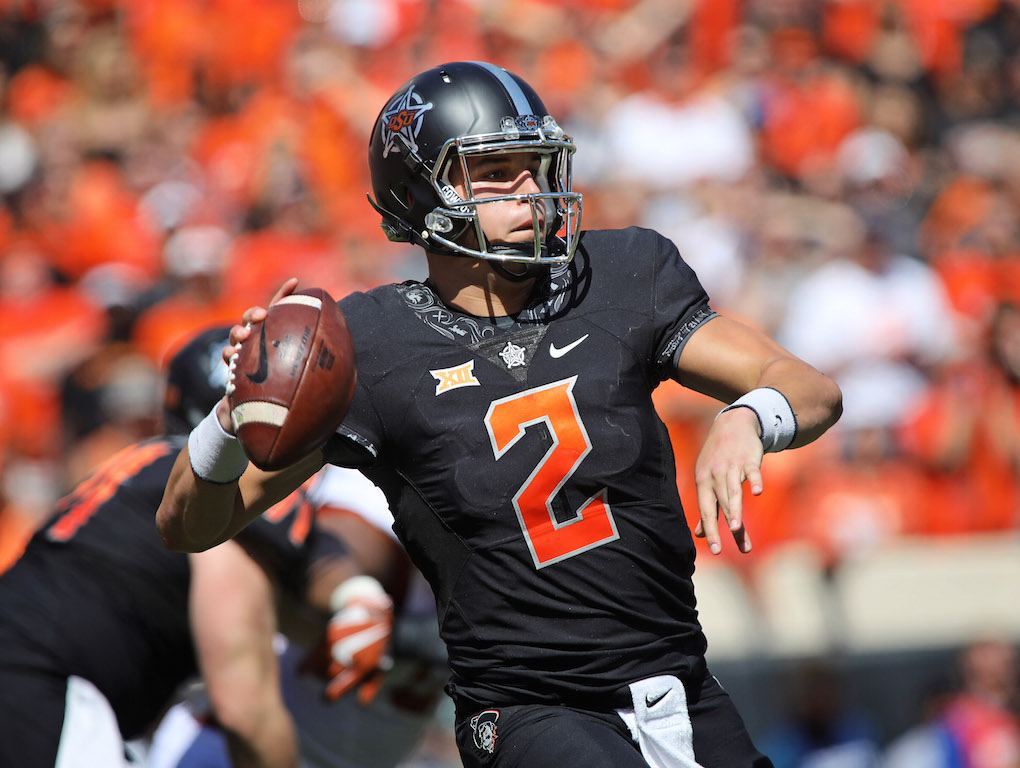 There is no denying that Oklahoma State's Mason Rudolph looks the part. At 6-foot-5, 235 pounds, the true junior looks like someone you expect to suit up on Sundays. Unfortunately, sometimes, looks can be deceiving.
We hoped Rudolph would lead the Cowboys to contention in 2016. So far, aside from a recent victory over an overrated Texas squad, this hasn't been the case. More importantly, despite his naturally-gifted size, Rudolph doesn't have the necessary arm strength to go along with it. This doesn't automatically disqualify him from having a career after college, but it doesn't help him, either.
5. Trevor Knight, Texas A&M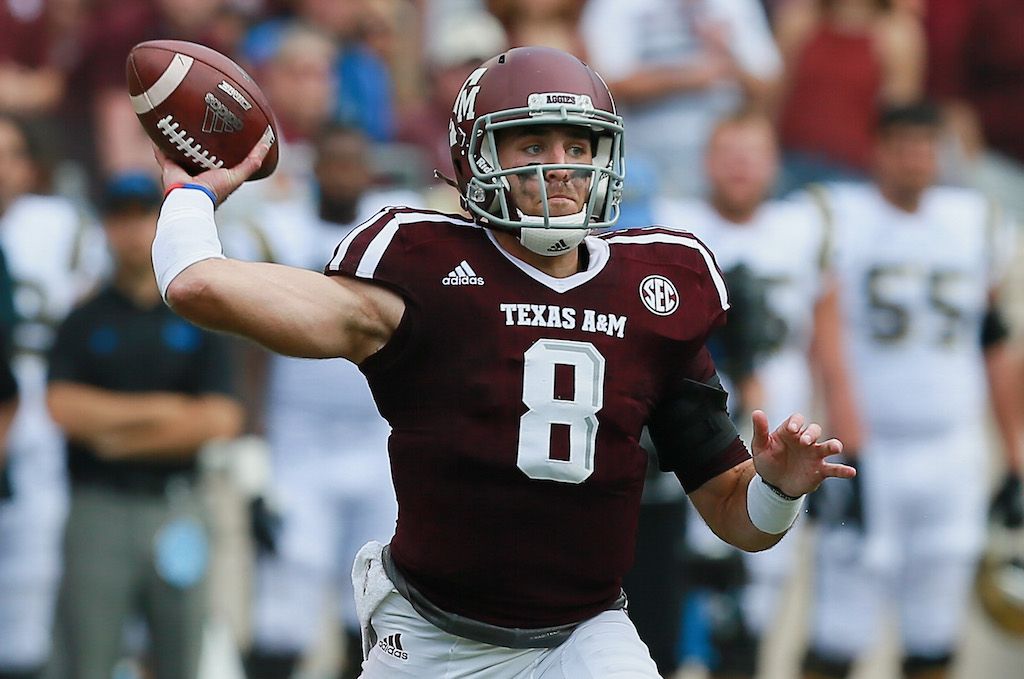 After starting his college career at Oklahoma, senior Trevor Knight finally found a home at Texas A&M. In his first and soon-to-be only season with the Aggies, Knight gets the job done with his arm (1,261 passing yards, seven touchdowns, three interceptions) and legs (392 rushing yards and six rushing touchdowns), leading Kevin Sumlin's crew to a 5-0 record and a No. 8 ranking in the AP poll. But, let's face it, given his size and modest skill set (the guy is just 6-foot-1 and only has a career completion percentage of 56.3%), this is probably as good as it gets for Knight.
6. Greg Ward Jr., Houston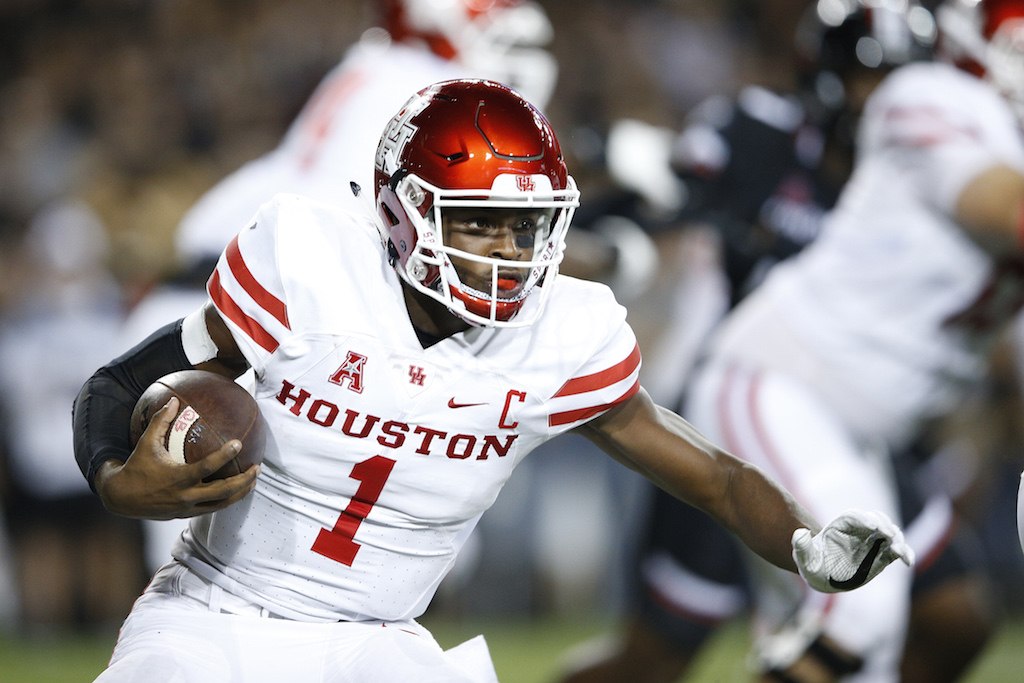 Greg Ward Jr. is one of our favorite players in all of college football. In 2016, the senior is completing nearly 71% of his passes. He has accounted for 13 touchdowns (eight in the air, five on the ground) and thrown just three interceptions. On top of that, he's helped the Houston Cougars achieve a 5-0 record and rise to the No. 6 ranking in the AP Top 25. With Ward leading the way, this has the potential to be a magical season for a once-underrated team out of the American Athletic Conference. This is good for the veteran signal caller, because this may be the last chance he gets.
While players like Drew Brees and Russell Wilson overcame height issues to experience successful NFL careers, it takes a special sort of talent to do so. With his 5-foot-11, 185-pound build, and lack of legitimate arm strength, we don't see Ward following in their footsteps. Of course, if he considered changing positions, we'd reconsider our position.
7. Baker Mayfield, Oklahoma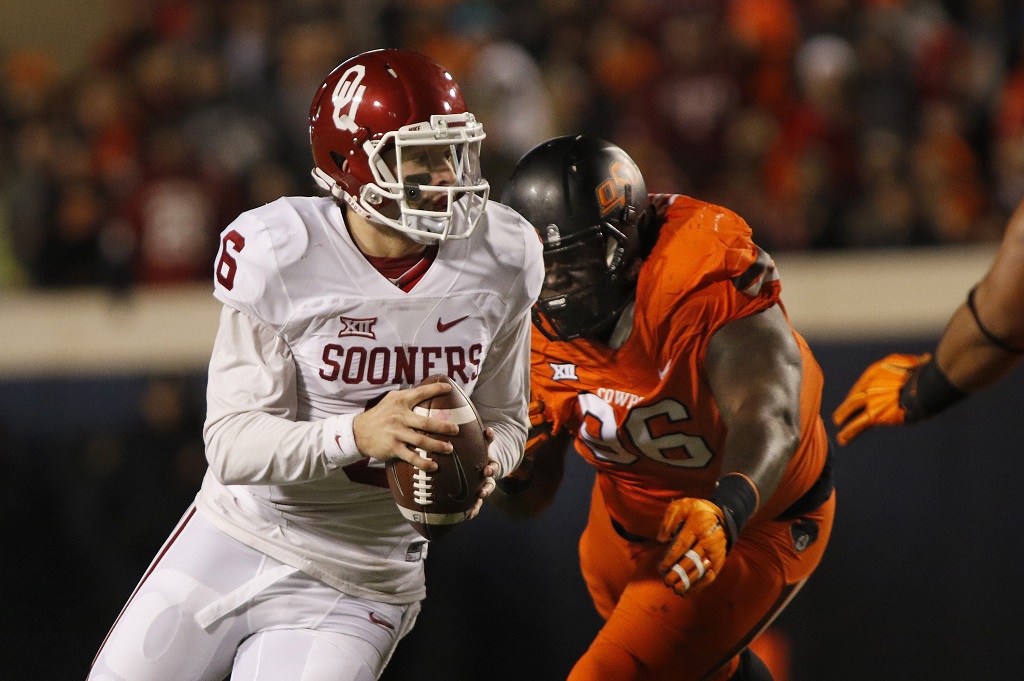 Oklahoma's Baker Mayfield is everything you want in a "big man on campus." The guy has charisma, confidence, and an immense presence about him. More importantly, he's competitive beyond words and knows how to lead a football team. Sure, his numbers this season are a far cry from the ones he put up in 2015 (3,700 passing yards, 36 touchdowns, seven interceptions), but part of that can be chalked up to the fact that the 2016 Sooners aren't as good as most anticipated. As a result, Mayfield can only do so much. The same, unfortunately, can be said about his future at the position.
While Mayfield has the swagger of a franchise quarterback, he lacks the size (he's 6-foot-1, 210 pounds) most teams look for. He also takes too many unnecessary hits outside the pocket. If we had one piece of advice for Mayfield, it'd be this: Stay in Norman, Okla. as long as you can. This is, and always will be, your happy place.
Statistics courtesy of SR/College Football and ESPN.