Collin Morikawa Still Can't Believe He's Friends With Tiger Woods: 'That's the Coolest Thing'
Collin Morikawa is still stunned that he's come so far in golf that Tiger Woods has become one of his good friends.
Collin Morikawa, like most other golfers his age, grew up idolizing Tiger Woods. He always dreamed of growing up and being able to play alongside Woods on the PGA Tour, and he was able to do just that when he turned pro in 2019.
A few years later, Morikawa still can't believe he's colleagues with Woods, and he's even more amazed that he can call the greatest golfer to ever live his friend.
Collin Morikawa will always remember the first time he played with Tiger Woods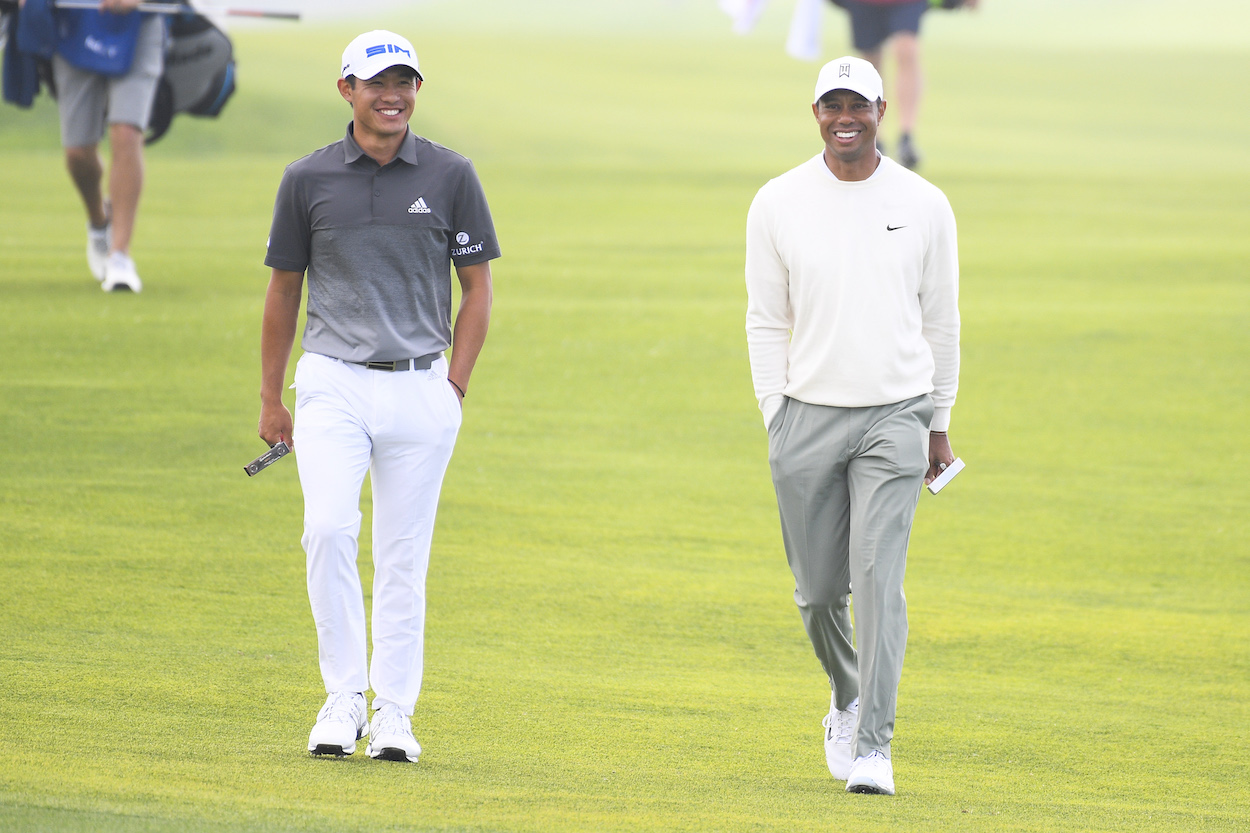 Morikawa already has five PGA Tour wins and a major championship on his resume, but playing with Tiger for the first time is still one of the most memorable experiences of his young career.
In a recent interview with Becky Anderson of CNN, Morikawa explained what he remembers about the first time he was paired with Woods in the 2020 Farmer Insurance Open.
"I'm like: 'What's going on? This is weird,'" he said. "'He's trying to beat me, I know he is, and I'm trying to beat him as well.' But it made it just that much more relaxing and you could see the human side of him.
"I think what I've realized is that we're not just golfers and I think everyone has that perception, is that all we do is golf 24/7, but there's so much more behind the layers of every single person out here and that's been cool to get to know these people as actual humans."
Morikawa has been lucky enough to get to know Woods over the last few years and even build a friendship with the golf legend.
Morikawa: "It's amazing to have a friendship" with Tiger
Morikawa never thought he'd be playing professional golf alongside Woods, and he surely never believed he would become good friends with his idol. In his interview with CNN, the reigning Open Championship winner reflected on what Tiger's friendship means to him.
"It's amazing to have a friendship, to know him, to talk to him and that's the coolest thing, is that he's grown this game like no one else ever has, Morikawa said. "There's only a few athletes in the world that I can think of, and that really anyone can think of, that have done that to their respective sport. So that's, of course, someone who I'm going to look up to."
Still looking up to his friend
We don't know if Woods will ever tee it up on the PGA Tour again, but his impact on the game of golf can never be understated. Morikawa knows that better than anyone.
"I think when you bring up Tiger Woods to someone that doesn't even know anything about golf, they know he represents golf and the sport of golf," Morikawa said. "What he's done for this game, how he's changed the evolution of not just the physical aspect, the mental aspect, but just growing the game around the world. That's someone who I look up to."
Like Sportscasting on Facebook. Follow us on Twitter @sportscasting19.