Colts All-Pro Darius Leonard Drops Massive Extension Hint on His Birthday
The Indianapolis Colts have one of the strongest defenses in the NFL, and at the heart of that defense is inside linebacker Darius Leonard.
Indianapolis selected Leonard with the 36th overall pick in the 2018 NFL Draft and has since watched him blossom into one of the best linebackers in football. Leonard was named Defensive Rookie of the Year in 2018 and has continued to showcase his dominance at the second level of the defense.
Colts general manager Chris Ballard has made a point of revamping the team's defense at the first two levels and, with Leonard due for an extension, is likely to do what it takes to keep Leonard in Indy for the long haul. Much of Indy's immediate success could depend on quarterback Carson Wentz, but Leonard and the rest of the defensive unit also loom large.
It is likely just a matter of time before The Maniac signs a massive contract.
The Indianapolis Colts are working to extend Darius Leonard
Ballard has said the Colts are working on signing Leonard to an extension.
Indy is in a pretty good position to dole out big deals to Leonard and right tackle Braden Smith, a critical cog on the offensive line. The Colts are currently projected to have the most cap space in 2022 and fifth-most cap space in 2023, per Over The Cap. That flexibility lends itself to the team being able to commit money now.
"We've had a great back and forth," Ballard said about the extension talks, via Jim Ayello of the Indianapolis Star. "(Colts Director of Football Administration) Mike Bluem has been tremendous, as are all the agents we're working with. It goes back and forth. Getting these early extensions is not always easy, so we'll continue to work through it. We'll take care of our guys and see if we can come to a common agreement."
The Colts have every reason to extend Leonard after giving DeForest Buckner a four-year deal last offseason. With Buckner wreaking havoc on the interior and Leonard plugging the gaps and covering the soft zones in the second level, Indy's defense ranked 10th in defensive scoring and eighth in yards allowed. The Colts shut down opposing ground games, ranking second in rushing yards allowed.
Leonard has been a force all his own for some time now. He led the NFL with 163 combined tackles (111 solo tackles) in 2018 and has amassed at least 121 tackles and 3.0 sacks in each of his first three seasons. The former South Carolina State standout was named All-Pro for the second time in 2020.
Leonard hints at extension in birthday tweet
Leonard celebrated his 26th birthday on Tuesday, and he did so by referring to extension talks with the Colts.
Leonard quote-tweeted a picture of himself arriving for Colts training camp, calling himself "blessed." He also said, "This birthday would be one to remember if………" with a smiley emoji at the end.
Naturally, Leonard is having some fun with Colts fans. He undoubtedly understands there is ample focus on his extension talks and would probably love to sign a big deal to ring in the next year of his life.
Granted, it's unlikely Leonard takes a discount to stay in Indianapolis, particularly after the contract that the San Francisco 49ers gave linebacker Fred Warner.
Leonard could become the highest-paid linebacker in the NFL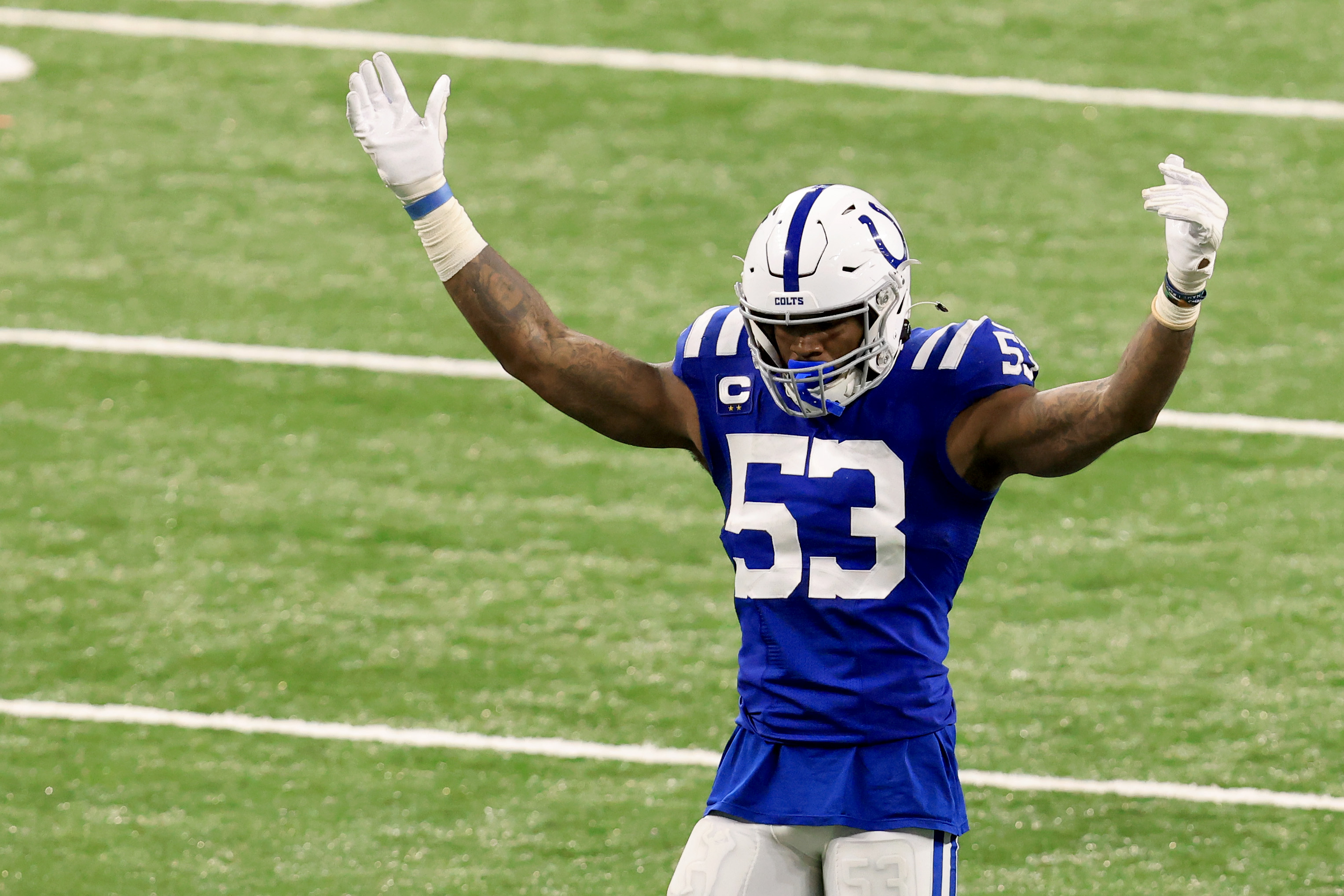 Warner's $95 million deal with the Niners gave him the highest total value and average annual value (AAV) of any linebacker in the NFL. Leonard could top Warner in terms of AAV.
Adam Schefter of ESPN reported Leonard is expected to receive a four-year deal "north of" $19 million a year. Considering Warner's AAV can essentially be rounded down to $19 million, it is within reason to suggest Leonard will become the highest-paid inside linebacker in that category.
The Colts figure to finalize a deal with Leonard very soon, which could make for a very nice birthday present, of sorts.
Stats courtesy of Pro Football Reference. Contract information courtesy of Over The Cap.