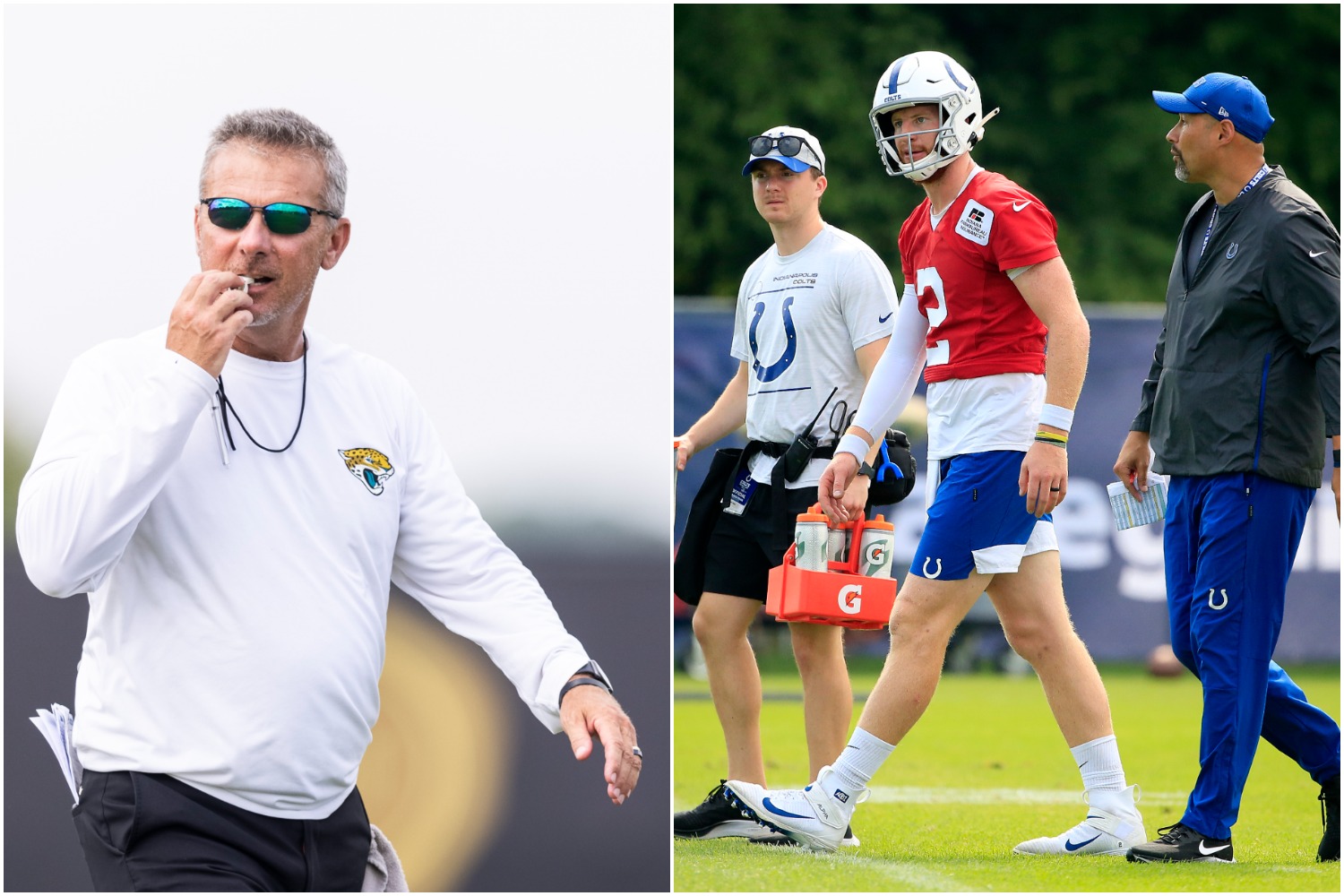 The Indianapolis Colts Can Easily Overcome Carson Wentz's Season-Altering Setback by Giving Urban Meyer a Call
With Carson Wentz already injured, the Colts desperately need to bolster their quarterback depth chart. If Indianapolis wants to make a legitimate Super Bowl run, Chris Ballard should give Jaguars head coach Urban Meyer a phone call sooner than later.
The Indianapolis Colts barely had a chance to see Carson Wentz practice before he suffered yet another injury setback. Considering all the durability issues Wentz had during his days with the Philadelphia Eagles, the fact he already got hurt well before the Colts' first preseason game doesn't look promising for his chances of resurrecting his career under Frank Reich.
With their new starting quarterback sidelined, the Colts can't afford to take any more chances with the most important position in sports. Even if Wentz's recovery timeline allows him to get back on the field for the 2021 season, that doesn't mean they should feel comfortable with their current depth chart.
If general manager Chris Ballard wants to bolster the quarterback room with a legitimate signal-caller, he needs to pick up the phone and call Urban Meyer immediately.
In fact, if the Jacksonville Jaguars are willing to do business with one of their division rivals, the Colts can easily overcome Wentz's season-altering setback.
Betting on Carson Wentz already looks like a questionable move by Indianapolis
The Colts know a thing or two about losing a starting quarterback to a major injury. Obviously, the Peyton Manning era came to a premature end because of a neck issue that required spinal fusion surgery. And right before the 2019 season began, Andrew Luck shockingly retired from the league at the age of 29. Then again, given all the damage he sustained after joining the organization as the No. 1 overall pick in the 2012 NFL Draft, it shouldn't have been a total surprise that he walked away from the game for good.
Unfortunately for the Colts, their latest attempt to find a successor to Luck looks in danger of not working out because of an injury.
Once Philip Rivers retired in January, Indianapolis elected to take a gamble on Wentz, who once looked like a budding star for the Eagles. Of course, a combination of durability issues and poor play caused the No. 2 overall pick from the 2016 NFL Draft to fall out of favor in Philadelphia.
Still, that didn't stop the Colts from sending a 2021 third-round selection and a 2022 conditional second-rounder to the Eagles for the 28-year-old signal-caller. Reunited with his former offensive coordinator, Wentz entered training camp with plenty of motivation to prove his critics wrong.
Then disaster struck.
Wentz suffered a foot injury during practice on Thursday, July 29. According to ESPN, the one-time Pro Bowler will be out five to 12 weeks as he recovers from surgery to remove a bone out of the fifth metatarsal of his left foot.
For a team with legitimate Super Bowl aspirations, losing your new starting quarterback right at the beginning of training camp represents a massive blow. But if the Colts want to overcome Wentz's season-altering setback, they simply need to call up another new face who joined the AFC South this offseason.
The Colts can easily overcome their starting quarterback's season-altering setback by giving Urban Meyer a call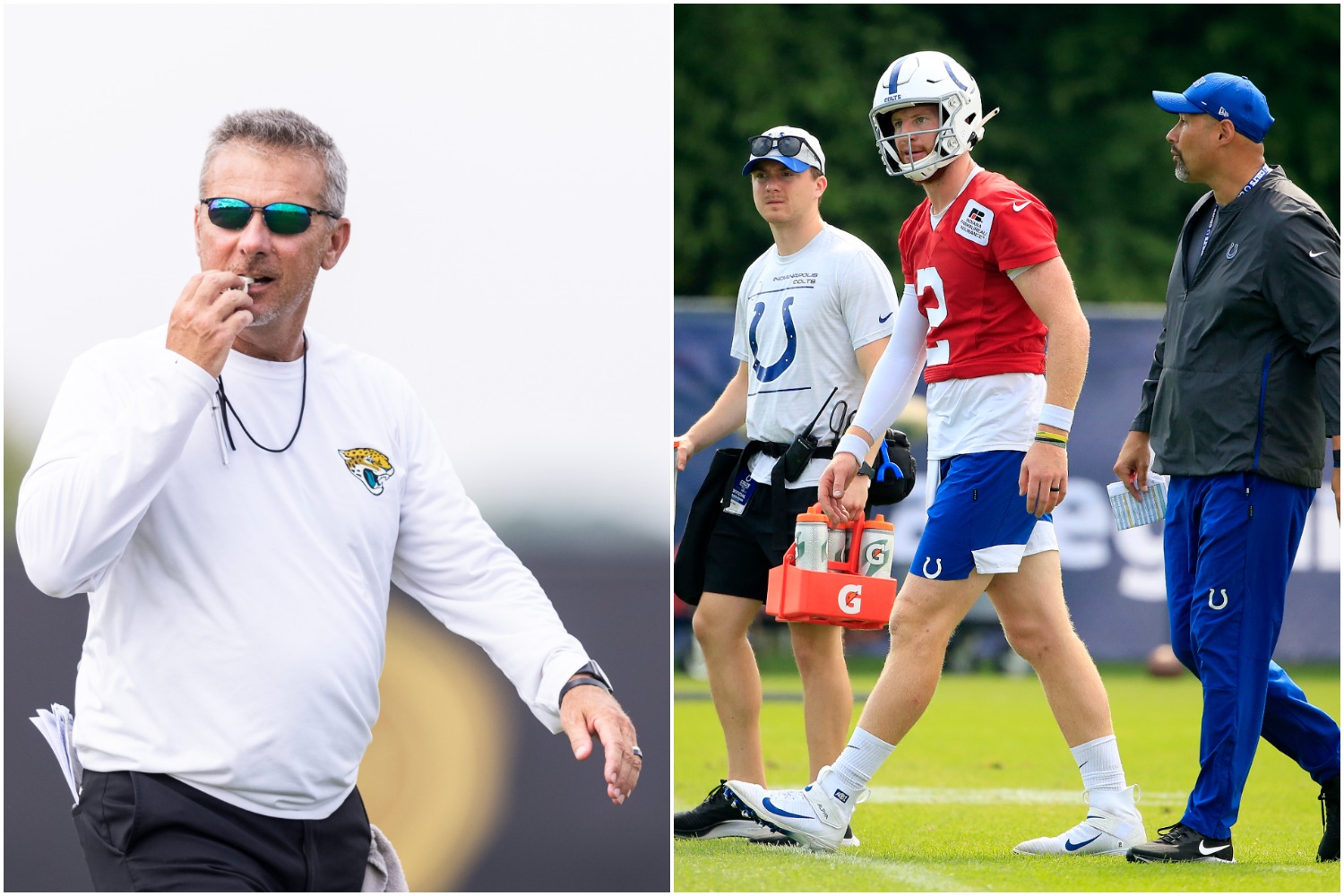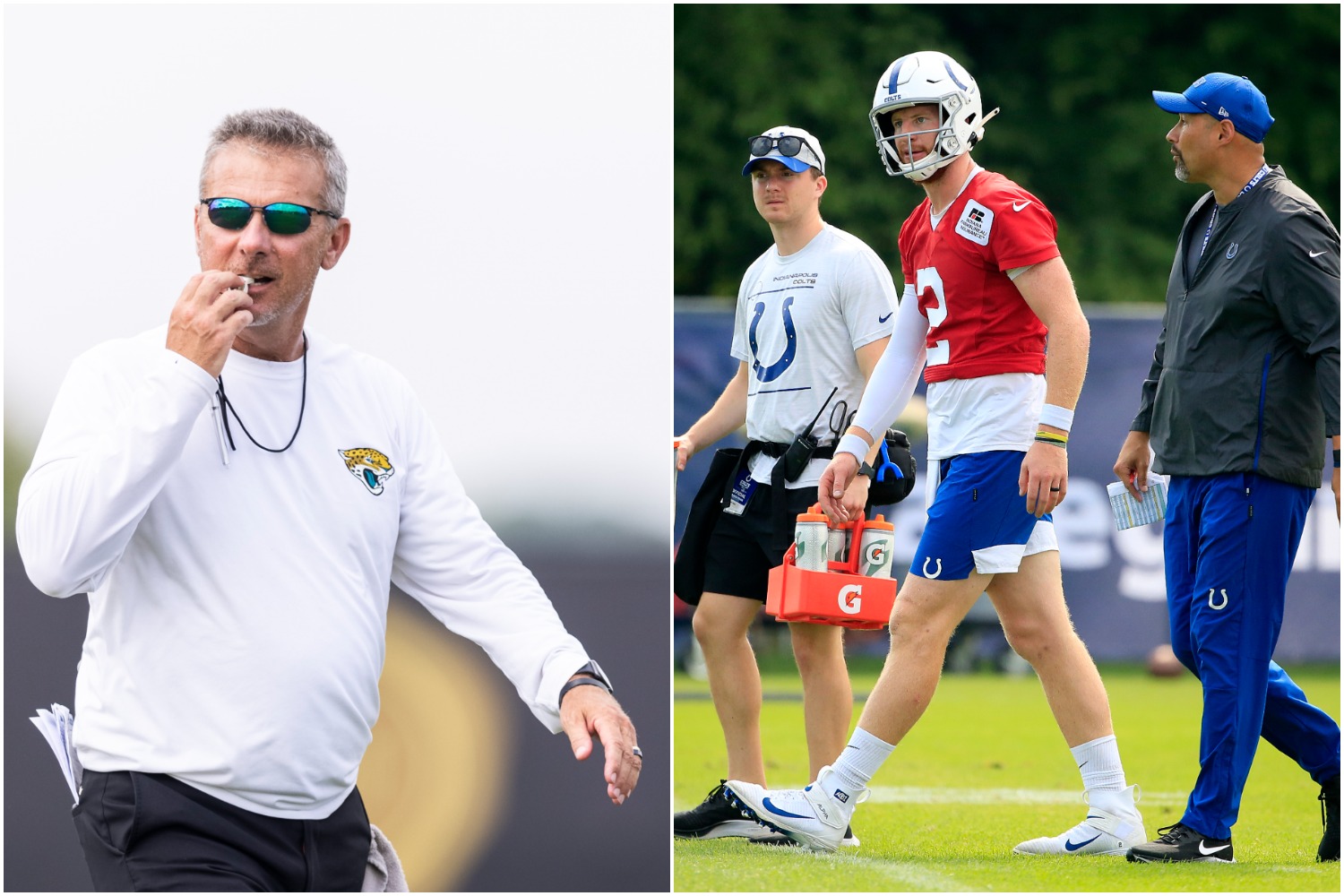 Think Urban Meyer feels lucky about his quarterback situation?
While the Colts have an uninspiring group of backups that includes 2020 fourth-round pick Jacob Eason, rookie sixth-round pick Sam Ehlinger, and the recently-signed Brett Hundley, the Jaguars have a generational talent in Trevor Lawrence and a backup who's shown flashes of Pro Bowl potential despite playing for an awful team. And if the Colts want to make a major upgrade at the position, they shouldn't hesitate to bring Gardner Minshew to Indianapolis.
A sixth-round pick in the 2019 NFL Draft, the 6-foot-1, 225-pound signal-caller has completed 62.9% of his passes for 5,530 yards, 37 touchdowns, and only 11 interceptions in 23 games. However, with Lawrence taking over as the face of the franchise, Minshew stands little chance of seeing the field again. Given his intriguing skill set, solid track record of production, and more-than-affordable contract (Minshew will make less than $2 million across the final two years of his rookie deal), he looks like a terrific option for the Colts.
Back in June, Jeremy Fowler of ESPN reported that the Jaguars were asking for a fifth- or sixth-round pick for the 25-year-old former Washington State standout. Even if Jacksonville bumps that price up to a fourth-rounder simply because Indianapolis plays in the same division, that shouldn't stop Ballard from pulling the trigger on a deal.
In fact, if you take a step back and look at Wentz and Minshew from afar, there's no reason Meyer shouldn't receive a call from the Colts in the near future.
Could Gardner Minshew actually be an upgrade over Wentz?
Could the Colts actually be better off with Minshew running their offense rather than Wentz? While the former doesn't possess the ideal frame for a true franchise quarterback, he's played at a much higher level in recent years. Plus, Minshew's achieved a respectable level of success while facing some significant challenges.
First, just like Tom Brady, he entered the league as a largely overlooked sixth-round pick. But by demonstrating big-play ability and uncanny moxie for a rookie, Minshew started 14 games and gained a loyal following.
In addition, like so many other young players, the talented gunslinger didn't have the benefit of a normal offseason in 2020. Minshew still put up solid numbers — including a 66.1% completion rate and an impressive 16:5 touchdown-to-interception ratio — playing for a bad Jaguars team.
Imagine him in an environment that features a rock-solid head coach (Reich), a smart GM (Ballard), and a roster that looks capable of winning a division title. Instead of dealing with a rebuild in Jacksonville, Minshew would get to take over a team that has a terrific offensive line and an exciting collection of young skill players that includes running backs Jonathan Taylor and Nyheim Hines and the receiver duo of Michael Pittman Jr. and Parris Campbell.
It's hard not to get excited about the prospect of Gardner Minshew running Reich's offense. So, even though the Colts traded two high draft picks for Carson Wentz in March, that shouldn't preclude them from investing another asset to get a quarterback who can actually lead them to the playoffs.
All statistics courtesy of Pro Football Reference. All contract data courtesy of Spotrac.