The Colts Can Salvage Their up-and-Down 2021 Season by Reuniting Carson Wentz With 1 of His All-Time Favorite Deep Threats
Fresh off a dominant Thursday Night Football win over the New York Jets, the Indianapolis Colts' 2021 season continues to be a rollercoaster ride of emotions. Some weeks they look like a legitimate playoff contender in the AFC. Other weeks Carson Wentz can't get out of his own way, and the Colts look like nothing more than a below .500 football team.
With all of that said, the Colts are 4-5 through nine games and are still in the mix for a playoff spot. The expanded playoff format opens the door for them to sneak in as a third Wild Card team, while the Tennessee Titans' recent loss of star running back Derrick Henry leaves the AFC South relatively open.
Carson Wentz is (overall) playing good football for the Colts
While he still throws the odd interception that leaves you banging your head against the wall out of pure frustration, the Colts' acquisition of Wentz this past offseason has largely proved to be a wise investment. He's tossed 17 touchdowns compared to just three interceptions, and he ranks 11th in the NFL in quarterback rating. That's ahead of guys like Dak Prescott, Patrick Mahomes, Justin Herbert, and Joe Burrow.
Again, it hasn't been all sunshine and rainbows for Wentz and the Colts this year. His two late turnovers against the Titans in Week 8 were killer, and his early ankle injuries put the offense in a tough spot.
However, the overarching conclusion is that Frank Reich and the Colts went all-in on Wentz this past offseason, and it's working to an above-average extent. Plenty of teams would kill for a starting quarterback with Wentz's current numbers.
The Colts need to surround their QB with more help
The NFL trade deadline has come and gone. However, that doesn't mean the Colts' front office can't act aggressively to surround their starting quarterback with additional help.
With Parris Campbell on injured reserve and T.Y. Hilton constantly in and out of the lineup with nagging injuries, it only makes sense for Indy to pursue help at the receiver position.
Adding recently released Odell Beckham Jr. would obviously be a dream outcome for Wentz and the Colts. However, there's been little to suggest they're in the mix for him. Instead, they should shift their attention to another recently released veteran wideout: DeSean Jackson.
Carson Wentz and DeSean Jackson have good chemistry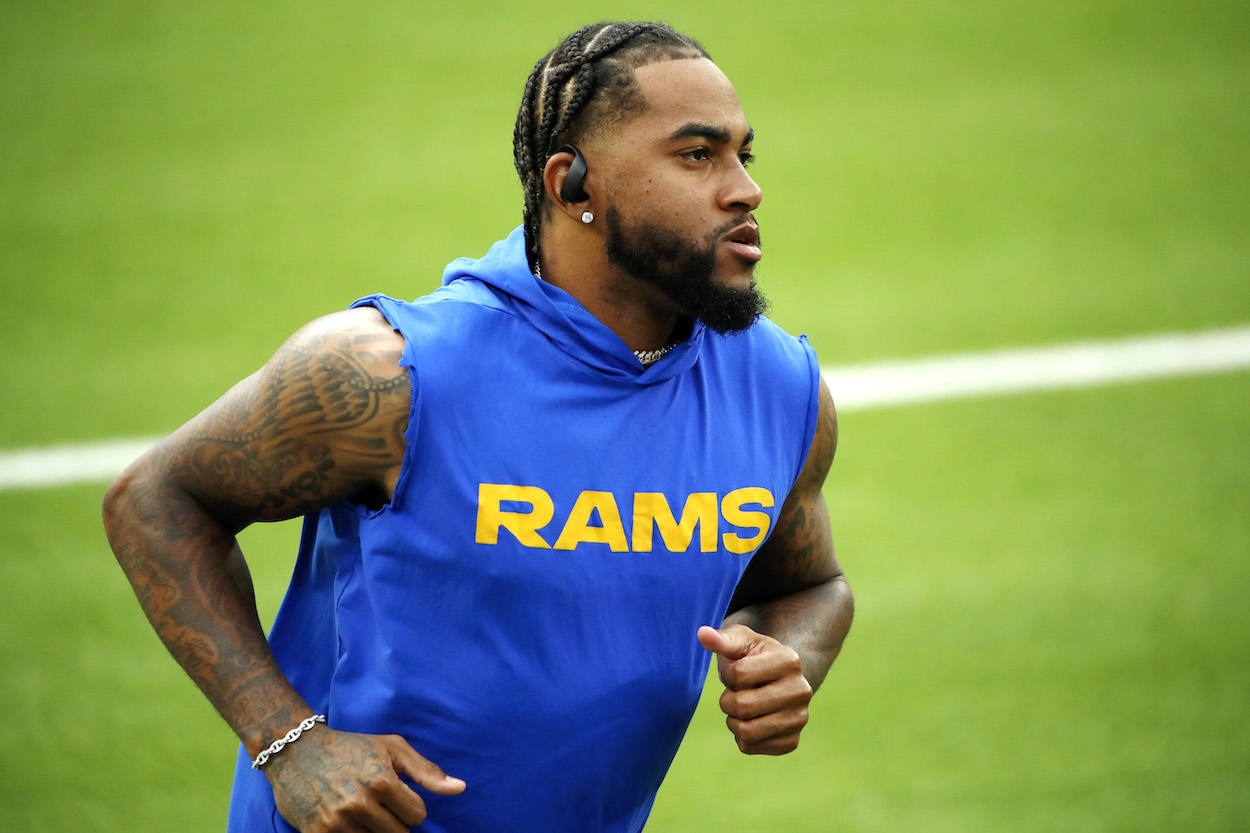 The final two years of Wentz's time in Philadelphia were a bit of a blur. However, the connection he briefly formed with Jackson there stands out.
During the lone game that Jackson was 100% healthy and operating as the Philadelphia Eagles' WR1 (2019 Week 1), he and Wentz connected eight times for 154 yards and two touchdowns. It was an awe-inspiring performance from Jackson and Wentz. Everyone left the game expecting the two to rack up similar performances all season long.
Jackson spent the next two years primarily on injured reserve, never recapturing his previous form with the Eagles again.
However, after a brief spell with the Los Angeles Rams in 2021, Jackson looks healthy enough to give the Colts a boost down the stretch. Slotting him in alongside an emerging Michael Pittman Jr. would do a lot for Indianapolis' offense.
It's unclear what Jackson is looking for in a new team. However, the veteran receiver frequently praised Wentz during their brief time together in Philly. It's reasonable to assume he'd jump at the opportunity to pair up with him again.
All stats courtesy of Pro Football Reference.
RELATED: Stephen A. Smith Mercilessly Blasts Carson Wentz for Constant 'Idiotic' Mistakes Following the Colts' Crushing Week 8 Loss: 'I'm Done With [Him]'