Colts Coach Frank Reich Spent $12,000 on a Very Good Dog That He May Never Own
Indianapolis Colts head coach Frank Reich has given a very good boy a new home.
Reich, who is entering his fourth season with the Colts, bought a Labrador retriever named Hunter. Although Reich spent a ton of money on Hunter, there is an extremely high chance that he will never own the dog.
Frank Reich spent $12,000 on a dog that fights sex trafficking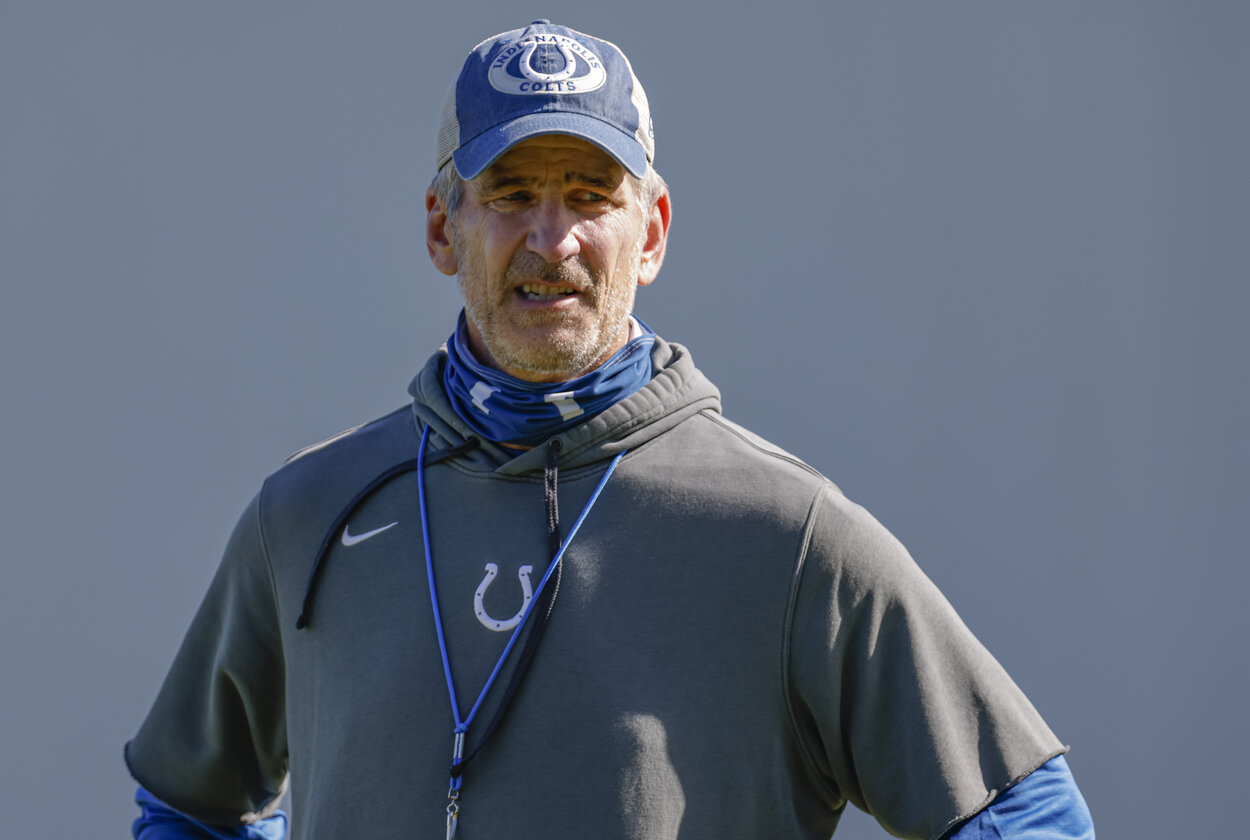 RELATED: Former U.S. Olympic Gymnastics Coach John Geddert Dies by Suicide After Getting Charged With Human Trafficking, Sexual Assault and Lying to Protect Convicted Sex Offender Larry Nassar
Hunter does far more than sit, fetch, and ask to go outside. 
Frank Reich and his wife, Linda, bought Hunter for serious reasons. According to NBC Sports, Reich donated Hunter to Internet Crimes Against Children, an Indiana State Police task force.
Hunter is trained to "sniff out SIM cards" and help the task force deal with human trafficking. NBC reported that during a stretch in April 2021, Hunter helped the task force conduct four search warrants; three involved child pornography charges and the last was a probation violation of a sex offense. 
Daren Odier, who serves as Hunter's handler, told Reich that the dog "found a suspect's phone buried under a couch cushion after the suspect saw officers at the door of his residence."
Reich and his wife formed Knot Today in 2019
RELATED: The Most Outrageous Criminals in Sports History
Frank Reich is directly benefiting from Hunter's presence, even if the dog isn't sitting with him on the couch.
Reich and his wife, Linda, formed Knot Today in 2019. Stylized as kNOT TODAY, the organization is dedicated to raising awareness of child sexual abuse and helping those who have been victimized.
According to its official website, kNOT TODAY "exists to generate awareness, initiate prevention strategies, and assist in the development of innovative healing programs for sexually abused and exploited children."
Linda Reich serves as the organization's president, while Frank is the vice president.
Reich is the latest sports figure fighting sex trafficking
RELATED: The Epic Fall of Former Super Bowl Champion Darren Sharper
There is a lengthy list of professional athletes, ranging from former Yankees outfielders Chad Curtis and Mel Hall to Darren Sharper, the All-Pro safety, who have found themselves convicted of sex crimes.
Frank Reich is on the other side of the equation as a sports figure who is openly fighting sexual assault and trafficking. Luckily for Reich and his family, they are not alone.
Adam LaRoche, a former journeyman first baseman and designated hitter, played for the Chicago White Sox in 2015. Months after the season ended, LaRoche and Blaine Boyer, a veteran pitcher and former teammate, went undercover in South Asia to help rescue underage sex slaves.
LaRoche told ESPN in 2016 that the trip had a profound experience on how he approached everyday life, including the upcoming baseball season.
"I was sick. I was thinking about my kids and then thinking about the hundreds of thousands of parents who are searching for their 12-year-old daughters."

Adam LaRoche
Let the likes of LaRoche, Reich, and Hunter serve as a reminder that not everything about professional sports involves money and championships.
How to get help: Text HOME to 741-741 to connect with a trained crisis counselor at the free Crisis Text Line.