The Colts Were Dealt Completely Devastating Injury News Which All but Eliminates Carson Wentz's Chances of Winning a Playoff Game
The Indianapolis Colts' 2021 season is off to a disastrous start, and things are only getting worse.
The team is battling a plethora of different injuries across a variety of different position groups. It's the biggest reason they've begun the season with an embarrassing 0-3 record. Quarterback Carson Wentz is dealing with ankle sprains. Wide receiver T.Y. Hilton is on injured reserve with a neck injury. Starting right tackle Braden Smith has an injured foot. The list goes on and on.
Unfortunately for the Colts, their latest injury update only has things looking more gloomy moving forward.
Colts All-Pro LG Quenton Nelson is heading to the IR
Quenton Nelson is arguably the Colts' most important player. His sheer dominance on the interior line the past few seasons has made life incredibly easy for Colts running backs and quarterbacks alike.
It's one of the biggest reasons Philip Rivers (who was on the brink of retirement) was able to perform so well last year. He never had to worry about interior pressure getting to him from the left side of the O-Line.
Depending on who you ask, Nelson is viewed as the best offensive guard in all of football. The debate typically hinges between Nelson and Dallas Cowboys RG Zack Martin. Regardless, you can't go wrong with either.
Nelson suffered a high ankle sprain during the Colts' Week 3 loss to the Tennessee Titans and is now being placed on IR. This means he'll be forced to miss at least three weeks of action — devastating news for an already beat-up Colts offensive line.
This spells trouble for Carson Wentz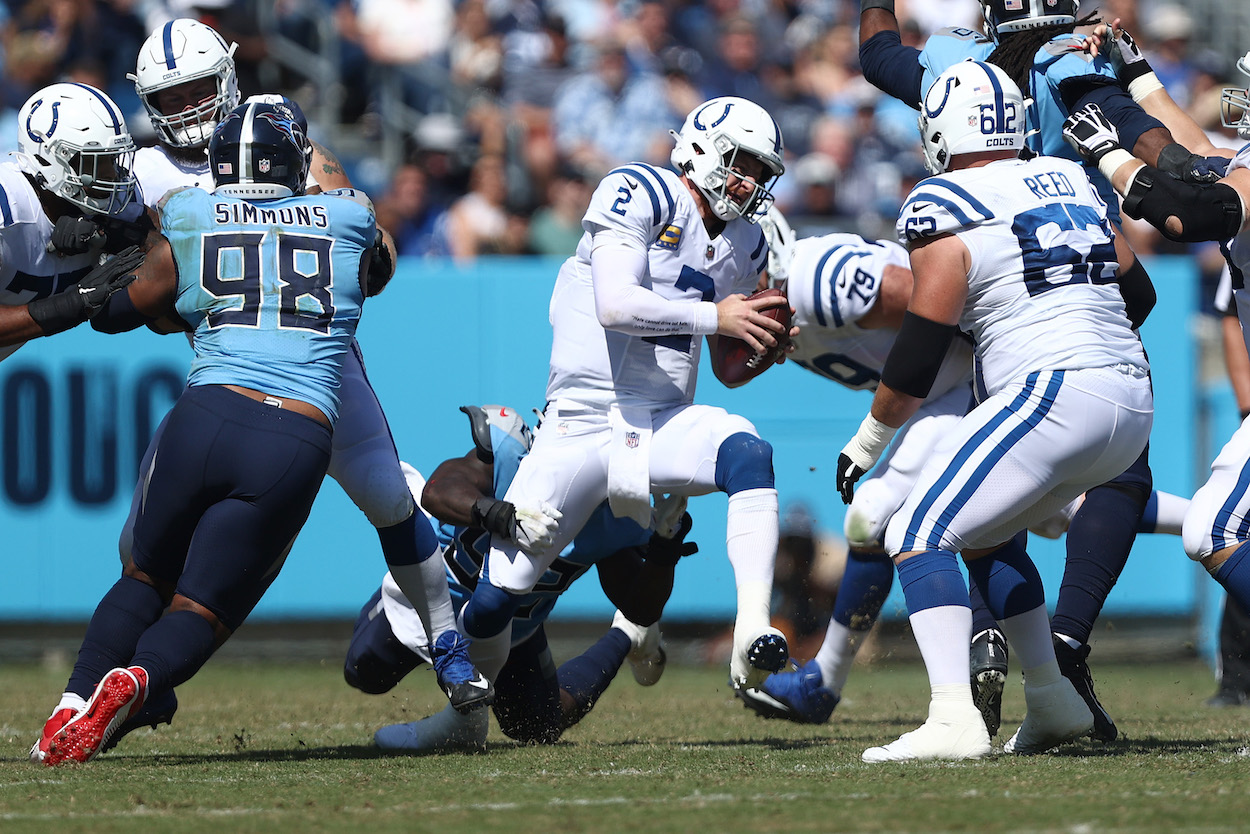 It's bad news whenever a team loses a starting offensive line. However, the Colts are in an even more precarious position at the moment. Wentz, their new starting quarterback, is dealing with sprains in both of his ankles. He's currently attempting to play through the pain on a per-game basis. However, he's not in a position to be taking extra hits in the pocket.
The Colts were struggling to keep Wentz standing even with a healthy Nelson. Losing him spells major trouble for Wentz's health moving forward.
The Colts' current backup left guard is Chris Reed, a former undrafted free agent who's spent the past few seasons bouncing around the league. He does have a bit of starting experience with the Jacksonville Jaguars and Miami Dolphins. However, the drop-off from Nelson to Reed will understandably be sizable.
The Colts are simply not in a position to survive three whole weeks without their All-Pro lineman.
What this means for the Colts moving forward
Moving forward, the Colts are obviously going to do their best to remain competitive. However, it won't be without a significant challenge.
The team is still missing several starters on both sides of the ball, and Wentz hasn't found a groove with his new team. A further hobbled offensive line takes all of these issues and amplifies them even further.
Wentz has yet to win a playoff game as the starting quarterback, and this Nelson injury update casts further doubt on that occurring this season. The Colts also lose their first-round pick to the Philadelphia Eagles if Wentz plays 75% of the team's snaps this year. There's a chance Indy shuts down their starting QB altogether if things continue trending in the wrong direction.
Like Sportscasting on Facebook. Follow us on Twitter @sportscasting19.
RELATED: Patriots Legend Rodney Harrison Blasts Carson Wentz and the Colts' Offense: 'Wentz Is Terrible Right Now'