Colts Coach Frank Reich Clears up Popular Misconception About Carson Wentz and Himself
After a well-documented divorce from the Philadelphia Eagles, Carson Wentz is hoping to get a fresh start with the Indianapolis Colts. Many people think the Wentz-Colts pairing can work due to head coach Frank Reich, who was the Eagles' offensive coordinator during Wentz's Pro Bowl season in 2017. However, Indy's lead man recently cleared up a popular misconception about him and Wentz.
Carson Wentz and Frank Reich had significant success on the Eagles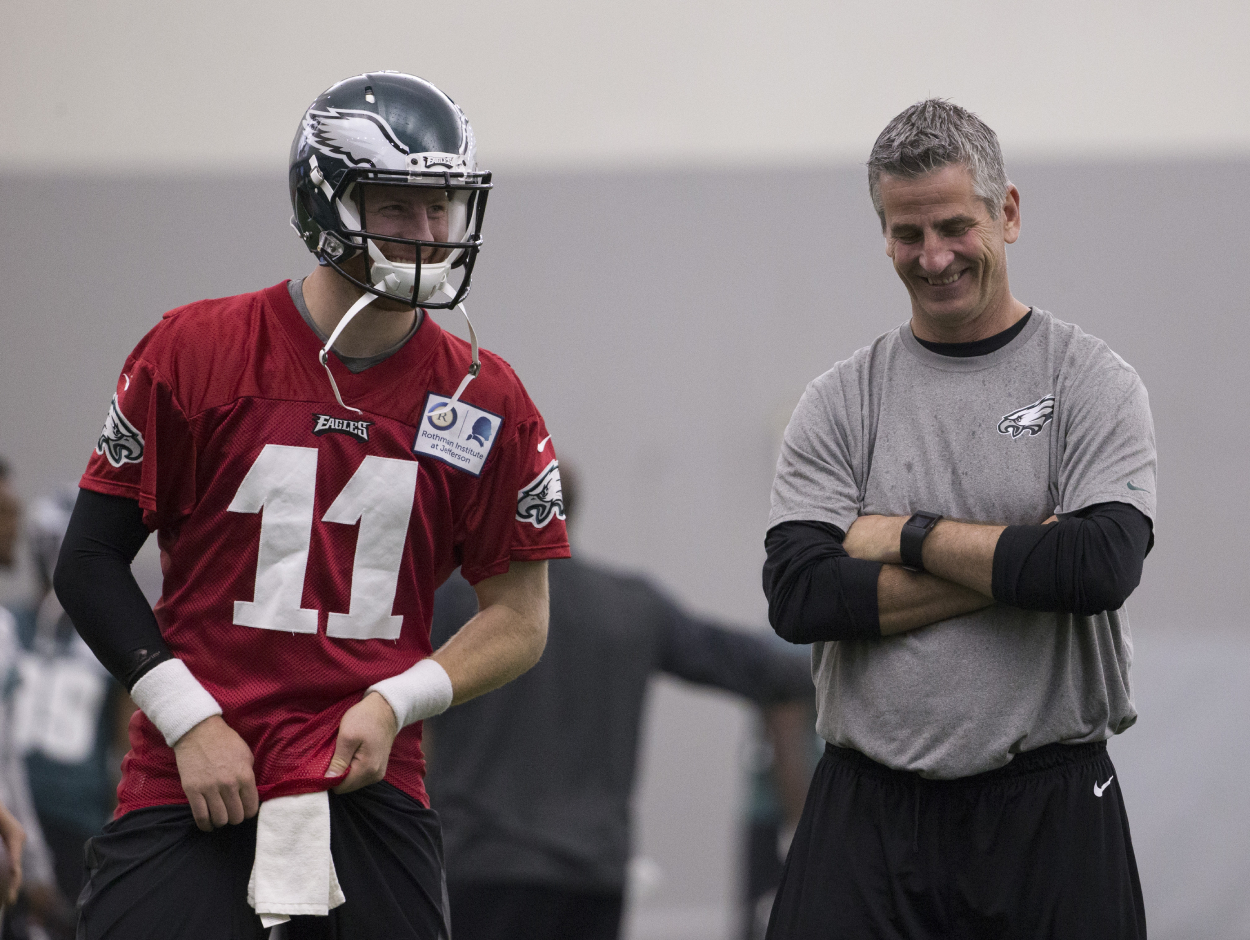 The Philadelphia Eagles made Frank Reich their offensive coordinator in 2016 and drafted Wentz with the second overall pick that same year.
Wentz had a decent rookie season, throwing for 3,782 yards, 16 touchdowns, and 14 interceptions, but he and Reich had a ton of success in 2017. In 13 games, Wentz threw for 3,296 yards, 33 touchdowns, and only seven interceptions. This helped him earn Pro Bowl honors and led the Eagles to a 13-3 record. Together, Wentz and Reich formed one of the best offenses in football, scoring 28.6 points per game.
However, Wentz then missed the postseason that year, and the Eagles won the Super Bowl with Nick Foles. Reich was no longer on the team when Wentz returned in 2018 as he became the Indianapolis Colts head coach.
The Eagles and Wentz continued to succeed in 2018 and 2019, but they could not find as much success as they did in 2017. Wentz threw for 3,074 yards, 21 touchdowns, and seven interceptions over 11 games in 2018 and 4,039 yards, 27 touchdowns, and seven interceptions in 2019.
In 2020, though, Wentz struggled immensely as he threw an NFL-leading 15 interceptions in 12 games, but Philly also allowed him to get sacked a league-leading 50 times. Those struggles, and the fact the team benched him for Jalen Hurts, led to Wentz getting traded this offseason. He has since reunited with Reich on the Colts.
Reich cleared up a popular misconception about him and the QB
Reich recently appeared on The Rich Eisen Show, and he received a question regarding the widespread belief that he is the one person who knows how to have success with Wentz. Some fans essentially think he's the Wentz whisperer. 
Reich, however, shut that idea down.
"Anybody who I've ever worked with or the staffs I've ever worked on know it's always a collaborative approach," Reich said on the May 6 episode. "I want to do my part, but it's a collaborative approach with the player, the coaches together, the team. It's the whole process and it's the whole group, so that's the way we'll approach it here."
OK, so of course he was going to say that. No coach would actually take all the credit. However, what does Reich think about Wentz's new start with Indy?
"You move teams, you go through what Carson has gone through, and an opportunity like this presents itself; you use it for what it is: it's time to hit the reset button," Reich said. "Go back to the basics, the fundamentals, starting at the very beginning. You try to discipline yourself to do that as a player every year no matter what, but it's hard to do once you got things going. But you go through something like this? 'Hey, new team, new beginning, let's use this to our advantage, Carson.' And if you know Carson the way I know him, he's embracing that."
Carson Wentz can turn his career around on the Colts
Reich went on to discuss how Wentz was potentially the favorite for MVP in 2017 before getting hurt. He said he thinks Wentz can play at an MVP level again for the Colts — especially with the talent Indy has around him.
The Colts have Wentz set up for success significantly more than the Eagles did in 2020. They have an excellent offensive line — led by first-team All-Pro Quenton Nelson — and a really good running back in Jonathan Taylor. They also have two other talented backs in Marlon Mack and Nyheim Hines, in addition to a reliable receiver in T.Y. Hilton and some nice young pass-catchers in Michael Pittman Jr., Zach Pascal, and Parris Campbell. Indy also has a great defense with All-Pros Darius Leonard and DeForest Buckner.
The pieces are there for Wentz to have success. An aging Philip Rivers led Indianapolis to an 11-5 record and the playoffs in 2020; Wentz can certainly do that and more.
If Wentz can play at the incredible level he did in 2017 for the Eagles, Indianapolis can become an AFC contender alongside the Kansas City Chiefs and Buffalo Bills in 2021.
Stats courtesy of Pro Football Reference