Colts GM Chris Ballard Sees an Amazing Parallel Between Jonathan Taylor and Bears Legend Devin Hester: 'I'm Feeling the Same Way'
Article Highlights:
Indianapolis Colts general manager Chris Ballard compared running back Jonathan Taylor to Chicago Bears legend Devin Hester
Taylor totaled over 200 all-purpose yards and five touchdowns in a Week 11 victory over the Buffalo Bills
Although Ballard is free to feel that way, his comments are slightly unfair when we examine the context
When all is said and done, Indianapolis Colts general manager Chris Ballard's most significant move might not be acquiring embattled quarterback Carson Wentz or taking a chance on then-Philadelphia Eagles offensive coordinator Frank Reich as his head coach.
In dire need of the team's first long-term game-changing running back since Pro Football Hall of Famer Edgerrin James left after the 2005 season, Ballard traded up during the 2020 NFL Draft and selected Wisconsin's Jonathan Taylor. As the second-year standout continues working through a season that could earn him the NFL MVP Award, his general manager offered an incredible (but somewhat questionable) compliment in the process.
Colts general manager Chris Ballard compared Jonathan Taylor to Devin Hester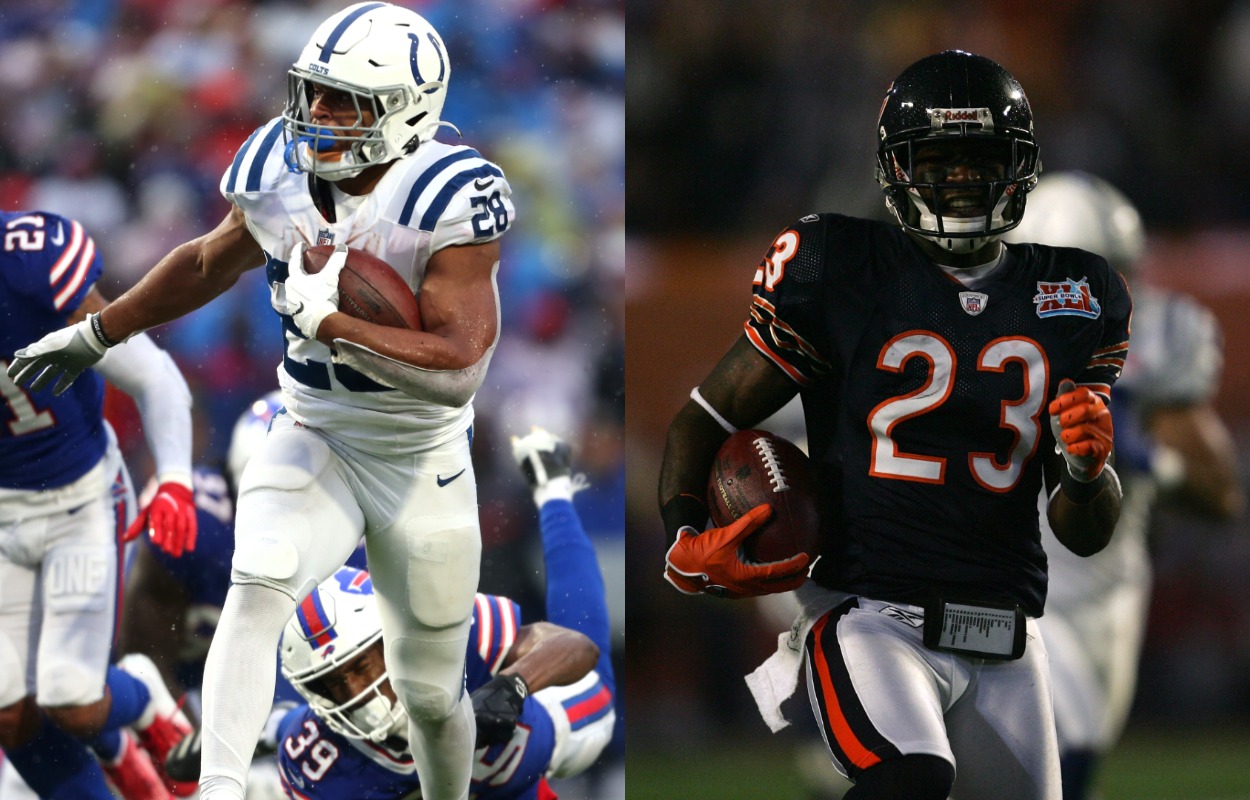 If they're not doing it already, football fans will eventually study the 2020 NFL Draft and ask how Taylor, a dynamic and proven running back at Wisconsin, fell to the 41st overall pick. In fact, the Colts passed on him seven picks earlier when they drafted USC receiver Michael Pittman Jr.
Luckily for Ballard and Reich, Taylor was still available when the Colts traded up from No. 44 to No. 41 later in the second round. Twenty-four games, nearly 2,912 yards from scrimmage, and 27 all-purpose touchdowns later, it's safe to say Indianapolis made the right move.
After watching Taylor carve up the Buffalo Bills' defense for 204 yards from scrimmage and five overall touchdowns in Week 11, Ballard told NBC Sports' Peter King just how highly he thinks of his running back. 
"I was around Devin Hester in Chicago, and every time he touched the ball, I thought he'd score. I'm feeling the same way about Jonathan."

Chris Ballard
There is a lot to unpack there, but Colts fans should immediately take umbrage with one part of Ballard's comparison. Hester never won a Super Bowl with the Chicago Bears, a fate that Taylor and teammates likely don't want to repeat.
Comparing the two's explosiveness isn't exactly fair, considering their roles
Ballard is free to feel however he desires, and unlike the vast majority of people reading this, he witnessed both players up close. And, in fairness, both players certainly have a fondness for reaching the end zone.
However, comparing Taylor and Hester isn't like comparing Taylor to, say, former Bears Pro Bowler Matt Forte or retired Kansas City Chiefs star Jamaal Charles, both of whom were running backs. Hester primarily lined up at receiver and returned kicks during an 11-season career.
Hester returned 19 touchdowns (14 on kickoffs and five on punts) across 610 total returns; that's an average of one touchdown every 32 returns. He added another 17 touchdowns (16 receiving, one rushing) on 291 career offensive touches.
No one is doubting Hester's electrifying playmaking ability when we cite those numbers. It's difficult, though, to compare a receiver/returner to a starting running back, both in terms of touches and overall ability to reach the end zone.
Still, it's a comparison that Colts fans will likely love hearing. Hester has an excellent case for the Pro Football Hall of Fame and could learn of his enshrinement as early as February 2022. Those in Indianapolis probably hope they won't need to see Taylor, who turns 23 in January, take the stage in Canton until 2042.
Taylor's skill set can bring the Colts where Hester and the Bears never went
As Colts fans know firsthand, Hester played in Super Bowl 41 and lost the game despite returning the opening kickoff for a touchdown. Not only did he never make it back to the Big Game, but he only played in another four playoff games — two in January 2011 and another two in 2016 — until he retired.
The Colts are on track to make sure Taylor plays far more than seven career postseason games. Although Indianapolis would be on the inside looking in if the 2021 NFL Playoffs began today, the Colts hold a head-to-head tiebreaker over the Bills.
Indianapolis has games left against the miserable Houston Texans and Jacksonville Jaguars, who are both 2-8, and host the free-falling Las Vegas Raiders on Jan. 2. Taylor's presence should give the Colts a pivotal boost against the always-dangerous Tampa Bay Buccaneers, Mac Jones and the surprising New England Patriots, and the still-impressive Arizona Cardinals.
If the Colts reach the playoffs this year, they'll give Taylor a chance to do what Hester never did: play postseason games in consecutive years. We get the feeling he'll happily run with that fact and make the most of it.
Like Sportscasting on Facebook. Follow us on Twitter @sportscasting19.