Can the Colts' Jacoby Brissett step up for Andrew Luck in 2019?
Indianapolis Colts franchise quarterback Andrew Luck is dealing with another injury. This time, it's a high ankle sprain. The Colts don't know when Luck will be ready to play. If necessary, backup quarterback Jacoby Brissett will start while Luck deals with his injury.

Last year new head coach Frank Reich led the Colts to a 10-6 record and a playoff win. This year, the Colts were hoping to make a run to the top of the AFC. Can Brissett keep the Colts winning until Luck comes back?

The Colts' schedule doesn't help them early on
No one is sure how many games Luck might miss. While the Colts say it's not serious, they don't have the best track record for reporting injuries. In 2017, "soreness" to Luck's throwing shoulder somehow turned into a season-ending injury.

The schedule doesn't help the Colts if Luck has to miss the first few games. In the first five weeks, the Colts play three tough teams in the Los Angeles Chargers, Atlanta Falcons, and Kansas City Chiefs. However, the schedule gets much easier during the rest of the season, with only three of eleven games against last year's playoff teams. As a result, if Brissett can't match Luck's performance early on, the Colts could start the season with a losing record.

Jacoby Brissett is an unknown quarterback
Despite starting 17 games in his three years in the NFL, Brissett is still unknown. Forced to start two games his rookie year with the New England Patriots, Brissett didn't throw a passing touchdown and was eventually traded to the Colts for underperforming wide receiver Phillip Dorsett.
The next year, Brissett started most of the year for an injured Andrew Luck. The Colts went 4-12, and Brissett didn't have great stats. Brissett only completed 58% of his passes, and he threw for 13 touchdowns and seven interceptions. With Luck healthy in 2018, Brissett played limited snaps in four games.

Brissett has the potential to win games while Luck is out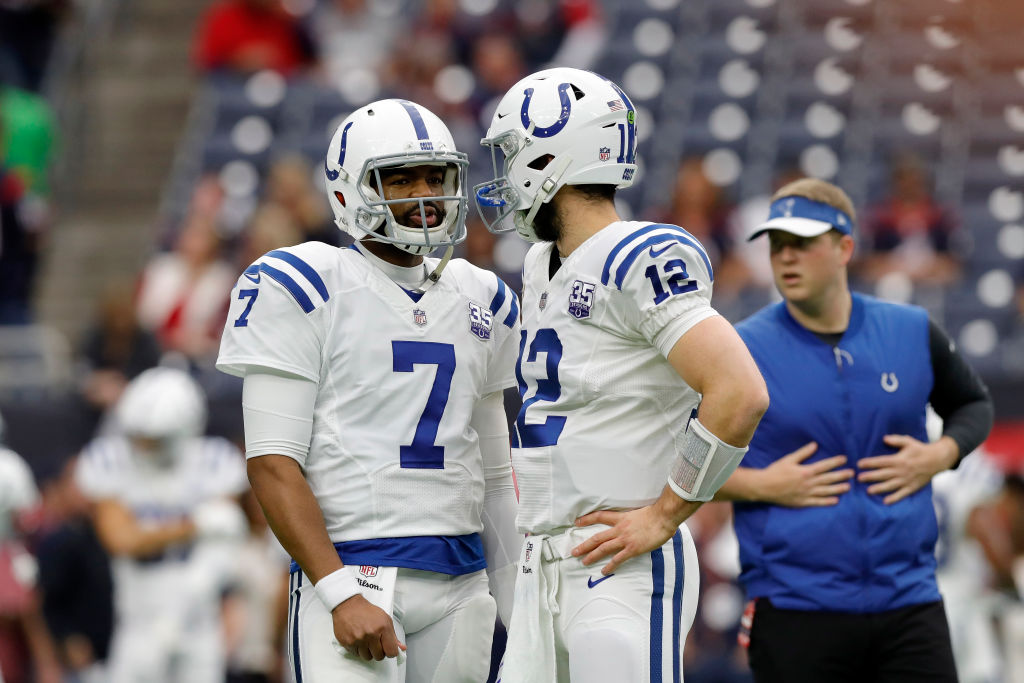 While Brissett's numbers weren't great in 2017, he will have the benefit of a much-improved team is he plays in 2019. Back in 2017, the Colts were in the last year with Chuck Pagano as head coach. The team knew he was going to be fired, and it played like it didn't care. They were near the bottom in many major offensive and defensive categories. The had a terrible offensive line, an aging Frank Gore as their primary running back, and little talent at receiver and tight end. Their defense was just as bad, with few playmakers.

In the last two years, the Colts have dramatically improved their talent level. They overhauled the offensive line, drafting All-Pro guard Quenton Nelson and right tackle Braden Smith. Running back Marlon Mack is poised for a breakout year. Adding new defensive coordinator Matt Eberflus and drafting linebacker Darius Leonard, last year's Defensive Rookie of the Year, turned the defense around.

In addition to a better supporting cast, Brissett has shown significant improvement in practice. He has had a year to learn Reich's offensive system. During training camp, Brissett has had all the first-team snaps, and Reich recently called Brissett a top-20 quarterback. Offensive Coordinator Nick Sirianni says that Brissett sees the field quicker and understands when to make the right throws.

The other factor is that Brissett is in a contract year. If Brissett can show improvement as a quarterback, he may be able to get a huge contract in free agency in the offseason. If there wasn't enough motivation before, the chance at getting a long-term contract averaging tens of millions of dollars should be enough.

It appears that the Colts can have success with Jacoby Brissett, due to his own growth and an improved team. With the positive reports from training camp and the upgraded roster, Brissett will have every chance to show he is a starter.