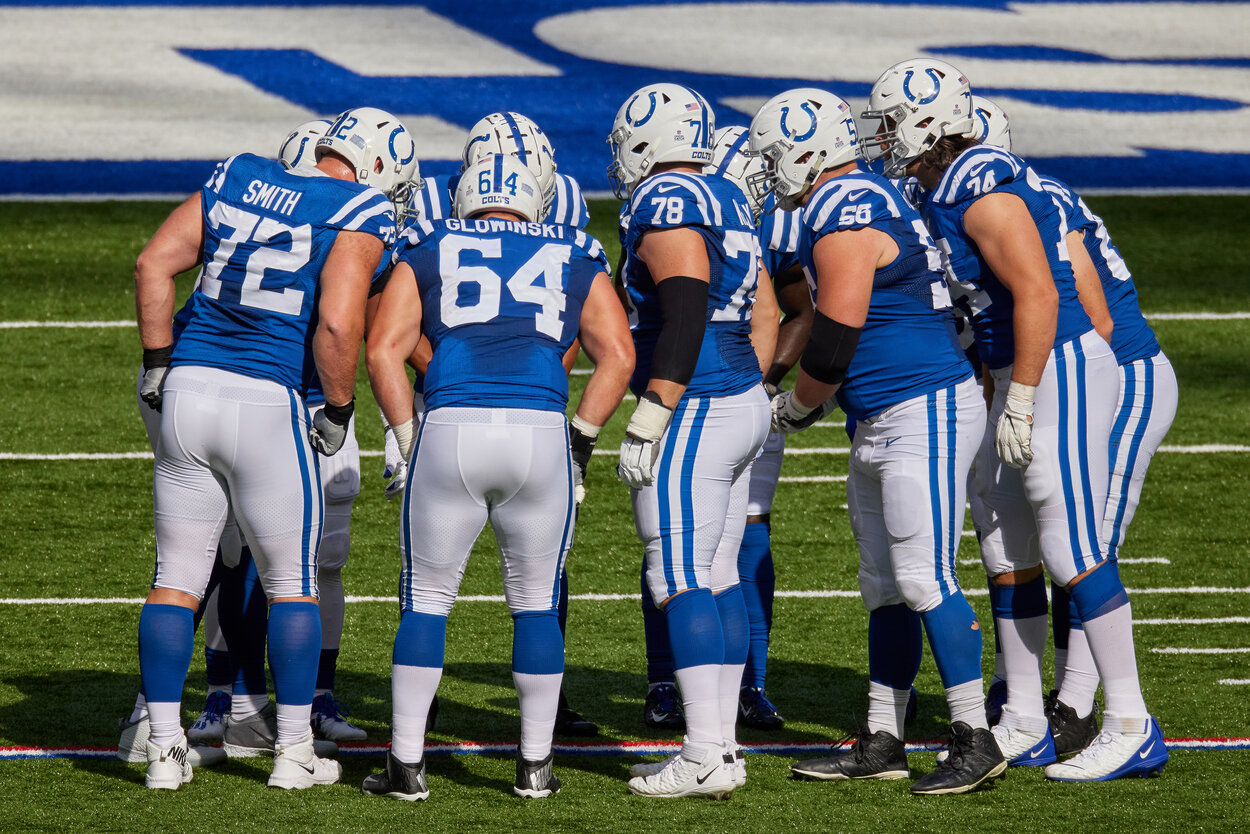 The Colts Just Gave Carson Wentz an Underrated $2 Million Toy for the 2021 Season
Carson Wentz should be a very happy man after the Indianapolis Colts re-signed running back Marlon Mack, who missed most of 2020 with an injury.
The Indianapolis Colts may have a new quarterback in Carson Wentz, but they're set to return in 2021 with plenty of old friends.
Although star receiver T.Y. Hilton remained a free agent as of publication, the Colts have some intriguing offensive weapons who will partner with Wentz next fall.
Wentz's newest toy is Marlon Mack, who will rejoin the Colts' running back rotation after missing nearly all of the 2020 season with an injury.
The Colts just re-signed Marlon Mack
Carson Wentz will have an opportunity to enter the 2021 campaign with not one but two quality running backs capable of toting the rock as a starter.
Former Wisconsin star Jonathan Taylor impressed throughout his rookie season. Now, Marlon Mack — the Colts' primary starting running back in 2018 and 2019 — has officially re-signed and is staying in Indianapolis.
Mack, who rushed for nearly 1,100 yards in 2019, picked up 26 yards on four carries last season. The fourth-year running back tore his Achilles tendon in a Week 1 loss to the Jaguars.
Indianapolis gave Mack a one-year contract worth $2 million. It is not yet known if the contract contains incentives that could increase Mack's total earnings.
Nyheim Hines, a do-it-all back who had 862 yards from scrimmage in 2020, is also expected to return next season. Hines, 24, is entering the final year of his rookie contract.
Mack impressed as the Colts' starting running back
After a challenging rookie season in 2017, Marlon Mack broke out in a big way for the Colts as a sophomore.
Mack ran for 908 yards and nine touchdowns in 2018 on a Colts team that ended Andrew Luck's final season by losing in the AFC divisional round. Following Luck's unexpected retirement in the summer of 2019, Mack rushed for 1,091 yards and eight scores.
Mack also turned 14 catches into 82 yards that year. With Mack a year away from free agency, the Colts used a second-round pick on Wisconsin's Jonathan Taylor in the 2020 NFL draft.
Carson Wentz should be excited to play with Marlon Mack
Marlon Mack's financial loss is Carson Wentz and the Indianapolis Colts' gain.
Had Mack stayed healthy last year, he likely would have received a sizable contract to become a team's starting running back. With Jonathan Taylor and Nyheim Hines in the mix, Indianapolis may have let Mack walk as a free agent in that situation.
Instead, the Colts only had to pay $2 million to keep Mack around. Colts head coach Frank Reich can now move forward with a three-headed monster at running back, a system which would keep Taylor and Mack healthy and fresh.
This is all excellent news for Wentz, who lacked consistent offensive weapons with the Eagles. The Colts have a young and proven core that can thrive with Wentz at quarterback.
Michael Pittman Jr. averaged 12.6 yards per catch as a rookie receiver last year. Zach Pascal, a former undrafted rookie, added 44 catches, 629 yards, and five touchdowns in 16 games and 14 starts.
There will be no excuses for Wentz, not with how deep the Colts' offense is likely to be next season.
Like Sportscasting on Facebook. Follow us on Twitter @sportscasting19.