The Colts Just Pulled off a Shrewd Money Maneuver Which Signals Reinforcements Arriving for Carson Wentz
Despite their less-than-inspiring 2-4 record, the Indianapolis Colts are a team trending in the right direction when looking at the last three weeks. They soundly beat the Miami Dolphins in Week 4 and the Houston Texans in Week 6 and were a missed field goal away from knocking off the surging Baltimore Ravens in Week 5.
Carson Wentz, in particular, is playing spectacularly well, which is arguably more important than the team's physical win-loss record at the moment. Wentz passed for a career-high 400 yards against the Ravens, has only thrown one interception this season, and led all quarterbacks in PFF grade during Week 6.
The Colts invested a conditional first-round pick in Wentz. Him playing like his old self is a big sign that things are trending in a promising direction for Indianapolis.
The Colts are getting healthy
Alongside Wentz performing well the past few weeks, the Colts are slowly but surely getting healthy again.
No. 1 wide receiver T.Y. Hilton returned against the Texans and immediately exploded onto the scene with 80 receiving yards. Offensive linemen Braden Smith and Quinton Nelson recently returned to practice. Second-round pick Dayo Odeyingbo is also on the field practicing for the first time this season.
In addition to the Colts' improving health, they're blessed with a handful of cupcake games up ahead in their schedule. They play the New York Jets, Jacksonville Jaguars, and Texans again all before December 5.
The vibes in Indy are improving by the day, and the team's front office is taking notice.
The Colts are moving money around
Following the Colts' impressive Week 6 victory, the front office wasted little time lining up their next move.
According to NFL Network's Ian Rapoport, Indianapolis restructured T.Y. Hilton's contract, freeing up $2.3 million in cap space to "help them operate." With the trade deadline looming, it's reasonable to assume that the Colts did this with trades in mind.
Colts general manager Chris Ballard has a reputation for being relatively passive when adding external talent. However, if he feels there's an opportunity to improve the roster and win, he has proven a willingness to do so. The offseason Wentz trade proves as much.
Indy needs help at a few positions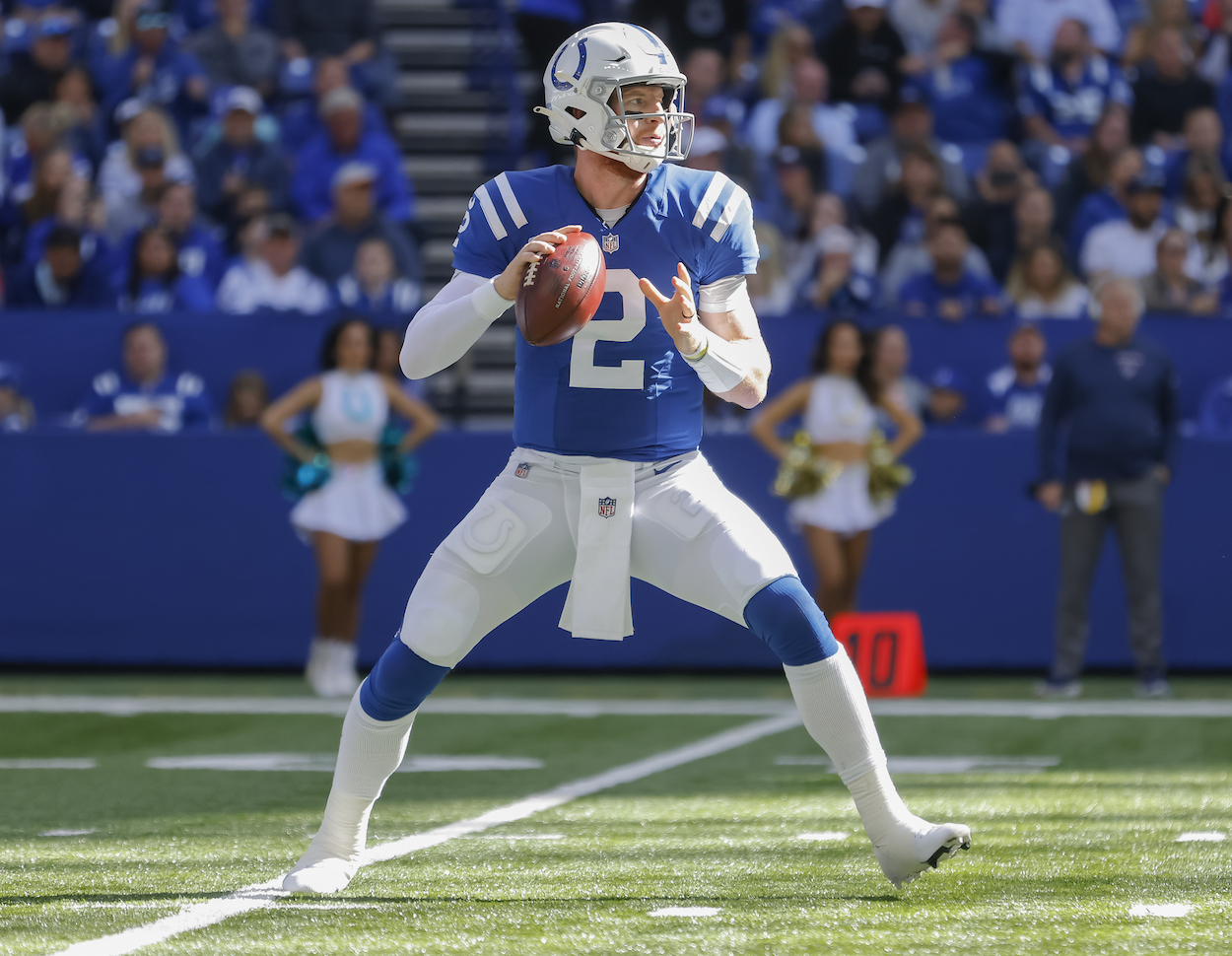 If Ballard is serious about bringing in extra help for Wentz and the Colts, he could target a few different positions.
For starters, the offensive line has been a constant point of emphasis all year long due to various injuries. Ballard may continue to wait for everyone to get healthy. However, you can never have too much depth. Grabbing a serviceable backup tackle makes sense.
Additionally, the Colts' defense is struggling. Their inability to get a crucial stop late in games was put on major display during their overtime loss to Lamar Jackson and the Ravens. Grabbing a new defensive back or two makes an abundance of sense for Indy. Even some further defensive line depth would help.
Regardless of which position Ballard ultimately targets, the Colts feel like a team primed to make moves at this year's deadline. General managers typically avoid restructuring contracts unless there's a need to do so.
All stats courtesy of Pro Football Reference.
RELATED: Stephen A. Smith Fires a Major Shot at Lamar Jackson and the Ravens Despite Their Red-Hot Start