Colts Legend Jeff Saturday Seems to Confidently Believe Carson Wentz Is 'Done in Indy': 'It Does Not Feel Like It's a Hopeful Situation'
The Indianapolis Colts took a major gamble by trading for Carson Wentz last offseason. However, it's a good thing they aren't located in Las Vegas because it didn't pay off.
After missing the playoffs with Wentz, the Colts could move on from the quarterback after just one season.
Of course, nothing is official just yet; the team hasn't committed to keeping or moving him at this point. But Colts legend Jeff Saturday (who called for Wentz's departure last month) is confident the QB is "done in Indy."
No one should ever take Saturday's comments lightly, either. If he believes Wentz won't be the quarterback in Indianapolis, he's probably correct.
The Colts will reportedly cut or trade Carson Wentz
The Colts just had to beat the Jacksonville Jaguars, the worst team in football, in Week 18 to make the NFL playoffs. However, while the entire roster choked in a loss to the divisional foe, no one had a more disappointing performance to end the season than Carson Wentz.
In his final four games of the year, Wentz threw for only 615 yards (153.75 yards per game), five touchdowns, and two interceptions. Against Jacksonville, he only had 185 yards, one touchdown, and one interception, and he also had a crucial fumble.
After the devastating end to their season, neither Colts head coach Frank Reich nor general manager Chris Ballard committed to Wentz being the team's quarterback of the future. Owner Jim Irsay has also made it clear that he's ready to win, which has led to significant speculation surrounding the organization.
This past weekend, ESPN's Chris Mortensen added an entire gallon of gasoline to the fire, reporting that the Colts will "probably" trade or release Wentz (h/t Sports Illustrated).
So, what does Colts legend Jeff Saturday think? He seems to confidently believe Indy will move on from Wentz.
Jeff Saturday seems to confidently believe Carson Wentz and the Colts are 'done'
Jeff Saturday, who earned five of his six career Pro Bowl selections with the Colts and was a two-time First-Team All-Pro, recently appeared on ESPN's Get Up to talk about his former team.
And he made some interesting comments.
"Yeah, I think he's done in Indy," Saturday said on the Feb. 15 episode. "When you look at what happened with Wentz and the way the season ended, and you hear all the things and reports coming out of Indianapolis, it does not feel like it's a hopeful situation. I would say this, though: Chris Ballard, Frank Reich, and Jim Irsay all understand it's not just letting somebody go; it's who can you get to replace him. So, if they don't feel like whoever they can get is going to be an upgrade, I think they would run it back with Carson Wentz and try to get him better."
Saturday added that Wentz's 209.6 yards per game last season weren't good enough, especially considering the Colts gave up a first- and third-round pick for him.
"So, I would say I think he's done, but it also is predicated on, I think they're watching the Aaron Rodgers news," he said. "Because that's gonna be the domino that lets all the others fall, so they can find out where they really are in the sweepstakes of QBs."
It's unclear how close Saturday is to the Colts' front office or anyone making decisions for the team, but no one should take his comments lightly.
When Jeff Saturday speaks, Colts fans should listen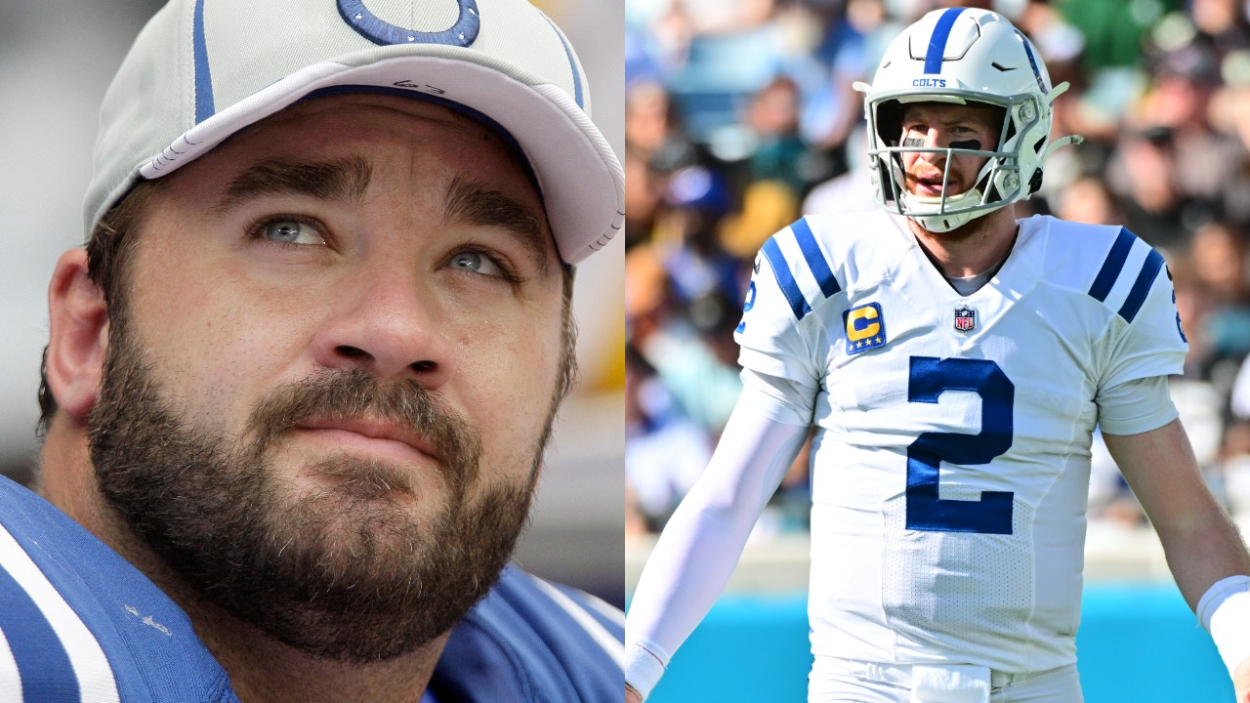 Jeff Saturday was one of the greatest Colts players of all time. He led them to their only Super Bowl win since moving to Indianapolis, and he's in the team's Ring of Honor.
His relationships with Indy's decision-makers are unclear, but not too many people know the franchise as well as he does. If he believes the Colts will move on from Wentz, there's a good chance they will.
However, it's also interesting that he mentioned Aaron Rodgers. He and Rodgers don't seem to be best friends or anything, but Saturday only played for two teams in his career: the Colts and Green Bay Packers. He played center in front of Rodgers in 2012.
Rodgers' future plans are unknown at this time. But he could either request a trade from Green Bay, stay with the Packers, or retire. If he does the former, the Colts could swoop in and become one of the best teams in the AFC by acquiring the four-time MVP. They have a talented roster; they just need a competent QB, and Wentz was not that last year.
All in all, the Colts' quarterback situation isn't definitively known, but they have to make a decision within the next month or so before the NFL's new league year starts.
And if Jeff Saturday thinks Carson Wentz is on his way out the door, he very well could be.
The 2016 No. 2 overall pick could play for his third team in as many seasons next year.
Stats courtesy of Pro Football Reference
RELATED: Should the New York Giants Consider Turning to Carson Wentz as Their Next Franchise Quarterback?