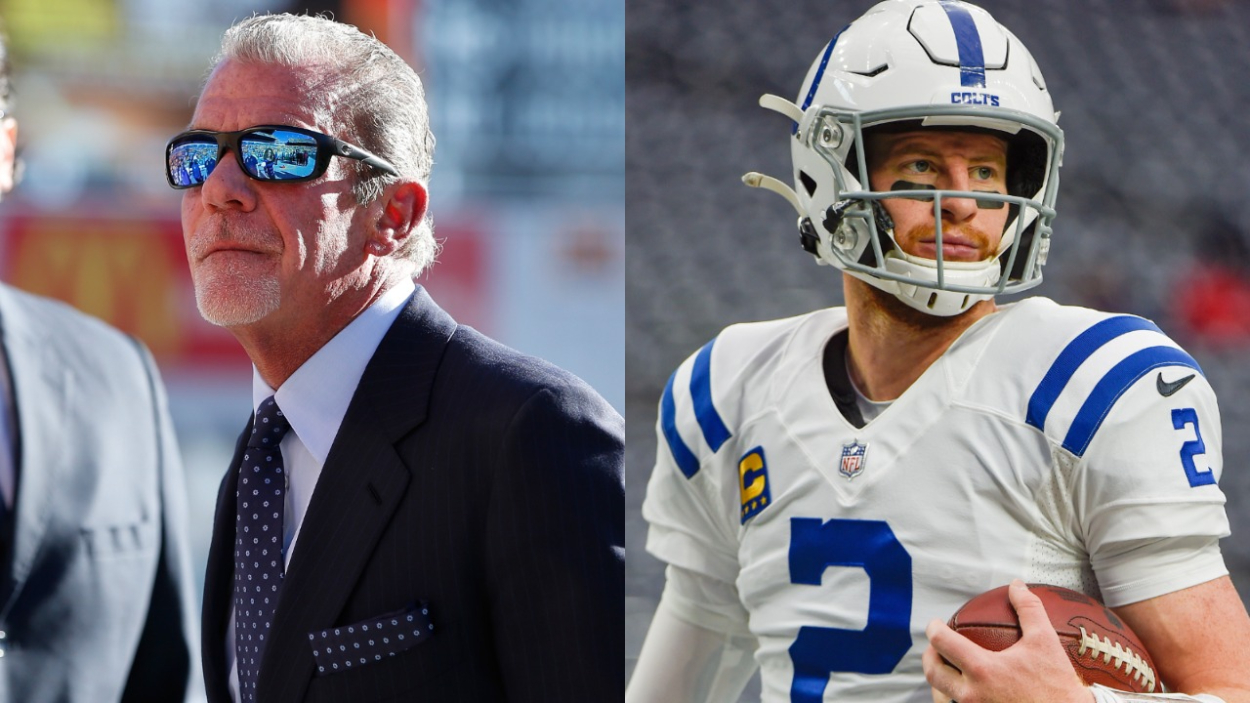 Colts Owner Jim Irsay Delivers Cryptic Tweet That May Signal the End of Carson Wentz's Time in Indy
Following his team's late-season collapse, Indianapolis Colts owner Jim Irsay recently posted a cryptic tweet that could mean it's over for Carson Wentz in Indy.
If you have followed the aftermath of the Indianapolis Colts' late-season collapse, you have likely realized one thing: Jim Irsay isn't happy.
The 62-year-old team owner first informed head coach Frank Reich and general manager Chris Ballard of his displeasure with how the season ended. He then let fans know through a video he posted to Twitter.
In his most eyebrow-raising move yet, though, Irsay recently used a cryptic tweet to (potentially) give quarterback Carson Wentz a stern warning.
Jim Irsay isn't happy with how the Colts ended their season
At one point, it looked like the Colts were a team no one wanted to play in the playoffs. They had an elite defense that could force turnovers at a high level, a strong offensive line, and arguably the NFL's best running back in Jonathan Taylor.
However, they knew quarterback Carson Wentz would have to carry them at some point for them to get where they wanted to go.
And he failed to do that.
Indianapolis had two weeks to win one game and clinch a playoff berth. But Wentz's 148 passing yards in a Week 17 loss to the Las Vegas Raiders and 185 in an embarrassing performance against the Jacksonville Jaguars led to his team's season ending early. He wasn't the sole reason for the collapse in Jacksonville, but a franchise quarterback is supposed to carry his team when it's not playing its best. He simply proved he can't do that.
And Jim Irsay hasn't been happy in the weeks since the loss to the 3-14 Jags.
According to The Athletic, he met with Frank Reich and Chris Ballard the same night of the game in what Ballard called an "ass-chewing."
He then posted a statement to Twitter in which he said the team ended its "season in perhaps the worst way possible" before tweeting a video for fans.
"We have allowed, and I have allowed, doubt, fear, and a lack of faith to slip into our DNA," Irsay said in part. "And it will not stand. Every walking step in this offseason is committed to getting the horseshoe back to where it should be."
Now, he appears to be sending a message to Carson Wentz.
Jim Irsay's cryptic tweet should have Carson Wentz feeling nervous about his Colts future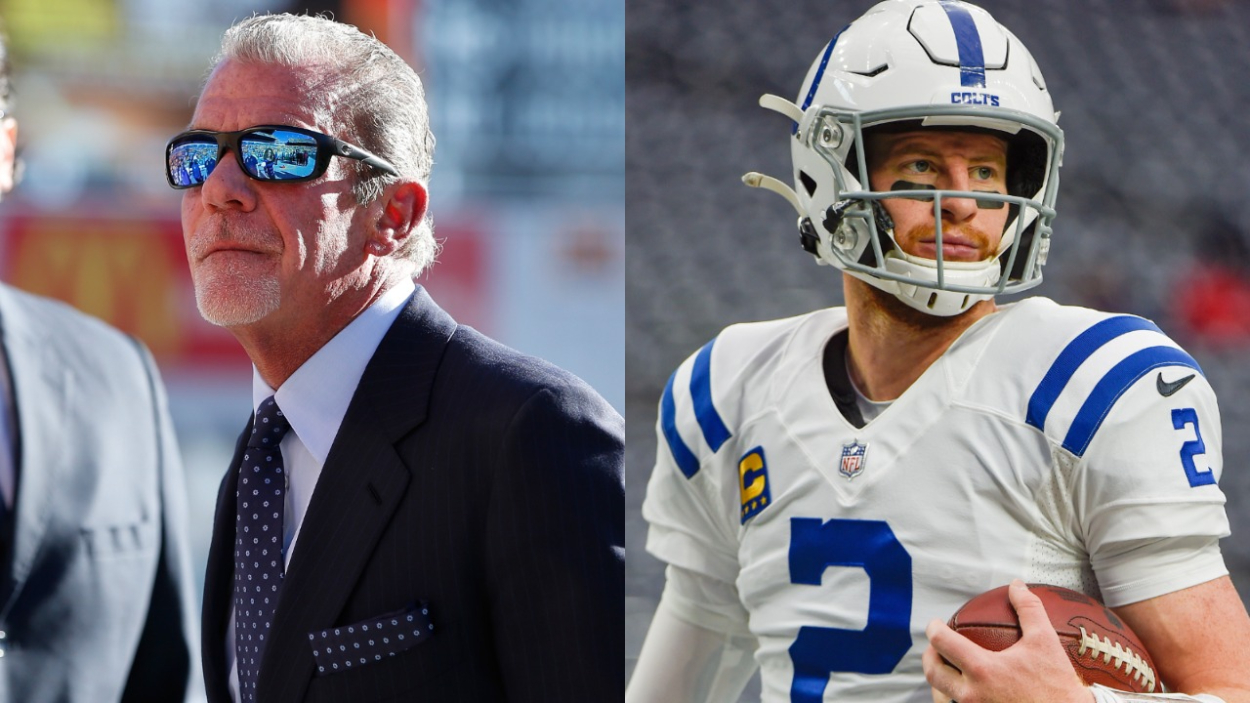 This year's AFC and NFC Divisional Round games may have been some of the best in recent memory. Quarterbacks like Patrick Mahomes, Josh Allen, Joe Burrow, Matthew Stafford, and Tom Brady wowed the football world with some all-time great performances.
And it appears Irsay took notice.
"You can see, clear as day, in the Final 8 NFL [playoff teams]…you need a QB and offense, who can score 30 or more in regulation…and a defense that can hold an opponent under 30," he posted on Jan. 25.
He later added: "While others fret, worry and toss in bed…we prepare, in the dark night, and ready… making plans to conquer."
Sure, he also mentioned the defense, but Indy's D only allowed 21.5 points per game this season. The offense averaged 26.5. And in the seven games during which the Colts scored 30 or more, Carson Wentz rarely led the way, adding to his numerous underwhelming performances throughout the season. He only threw for over 250 yards in two of those contests.
The quarterbacks mentioned earlier can lead their teams to touchdowns at will. Thirteen seconds even proved to be too much time for Mahomes. A Wentz-led Colts team simply can't keep up with the likes of the Cincinnati Bengals, Kansas City Chiefs, and Buffalo Bills.
No, we don't know this for sure since the post was pretty cryptic and didn't outright mention his team. But Irsay appears to be telling people that he understands his current roster isn't enough. Given his dissatisfaction with this season, it could also be signaling that Wentz's Indy career has officially come to an end.
Is Carson Wentz's time with the Colts really over?
At this point, it's not 100% clear whether Carson Wentz's Colts tenure is actually over. But general manager Chris Ballard has been pretty noncommittal to him, and Irsay has shown that he has high standards for his team.
If Indy chooses to move on, it could either trade him and get rid of his contract entirely (but likely at the cost of a draft pick or two) or cut him and pay the $15 million he has left in guaranteed money on his contract, which would actually save $13.3 million for next season, per CBS Sports.
However, the team would then have to find a quarterback better than Wentz. Does Derek Carr move the needle all that much? Jameis Winston? There are also, of course, options like trading for Russell Wilson or Aaron Rodgers, but Indianapolis would likely have to give up a lot for them.
All in all, the Colts can realistically get rid of Wentz, but it could cost them. Irsay's desire to win, though, may have Ballard feeling the pressure to do whatever it takes.
Stats courtesy of Pro Football Reference