Colts Owner Jim Irsay Just Delivered a Shockingly Bold Prediction That Should Have Frank Reich and Carson Wentz on Edge
No more than two decades ago, the Indianapolis Colts sat atop the NFL world.
They won a Super Bowl during the 2006 season and frequently found themselves making deep playoff runs thanks to brilliant quarterback play from Peyton Manning. If it weren't for Tom Brady and Ben Roethlisberger, the Colts likely would have stacked up several Lombardi Trophies during this time period.
The selection of Andrew Luck in 2012 seemingly positioned the Colts for another decade-plus of excellent QB play. However, due to his premature retirement from the NFL, Indianapolis is stuck trying to recapture lightning in a bottle.
While better days ahead appear likely for the Colts, the team's owner is running out of patience.
Colts owner Jim Irsay wants to win 2 Super Bowls by 2030
Following the Colts' frustrating Monday Night Football loss at the hands of the Baltimore Ravens, Colts owner Jim Irsay took to Twitter to express confidence in his organization.
In fact, he went a tad step further than simply expressing confidence. He full-on predicted "at least 2 Lombardis this decade." It was an impressively bold take to make considering the Colts' current 1-4 record.
As Pro Football Talk's Michael David Smith highlights, the Colts actually haven't had the best of luck winning Super Bowls since moving to Indianapolis. Irsay's confidence is largely falling on deaf ears.
The Colts have won only one Lombardi since moving to Indianapolis in 1984, despite having the incredible good fortune of owning the first overall pick in the NFL draft when the two most sure-thing franchise quarterback prospects (Peyton Manning and Andrew Luck) entered the league.

So Irsay might be just a tad overly optimistic about where the Colts are headed.

Michael David Smith, Pro Football Talk
The Colts should be trending upward
While the 1-4 record is alarming, it's worth acknowledging that the Colts should start trending in the right direction sooner rather than later.
They've dealt with a plethora of crippling injuries to start the season, and quarterback Carson Wentz is just now settling in with his new team. Despite the loss, Week 5 was the best Wentz has looked playing QB since his near MVP-winning 2017 season. He threw for a career-high 402 yards with a career-high 128.5 passer rating. If Rodrigo Blankenship makes one of his two second-half field-goal attempts, Wentz and the Colts walk out of Baltimore with a win.
Once the offensive line heals up and wide receiver T.Y. Hilton returns to action, it's reasonable to assume the Colts will start stacking up wins.
Pressure is on Wentz and Reich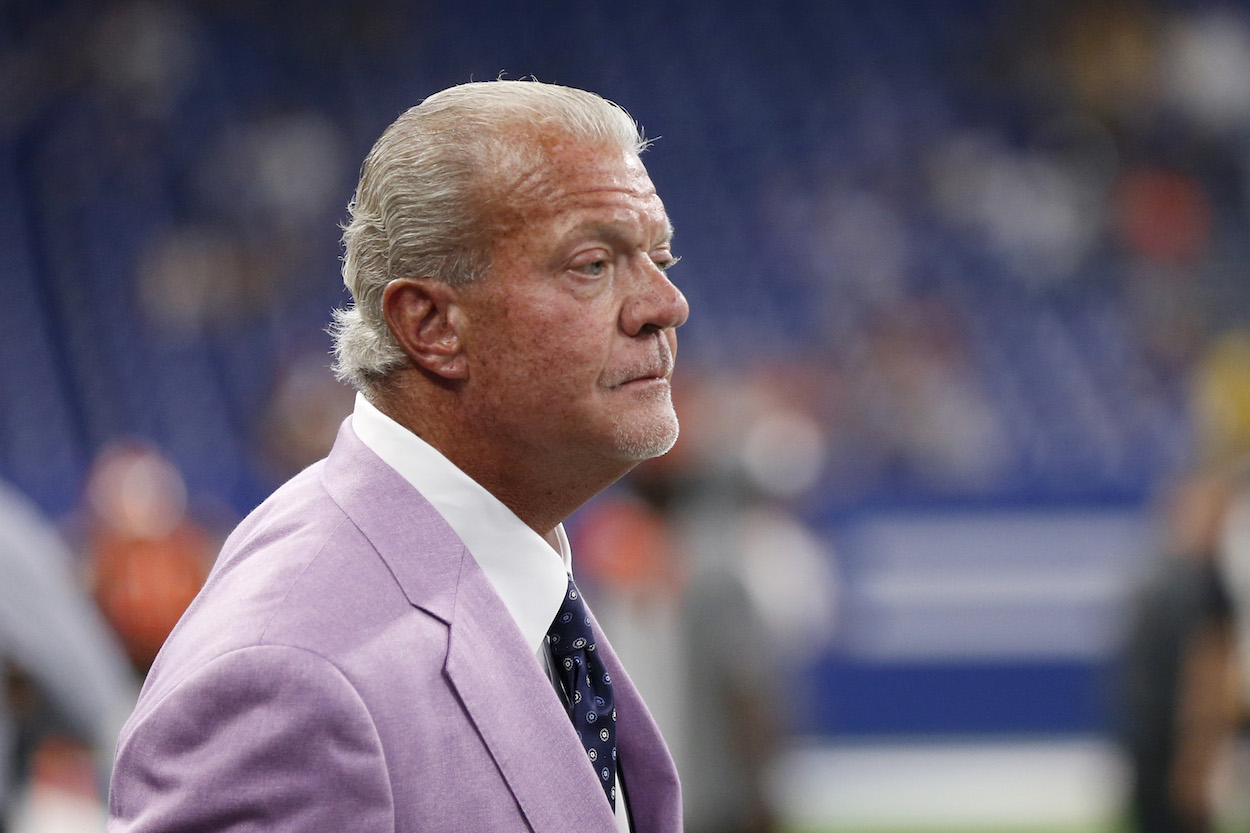 While the numbers suggest the Colts will turn it around soon, that doesn't negate the pressure Irsay is placing on Wentz and head coach Frank Reich.
Irsay is making things crystal clear. He wants Lombardis, not just "good" seasons.
If the Wentz/Reich duo cannot secure a Super Bowl for Irsay over the next few seasons, it's even more reasonable to assume the Colts will explore making changes at both positions. Indianapolis hasn't reached a Super Bowl since 2009 — the clock is ticking.
All stats courtesy of Pro Football Reference.
RELATED: The 49ers' Controversial Leadership Duo Is Starting to Feel Intense Pressure as the Trey Lance Era Begins