The Colts Are Publicly and Embarrassingly Second-Guessing Their Blockbuster Carson Wentz Trade
Following their Christmas Day victory over the Arizona Cardinals, Carson Wentz and the Indianapolis Colts looked like legitimate Super Bowl contenders. They had a run game led by MVP-candidate Jonathan Taylor, an elite offensive line, and a surging defense.
Then, everything came crashing down.
The Colts had two chances to clinch a playoff spot, against the Las Vegas Raiders and Jacksonville Jaguars. They lost both games embarrassingly, ending their dreams of a Cinderella run to the Super Bowl. Now, it appears the Colts are starting to second-guess a lot of the decisions they made that led to them missing the postseason.
Colts GM Chris Ballard is second-guessing Carson Wentz
This past offseason, the Colts' big move was acquiring former Philadelphia Eagles QB Carson Wentz. Wentz was coming off a disastrous season in 2020. However, Colts HC Frank Reich was confident his pre-established relationship with Wentz would lead to a significant bounce-back campaign.
Wentz never got back to his 2017-self. However, early returns on the trade were promising for Indianapolis. Wentz finished the year with 3,500-plus passing yards, 27 passing touchdowns, and was even named a Pro Bowl alternate. Yet, it was his final two weeks that left a sour taste in everyone's mouth. Wentz passed for less than 200 yards against the Raiders and Jaguars (he also turned the ball over twice against Jacksonville).
With these struggles fresh in Colts GM Chris Ballard's mind, he spoke rather candidly about Wentz and the future of his team's QB position.
"At the time, we felt it was the right decision," Ballard said. "I'm not going to make a comment on who is going to be here next year and who is not."
Not exactly a ringing endorsement for his current starting quarterback.
Can the Colts make a move at quarterback this offseason?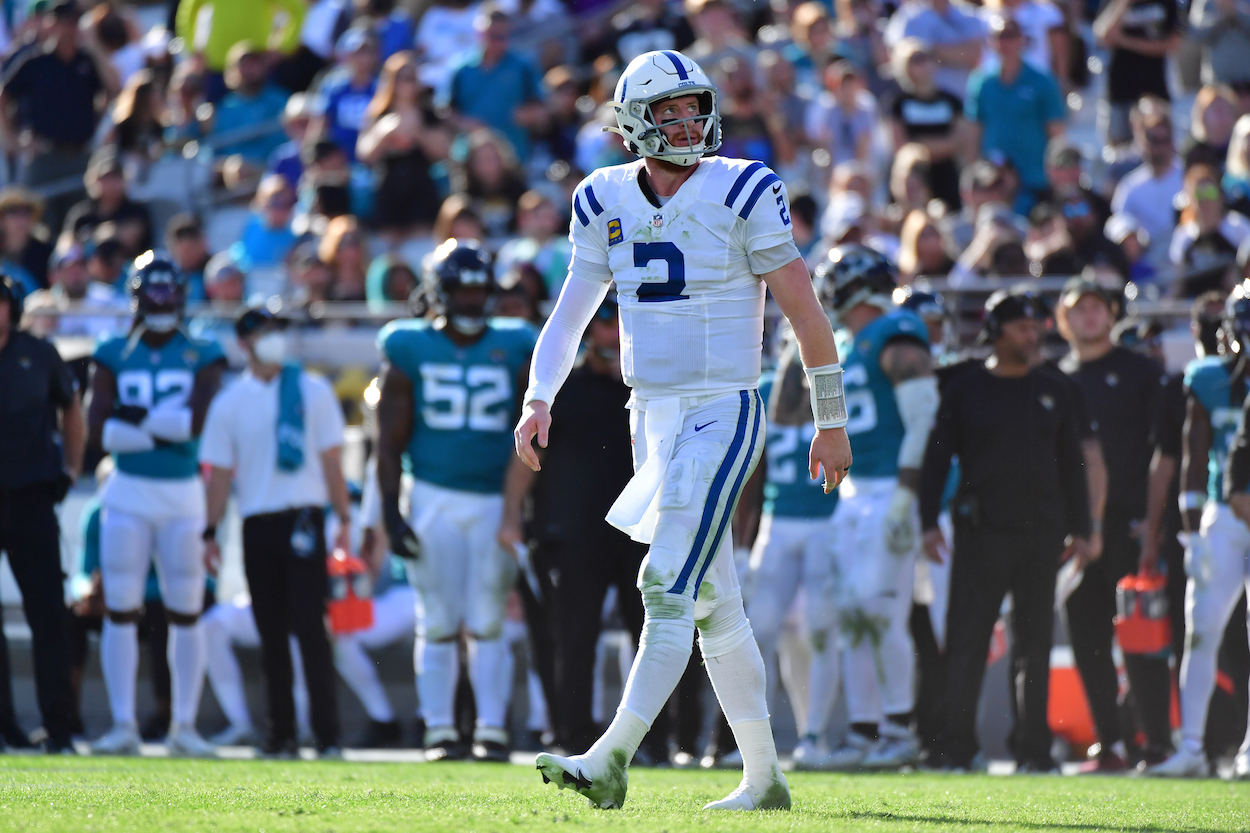 Wentz's final season numbers are impressive. However, his inability to rise up during big games is a fundamental point of concern for Ballard and the rest of the Colts organization. The Colts have Super Bowl aspirations, and they need a QB who can take them there.
However, the question is, can the Colts even orchestrate a move at QB?
They don't have a 2022 first-round pick, they owe Wentz $28.3 million in 2022, and Ballard isn't exactly known for his ability to pull off massive, blockbuster-style deals.
A lateral move for someone like Russell Wilson could work in theory. However, the Seattle Seahawks would have to be interested in Wentz, which feels unlikely.
This whole situation is embarrasing
Ultimately, this whole situation is embarrassing for Ballard, Reich, and the Colts. They thought they were acquiring a legitimate franchise quarterback this past offseason. Instead, they seemingly acquired a giant question mark.
Reich will presumably support his quarterback and long-time friend (Wentz) moving forward. However, Ballard may pivot in a different direction. After all, he's the general manager, and he's the one who will call the final shots at the end of the day regarding the roster.
Can the Colts rebound next year? Who knows — only time will tell.
All stats courtesy of Pro Football Reference.