Colts Quarterback Not Named Carson Wentz Gets Mentioned in Same Breath as Tom Brady and Joe Montana: 'Could That Be Him?'
The Indianapolis Colts are just about a month away from their regular-season opener, and they have no idea whether quarterback Carson Wentz will start or not. The Colts traded for Wentz this offseason with the idea of him becoming the next Peyton Manning or Andrew Luck, aka their new franchise quarterback. But he's currently sidelined five to 12 weeks with a foot injury, and the team has no clue when he will be ready to play this season.
However, one of Wentz's backups was recently mentioned in the same breath as Joe Montana and Tom Brady. 
Yes, really.
OK, so no one declared that, "This guy looks like Tom Brady out here," but Colts owner Jim Irsay said he hopes that rookie QB Sam Ehlinger becomes the next Joe Cool or TB12. And — maybe just maybe –Ehlinger is on that path.
Quarterback Sam Ehlinger went to the Colts in the 2021 NFL Draft
Ehlinger proved to be one of the top quarterbacks in the country at one of the most storied programs in college football the past four years, as he was the starter for the Texas Longhorns.
After throwing for 1,915 yards, 11 touchdowns, and seven interceptions in 2017, Ehlinger had a monster 2018 campaign. He threw for 3,292 yards, 25 touchdowns, and five interceptions while also picking up 482 yards and 16 touchdowns on the ground. The former four-star QB out of Austin, Texas, also led the Longhorns to a 10-4 record and a win in the Sugar Bowl that year.
Ehlinger then continued to have success in 2019 and 2020, throwing for 3,663 yards, 32 touchdowns, and 10 interceptions during the 2019 campaign while also running for 663 yards and seven touchdowns. He then threw for 2,556 yards, 26 touchdowns, and five interceptions in the COVID-19-shortened 2020 season.
Despite his success at Texas, though, the 6-foot-1-inch Ehlinger doesn't have the height and arm strength of a prototypical NFL quarterback, so his draft stock was never that high. The Colts then selected him in the sixth round of the 2021 NFL draft.
Sam Ehlinger has impressed at training camp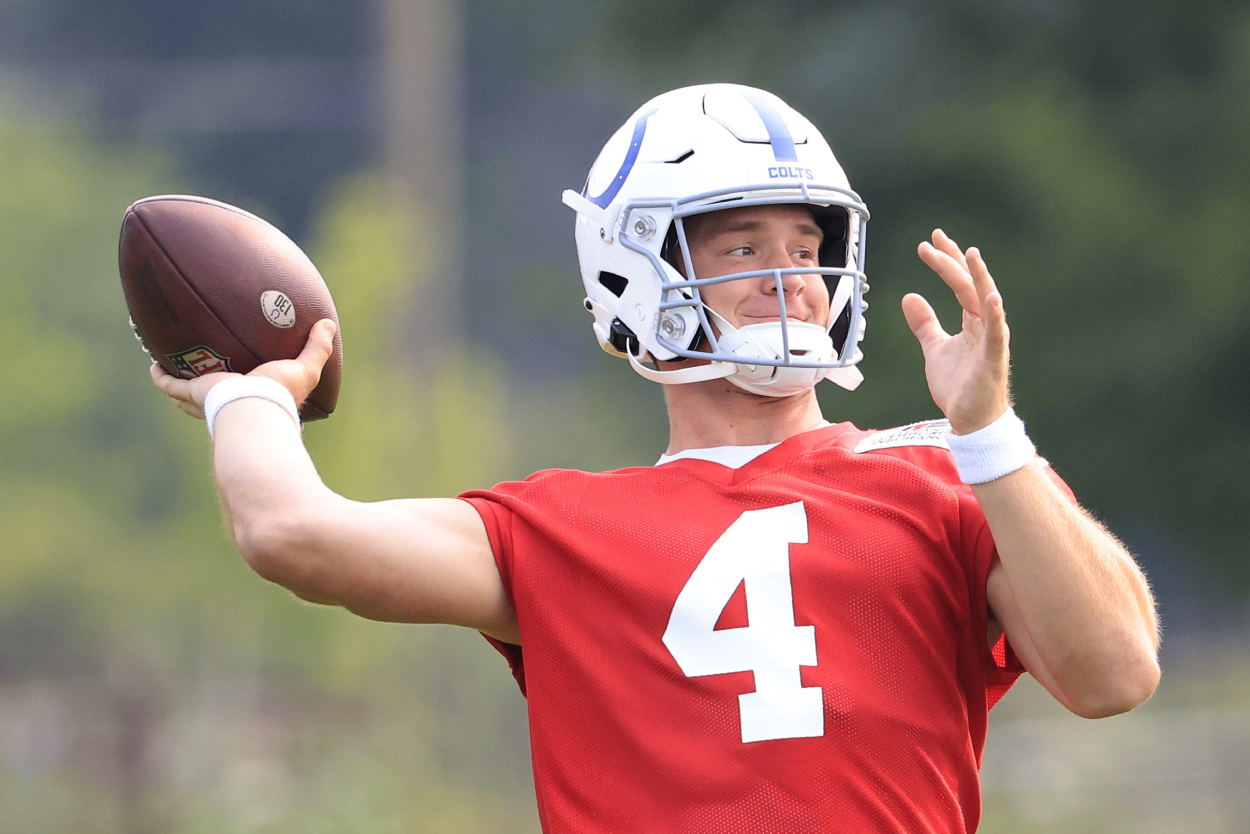 With Wentz sidelined due to injury, the Colts must figure out who their starter is if he's not ready to go for Week 1.
With former five-star quarterback Jacob Eason gaining some experience in Indy as a rookie last year, it seems that he has the edge. But Ehlinger has turned heads and is now splitting first-team reps with him.
"It wasn't Jacob doing anything wrong," Colts head coach Frank Reich said on Aug. 10, per The Athletic's Stephen Holder. "This is a meritocracy and Sam has looked good so we decided to split it up. The good news is they both looked sharp today. We'll continue to split those reps."
Whenever a team drafts a quarterback in the sixth round, they always hope the player is the next Tom Brady. And it appears that Colts owner Jim Irsay is crossing his fingers about that being the case with Ehlinger.
"Sam, we're always hoping and you think, 'Where's the next Montana or Brady? Could that be him?' You just don't know," Irsay said, per The Athletic.
Of course Irsay hopes that. But what if Ehlinger is that next steal of the draft? What would the Colts do with Wentz? Drew Bledsoe was a good quarterback, but the Patriots didn't stick with him over Brady.
Those are questions that probably won't matter because it's unlikely Ehlinger is the next legendary QB. But it's interesting to hear Irsay make those comments after trading for his new franchise guy this offseason.
The Colts may have a tough decision to make at quarterback
Whether Ehlinger turns into the next Brady or is just a decent backup quarterback throughout his career, the Colts may have a tough decision to make if Wentz isn't ready to go in Week 1.
They will have the preseason to see how Eason and Ehlinger look, but if those games are anything like practice, Ehlinger could make things interesting.
According to The Athletic, both quarterbacks played well in a joint practice with the Carolina Panthers, but Ehlinger has reportedly digested the offense quickly and commands it well. He also gets rid of the ball at a faster rate than Eason and is more decisive with it. But Ehlinger's counterpart has more experience in the offense and has all the tools, as Eason is 6 feet, 6 inches tall and has a massive arm.
The competition appears to be wide open.
It's unclear which quarterback will start for the Colts in Week 1, but maybe just maybe — given the way he has turned heads in practice and has taken command of the offense as a rookie — Ehlinger, aka the next Tom Brady, will be their starter.
Stats courtesy of Sports Reference