Colts Star Kenny Moore II Takes to Twitter to Seemingly Recruit Tyler Lockett to Indy
When discussing the Indianapolis Colts, there's one gigantic elephant in the room: They need a quarterback.
Ever since Andrew Luck's shocking retirement in 2019, Indy has had a revolving door in its quarterback room, with Carson Wentz being the latest casualty. The Colts traded Wentz to the Washington Commanders earlier this week and instantly opened up a large hole on their roster. If the season began today, Sam Ehlinger would be the team's starter.
However, QB isn't the only area they need to address this NFL offseason. Indianapolis has to find wide receivers for its future quarterback to throw to, and Pro Bowl cornerback Kenny Moore II is seemingly trying to recruit a talented one: Seattle Seahawks pass-catcher Tyler Lockett.
The Colts need help at wide receiver
Carson Wentz was the main problem in the Colts' passing game in 2021, but he also didn't have a ton to work with in Indy.
Michael Pittman Jr. had a breakout sophomore season for the team. He caught 88 passes for 1,082 yards and six touchdowns. However, Zach Pascal was the team's second-leading receiver, and he only had 384 yards. Running backs Jonathan Taylor and Nyheim Hines were second on the Colts in receptions with 40 catches apiece.
Yes, Wentz failed to look for the check-down receiver time and time again. His 62.4% completion percentage and 209.6 yards per game were primarily on him. But the lack of weapons in the passing game also played a role in the Colts' offensive struggles, and they need to address that this offseason.
Kenny Moore II seems to be recruiting Tyler Lockett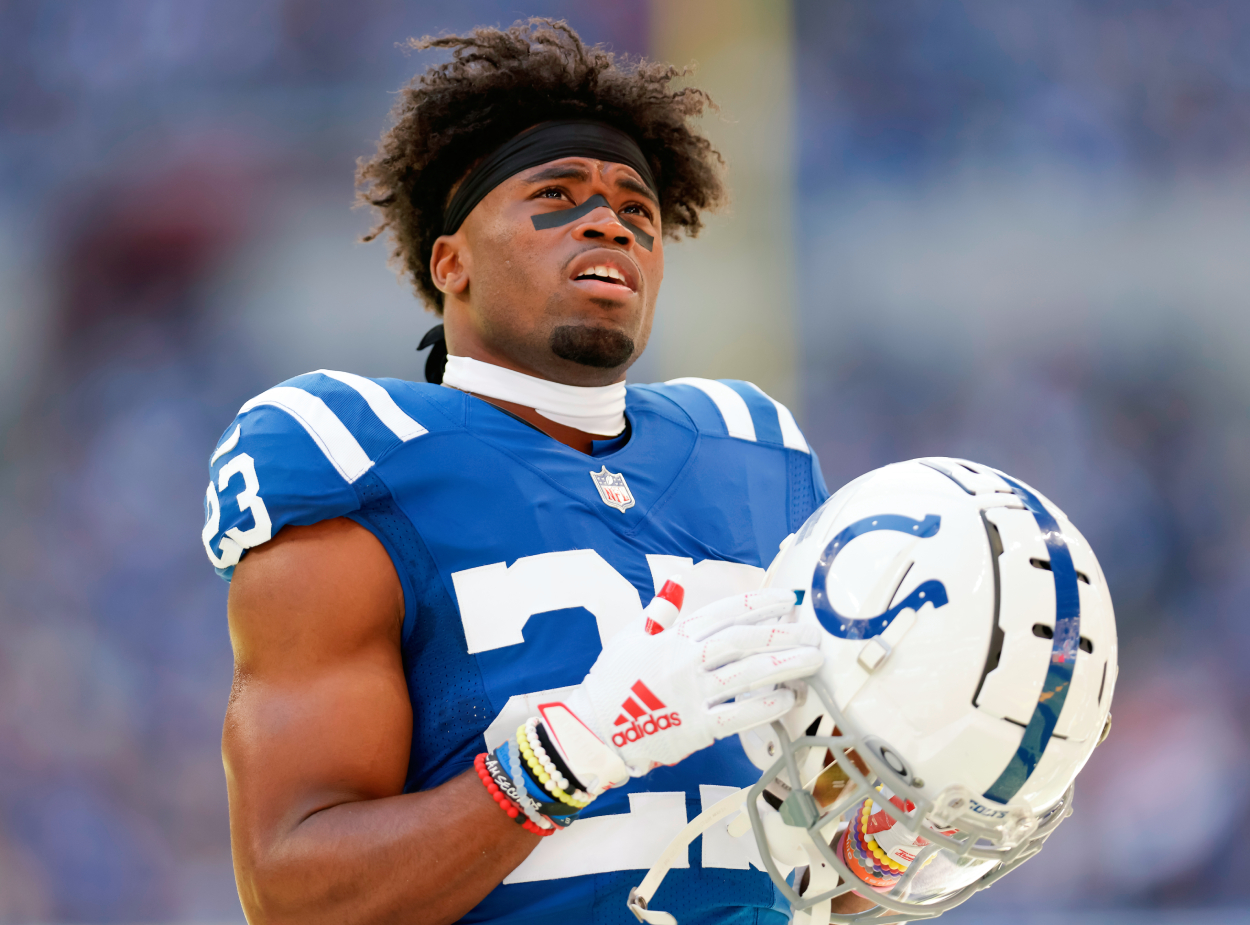 Seattle Seahawks wide receiver Tyler Lockett is coming off his third consecutive 1,000-yard season. He gained a career-high 1,175 yards in 2021, catching 73 passes and eight touchdowns. But Seattle recently traded its star quarterback, Russell Wilson, to the Denver Broncos, and the franchise appears to be entering rebuilding mode.
So, Colts Pro Bowl cornerback Kenny Moore II, who likely had all that in mind, sent out a tweet to Lockett. He simply said "wyd??" And if you're not familiar with text lingo, that means "what are you doing?"
Lockett responded by saying, "Chillin at the holiday in lol," likely referencing the 2003 song Holidae In. Moore then replied, "Breakfast on me."
Obviously, these tweets could mean nothing. Or they could be Moore's way of recruiting Lockett.
Lockett's contract with the Seahawks runs through 2025. So, the Colts would have to trade for him, and who knows what Seattle would ask for in return. But Indy has nearly $70 million in cap space, so they could easily take on his $16 million salary. 
And he would do wonders for that offense.
Lockett has caught 449 passes for 6,067 yards and 45 touchdowns in his career. The Kansas State product would immediately become one of the unit's top weapons.
Would he want to go to a team without an actual quarterback, though?
Who can the Colts add at quarterback?
As of right now, Tyler Lockett may not be too interested in the Colts. However, if they can get a quarterback who can help the team reach its full potential (which is pretty high based on how they played with Philip Rivers in 2020), he may be pretty intrigued by Kenny Moore's recruiting efforts.
There are several options the Colts can look at throughout the coming weeks. Guys like Derek Carr, Kirk Cousins, and Jimmy Garoppolo could be just good enough to lead them to playoff contention. Or they could take a risk on a younger option like Jordan Love. There's also someone like Colin Kaepernick out there, who has led a team to the Super Bowl.
All in all, the Colts have a few decent options they can look at in the QB market. But if they don't improve at the position, receivers like Tyler Lockett will have no interest in them at all.
Stats courtesy of Pro Football Reference; Contract numbers courtesy of Spotrac
RELATED: Carson Wentz's Disastrous Colts Run Has Forced Frank Reich Into a Make-or-Break Season