Colts TE Eric Ebron Has a Unique Retirement Plan
After four nondescript seasons with the Detroit Lions, Eric Ebron signed a two-year contract with the Colts in 2018, experiencing a breakout first season in Indianapolis. The 26-year-old tight end may not have even reached his prime yet, but he's already thinking about the future.
Ebron doesn't plan to go into coaching or broadcasting like many players do when their NFL careers are over. Instead, Ebron plans on going from the gridiron to the firehouse when he hangs up his cleats for good. Here's why.
Eric Ebron's career to date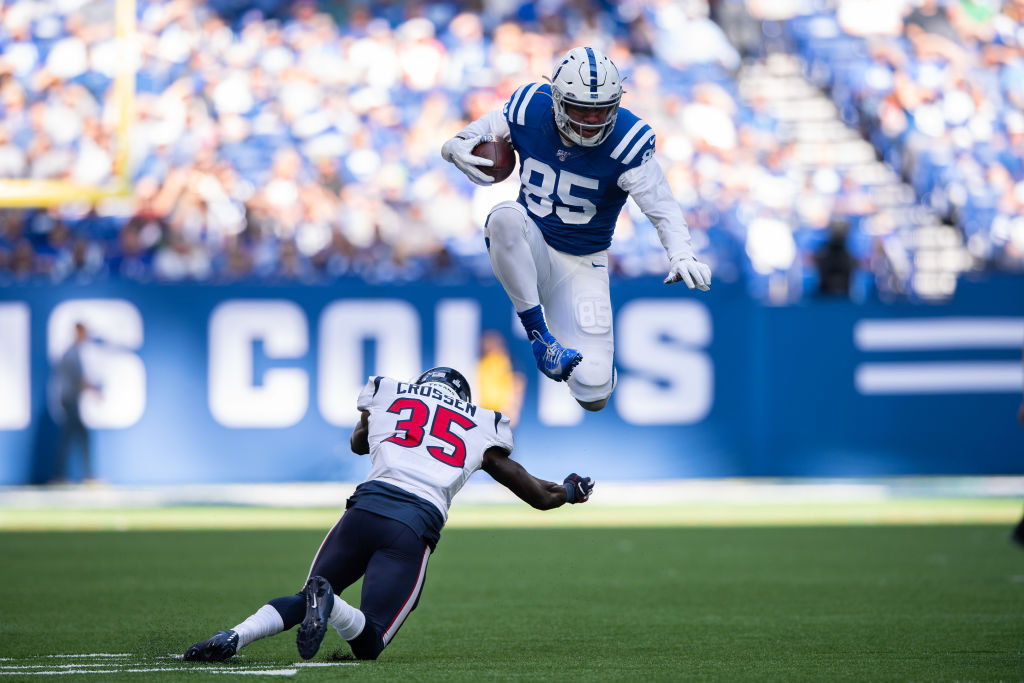 The Lions had high expectations for Ebron when they selected him with the 10th overall pick at the 2014 NFL Draft, but he failed to live up to expectations while playing in Detroit. In four seasons in Detroit, the North Carolina alum caught 186 passes for 2,070 yards and 11 touchdowns.
In 2018, in his first season with the Colts, Ebron surpassed his touchdown total from the previous four seasons when he caught 13 passes in the end zone. He also had 66 total receptions on the season for 750 yards, both career highs.
Ebron's touchdown numbers last season were unsustainable and not expected to be repeated this season. He's had just three scores in eight games, but all of his numbers show a marked downgrade from a year ago. Ebron has 18 catches for 248 yards in those contests.
Ebron's post-NFL plans
When Ebron departs from the NFL, his retirement plan involves becoming a firefighter. The North Carolina alum has always considered firefighters as having a "rush and an exhilaration about them." Ebron tells The Players' Tribune that he appreciates how people who fight fires "mean (something) to someone else — the community, the people, the lives they save."
While he still likely has a lengthy playing career ahead of him, Ebron is already spending time learning the ropes of firehouses. He intends on one day transitioning to a position at one.
Ebron considers his firefighting dreams a "backup plan," and he says there are similarities between the two professions because "you depend on that one guy … to do his job" whether in a football field or battling fires.
Why does Ebron want to become a firefighter?
Ebron's desire to become a firefighter comes from the driving factors of courage, curiosity, and legacy.
With this in mind, a career in firefighting makes sense because of something that happened when he was 16. Back then, a house across the street from his home had a fire in its basement. Ebron's uncle, who was a fireman at the time, rushed to the engulfed home and kicked a window to release smoke out of the house. Then, he called authorities to finish battling the smoke and flames.
Ebron recalls thinking that was "the coolest thing to see," and it led him to want to do that himself someday because "it was like a superhero at that point in time." Other members of Ebron's family have dedicated themselves to serving people in similar ways as firefighters, police officers, or military officers.
Ebron's grandfather, in fact, served in three wars. Ebron says, "Heroes have played a big role, a pivotal role in my childhood." Children are another driving force behind Ebron's retirement plan. He says "the 'why' the past couple years" has been his kids, which "has been the 'why' behind 99.8 percent" of the things he does.