Colts Trade Rumors: Gardner Minshew Being Named Is Painfully Embarrassing
The Indianapolis Colts have dug themselves quite the hole heading into the 2022 NFL season. While they successfully freed themselves of the Carson Wentz contract that they quickly started regretting, they seemingly have no follow-up plan to acquire a new starting quarterback.
Aaron Rodgers and Russell Wilson are already off the board. It's doubtful the Houston Texans would give them Deshaun Watson. The free-agent market is bare, and the Colts don't have the draft capital to land Derek Carr, Kirk Cousins, or any other notable starting quarterbacks.
Instead, the Colts will have to go bargain bin shopping, a process that reportedly includes current Philadelphia Eagles backup Gardner Minshew II.
The Colts are interested in Gardner Minshew
According to NFL insider Jason La Canfora, Minshew is emerging as a possible QB option for the Colts this offseason. For what it's worth, the interest makes sense on paper. The Colts are familiar with Minshew from his days playing on the Jacksonville Jaguars, and HC Frank Reich is reportedly a fan of his skill set.
Minshew hasn't accomplished much during his three-year NFL career. However, he did string together a handful of impressive starts with Jacksonville as a rookie. He also looked solid during his lone start for the Eagles this past season.
Across 22 career starts, Minshew is 8-14 with 41 touchdowns, 12 interceptions, and a 93.9 passer rating. He leaves quite a bit to be desired when it comes to arm strength and overall accuracy, but he's a solid game manager compared to the current options available in free agency.
Why the Colts' interest in Gardner Minshew is utterly embarrassing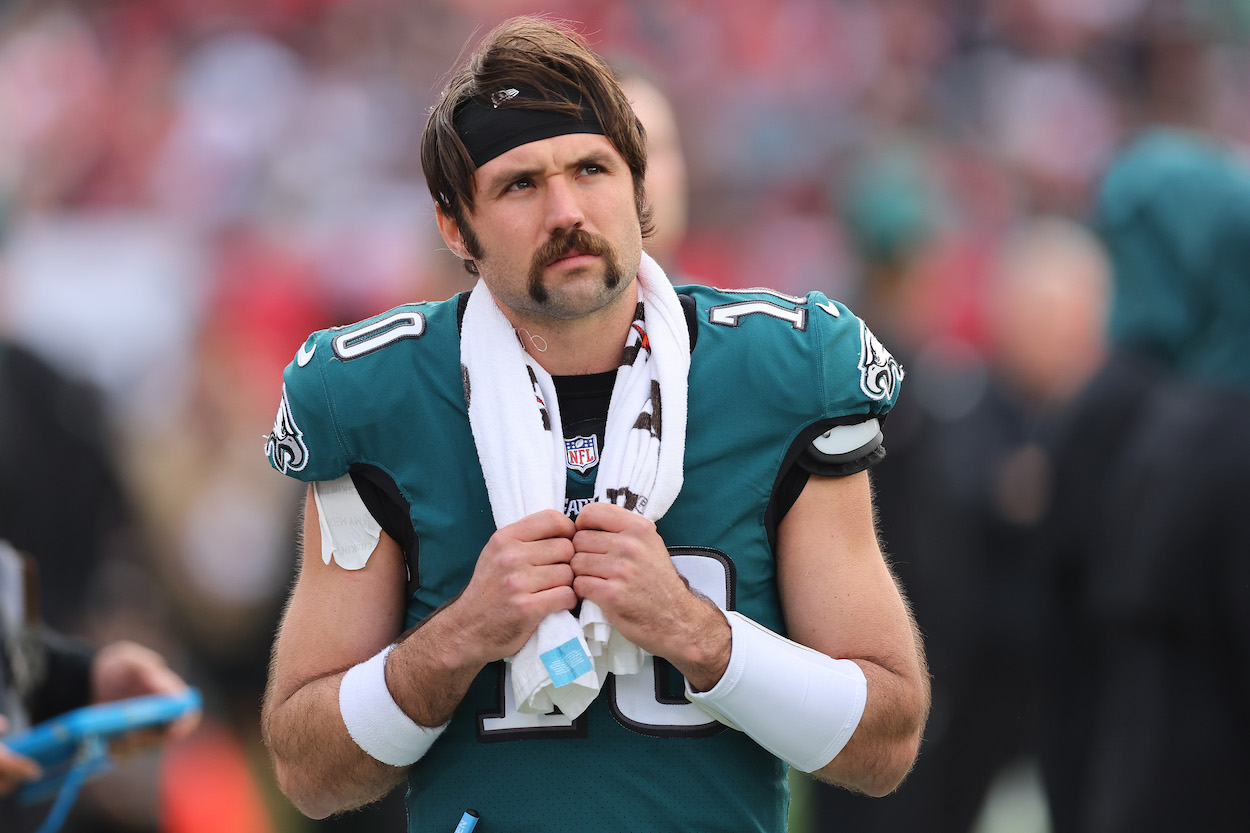 It's not challenging to spin this as a good potential move for the Colts. However, once you realize how Indy got to this point in the first place, it becomes clear that this is a horrible look for the franchise.
Colts GM Chris Ballard paid a significant price to acquire Carson Wentz from the Eagles last offseason (first-round pick, third-round pick). Now, he's being forced to turn around less than a year later and beg Philadelphia for another quarterback.
Not only is this an indictment on the Colts' inability to develop their own quarterback prospects, but it also casts a terrible light on Ballard and his ability to evaluate the quarterback position. It's his fault that the Colts are in this position.
Indianapolis is staring down an ugly 2022 season
Whether the Colts trade for Minshew or not, the point is that they are trying to contend in 2022, but they don't have a clear answer at the quarterback position. It's the most critical position in sports, and yet Ballard continuously finds himself in a position where he's scrambling in the offseason to find someone to stand under center.
It's also crucial to point out just how advanced the quarterbacks in the AFC are. It's impossible to imagine Minshew going toe to toe with Patrick Mahomes, Russell Wilson, Josh Allen, Joe Burrow, Lamar Jackson or Justin Herbert in the postseason.
No matter how you slice it, this is a terrible look for the Colts and their front office. Eagles GM Howie Roseman is probably laughing his butt off right now thinking about how this scenario played out.
All stats courtesy of Pro Football Reference.
RELATED: Disastrous Carson Wentz Trade Should Have Colts GM on the Hot Seat