Commanders Rumors: Mitchell Trubisky Might Become a Reality After Striking Out Elsewhere
The Washington Commanders are in desperate need of a new quarterback. Taylor Heinicke was better than expected, but head coach Ron Rivera keeps expressing his desire for another signal-caller when the 2022 season kicks off.
Carson Wentz has been tossed around as an option, and other big names such as Deshaun Watson and Aaron Rodgers have also been discussed. The Commanders even offered multiple first-round picks for Seattle Seahawks QB Russell Wilson, and they didn't budge.
With all of that, the Commanders might have to head to the free-agent market for a QB. Alas, former first-round pick Mitchell Trbuisky has emerged as an option, and while that isn't the first choice, it might be the perfect fit for both parties — especially for the price.
The Commanders tried and failed to acquire Russell Wilson despite a monster offer
In the thick of the NFL Combine, Ian Rapoport of NFL Network reported that the Commanders made a monster offer for Wilson.
Unfortunately for Washington, the Seahawks said no. This latest report for Rapoport matches with the Seahawks' stance on wanting to keep its franchise QB for at least another year, so it shouldn't be entirely surprising.
Multiple first-round picks is quite the package for Wilson, and if anything, this shows how serious the Commanders are to land a big-name QB.
After striking out on Wilson, and with the latest Aaron Rodgers news, they might need to start thinking of other options.
Mitchell Trubisky could be a solid Plan B for the Commanders
This might not be what Commanders fans want to hear, but Trubisky isn't a terrible option. If Watson, Rodgers, or Wilson don't end up in DC, they have no choice but to look for a bridge-type QB such as Trubisky or Marcus Mariota.
The Trubisky rumors have picked up steam, and with the latest QB news cycle, it should be gaining even more traction with free agency beginning in just a matter of days.
So far, the Commanders have struck out on Wilson. Rodgers has reportedly narrowed his options down, and the Commanders are not one of them, according to Mike Florio of Pro Football Talk.
So, the last big-name QB is Watson, and there is way too much uncertainty for the Commanders to jeopardize their future to acquire him.
Alas, Trubisky emerges as the front runner — and it could be worse.
Sure, his run with the Chicago Bears was a mixed bag, but part of that blame should be placed on Matt Nagy. Trubisky had his moments, and with an entire season watching and learning from Josh Allen, the expectations are that he improved drastically.
Plus, there is a bit of a connection for Trubisky with one of the assistants in Washington.
A lot of signs point to Trubisky being an option for the Commanders. Furthermore, assuming they select a QB in the 2022 NFL Draft, the rookie can sit back and learn from Trubisky while not facing the pressure of starting from Day One.
The benefits are plenty, and the price point for Trubisky, as opposed to the other names, is night and day.
The Commanders Plan B option of Trubisky could be enough to get them back into the playoffs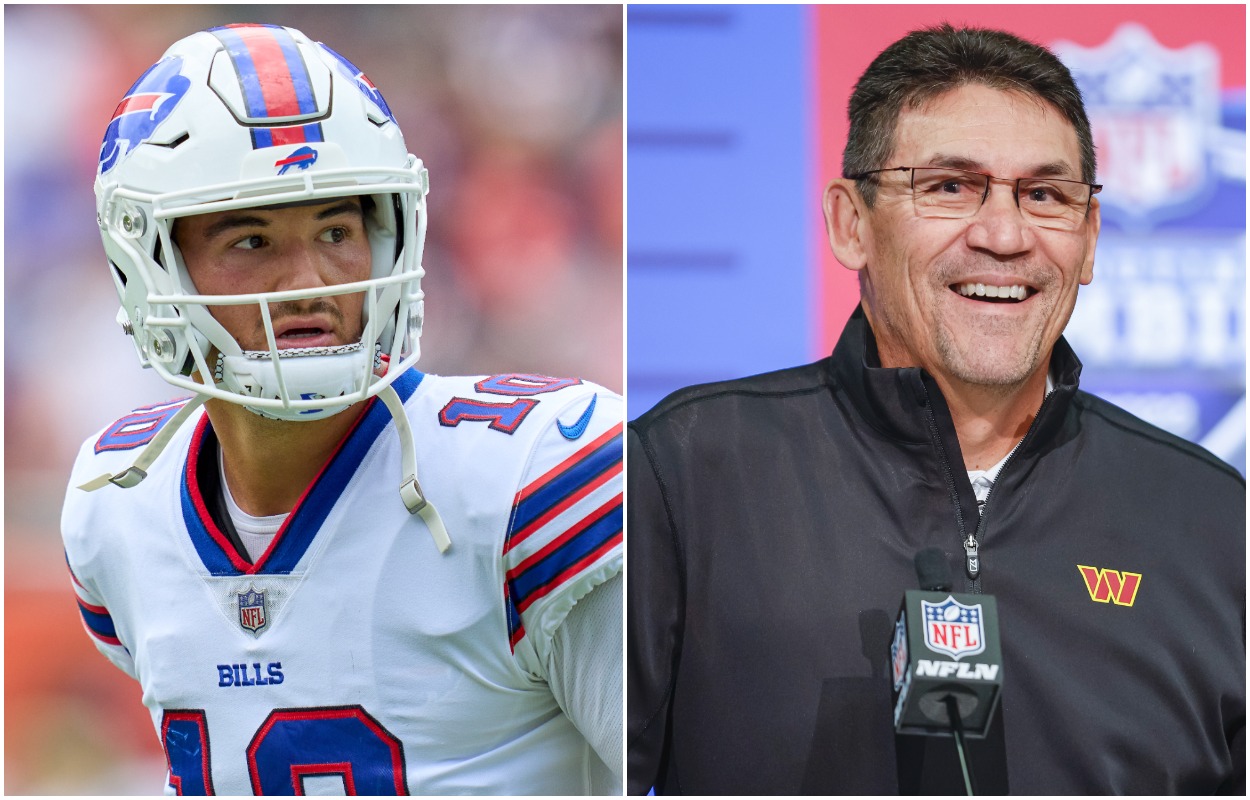 It sounds strange, but adding Trubisky might be enough to get Rivera and the Commanders back into the playoffs. In 2021, they finished 7-10 with Heinicke running the show, and frankly, Trubisky should be able to play just as good if not better than Heinicke.
Heinicke threw for 3,419 yards with 20 touchdowns and 15 interceptions, none of which are too eye-popping or encouraging moving forward.
During the 2022 NFL Combine, ESPN NFL Draft analyst Matt Miller admitted that Trubisky's name had floated around quite a bit, and a lot of that can also be placed on the question marks surrounding this year's QB class.
As odd as it sounds to hear Trubisky rumored to land a starting job, it appears bound to happen. The New York Giants make a lot of sense, even more after former Buffalo Bills offensive coordinator Brian Daboll got the head coaching job.
The Pittsburgh Steelers and Denver Broncos are two other QB-needy teams desperate for a bridge QB, so the market is out there for Trubisky.
Take Trubisky's days as the Bears starter with a grain of salt. There were far too many issues in the Windy City, and he deserves another chance to show he is a bonafide starter in the NFL.
Perhaps Washington, D.C. is the perfect spot for the former North Carolina star.
Stats Courtesy of Pro Football Reference
RELATED: What the Washington Football Team's Plan of Attack Must Be for the 2022 NFL Offseason