Complete NFL Draft: What the Bottom 16 Teams Need
The NFL Draft is finally upon us — just a few weeks away. While there has been draft talk for the past three or four months, until the actual day, everything previously discussed has been mere speculation. After the NFL combine concluded in late February, teams officially started to make their big boards (a list of players they'd like to select) in anticipation for the draft. But if history has proven anything, there are almost no guarantees until the commissioner announces the pick on draft day.
So, instead of hypothesizing who will take whom, or who will make a last minute trade to move their pick up, we'll look at what the teams need. Every team has needs — there are no perfect rosters out there. While Free Agency — an excellent way to fill needs — was very active this offseason, many teams are still looking to fill one or more starting positions. This means that they will have to draft wisely and efficiently. With all the preparation over the past months, here are the bottom sixteen teams in the league and what their needs are.
1. Houston Texans
Houston finished with the league's worst record, 2-14, a year ago. A team like that has many needs, but some stand out more than others. Most notably is quarterback. New head coach Bill O'Brien has the task of rebuilding the franchise up and that is most easily done with a franchise-caliber quarterback. Currently, the Texans' best QB is Ryan Fitzpatrick — he proved during his time in Buffalo that he's more of a band-aid than a permanent fix. The Texans need to draft a quarterback; it's just a matter of whom.
Houston also needs to up their defensive front seven — whether it's with a linebacker or a defensive lineman. Their inability to get to the quarterback last season and stop the run was pretty embarrassing. A good defense starts in the trenches, and that's where Houston still needs to improve.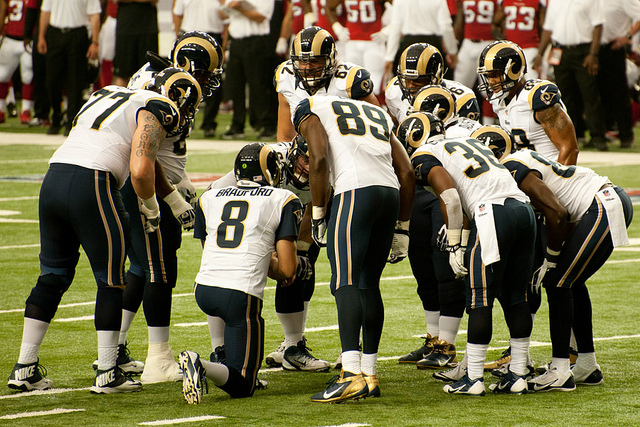 2. St. Louis Rams
While the defense certainly has needs, wide receiver is the Rams' top priority. They have who they think is their franchise quarterback in Sam Bradford (albeit he hasn't done very much, yet), but the lack of production might be a result of having an atrocious wide receiving corps. Saint Louis has two first-round picks, so it seems likely that one of those will be a receiver — at the end of the day, Bradford needs an elite pair of hands to throw to.
3. Jacksonville Jaguars
The Jaguars are very similar to the Texans in their need for a quarterback. They've bounced around between QB's for far too long, and until they get that top-notch player, it seems Jacksonville will continue to stumble. However, their offensive line was also very ineffective a year ago — rushing for just 3.3 yards per carry and a total of 1,260 yards. With the third pick, Jacksonville needs either a QB or an offensive tackle. Either one will improve the team, assuming they select someone who can step right in (a big assumption).
4. Cleveland Browns
Besides the one-hit wonder Derek Anderson, Cleveland falls into the same dilemma as many other teams — they lack a proven, elite quarterback. With the fourth pick, they should very likely get that player; it's only a matter of if they see him in this draft class.
Cleveland also has the 26th pick of the first round. While Joe Haden is one of the most dynamic corners in the game, the Browns' secondary as a whole was a weak spot a year ago. They need another solid cover-corner (not a nickel back) and maybe a safety, too. Either way, add one more quality defensive back to the mix, and Cleveland will have a dangerous secondary.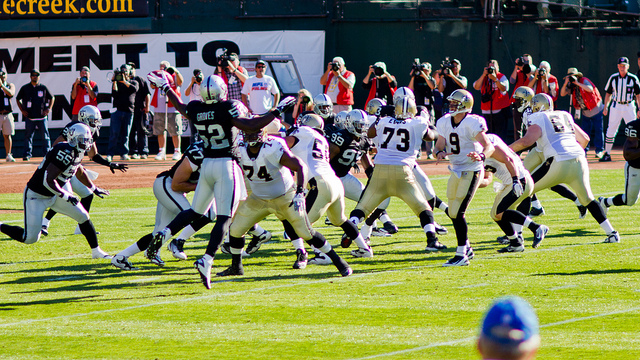 5. Oakland Raiders
Oakland is in a very unique position. They acquired Matt Schaub, who they think could be their "franchise quarterback," in the offseason — could being the important word.  But the Raiders have had QB issues in the past (see Jamarcus Russell), so it's never a stretch to say that quarterback is a need.
However, Oakland, who finished 4-12 last season, desperately needs to shore up their offensive line. Whether they select an offensive tackle or guard — the former seems more likely since a quality guard can normally be chosen in the later rounds — Schaub needs a lot more protection than the Raiders' QB's got a year ago.
6. Atlanta Falcons
It was surprising when Atlanta finished last season at 4-12 with the roster they had. Quarterback Matt Ryan is their franchise quarterback, and he certainly looks to remain. Besides at offensive tackle, Atlanta's offense doesn't have a lot of needs — when healthy, the Falcons have a very dangerous receiving corps. Defensively, though, Atlanta needs to toughen up in the trenches. Their font seven was very weak against the run last season, and this could be improved with a tackle or end, linebacker, or even a strong safety who defends the run well. The defense has to improve for Atlanta to get better as a whole, and that starts up front.
7. Tampa Bay Buccaneers
Tampa Bay was able to sign defensive end Michael Johnson in free agency, and that took some pressure off drafting defensive-line help. The Buccaneers do have a young starting quarterback, though, and they could use some depth at receiver. Currently, Vincent Jackson is it — he had a very solid season a year ago, but he's not exactly a spring chicken. Team a young wide receiver with Jackson, and Tampa Bay could have a threatening passing attack.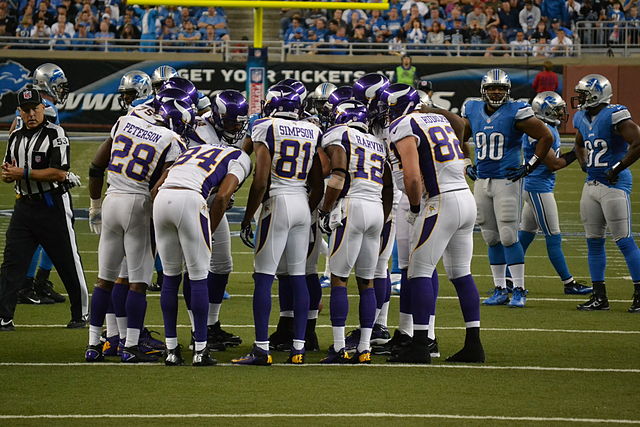 8. Minnesota Vikings
The Vikings thought that Christian Ponder might be the quarterback of their future when they drafted him. Now? Not so much. Besides likely drafting a quarterback in this deep class with their eighth pick, Minnesota needs help in the secondary. They gave up an abysmal 287.2 yards per game through the air last season. They can't compete pretty much allowing teams to throw at will against them. Cornerback is a definite need.
9. Buffalo Bills
The Bills have two major needs going into this draft — receivers and offensive linemen. With the ninth pick of the draft, they might be hard pressed to get exactly the player they want, but they should be able to get a top left tackle or wide receiver. What they don't get in the first few rounds, they should be able to get later, and that might include a tight end. Sure, they need a productive top receiver first, but a solid tight end would go a long way.
10. Detroit Lions
Every year it seems like the Lions have a worse secondary, and every year, they refuse to take a cornerback in the first round. The former part of that remained true this season — Detroit's secondary was subpar. They need help at corner and at safety, though corner is probably more pressing. Last season, Detroit took Darius Slay in the second round, but look for them to finally use their first-round pick on a quality cover corner — they badly need it.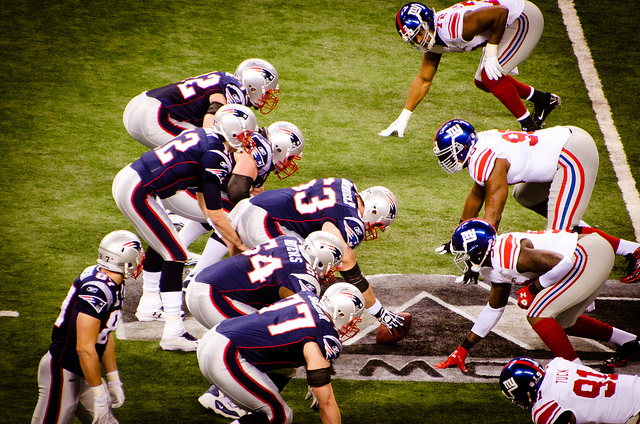 11. Tennessee Titans
This will be Jake Locker's fourth season with the Titans — needless to say, he doesn't appear to be the quarterback they thought he would be. Because of that, it seems like the Titans might draft a quarterback with their first-round selection. However, with the 11th pick, they might not get the guy they want, so they could end up looking elsewhere. They do have other needs.
Defensively, they were weak in the secondary last year, but also the pass rush. One good defensive end could drastically improve both of those categories. Since they generated very little pressure on opposing quarterbacks a year ago, teams had all kinds of time to find open receivers. A top pass rusher could single handedly change the defense — generate more pressure and keep the pressure off the secondary.
12. New York Giants
Eli Manning had one of his worst seasons in 2013-2014 — he threw far too many interceptions. A lot of that was his fault, but another top receiver could only help. Whether they look at a tight end or a stretch wide out, the Giants need to up their receiving corps. They also could use to shore up both interior lines — a defensive tackle or an offensive guard/center would immensely help.
13. Saint Louis
See No. 2
14. Chicago Bears
Chicago was a hair away from making the playoffs last season. Their offense, assuming Jay Cutler is healthy, was not the issue. They have defensive needs. And that starts in the secondary. Just look at the final play of the season when Aaron Rodgers hit a wide-open target down the middle of the field for the winning touchdown. Those kind of plays happened all year because of the Bears' futile secondary. But the good news is that they are one or two players away from being a likely playoff team. A solid corner or safety could be just what the doctor ordered.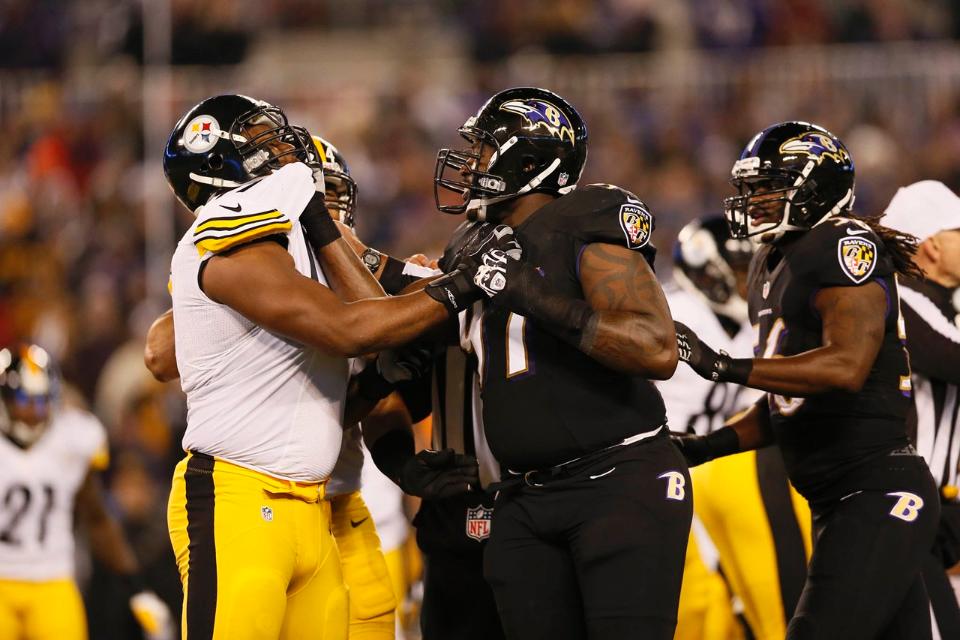 15. Pittsburgh Steelers
A season ago, Pittsburgh had one of the worst receiving corps in the league. They really didn't have a go-to number one receiver, and this showed in quarterback Ben Roethlisberger's lack of production. The Steelers and head coach Mike Tomlin need an elite wide receiver with a good set of hands, and while they have the No. 15 pick in the draft, they can certainly still get a game changer that far down.
16. Dallas Cowboys
When the Cowboys failed to resign DeMarcus Ware this offseason, they lost their top pass rusher. But then also failed to sign another game-changer like Ware. And now they're in a position where they need at least one starter in the trenches. Whether they select a defensive tackle or a defensive end, the Cowboys' current lack of depth and strength could be troublesome if they don't add a few players in the draft to their front four.
17. Baltimore Ravens
The Ravens signed Steve Smith in free agency, and this answered (well, potentially at least) a lot of questions on offense they had a year ago. However, their offensive line could be a little better — Flacco wasn't the most sacked quarterback in the league, but he was pressured frequently.
Baltimore could also use to enhance the middle of their defense. Whether that means a linebacker — albeit another Ray Lewis might be hard to find — or a solid safety, if they can get an athletic playmaker to roam the field, their defense will greatly improve. Since they just missed the playoffs at 8-8 in 2013-2014 a year after winning the Super Bowl, they're right on the brink of getting back to that status.