A Complete Timeline of Russell Wilson's History With the Denver Broncos
If 2020 was unparalleled and 2021 was outright bizarre, imagine how strange 2022 will be when Russell Wilson throws touchdowns for the Denver Broncos.
If you spent the first full week of March under a rock, you missed the Seattle Seahawks trading the greatest quarterback in franchise history to the Broncos. Although the nine-time Pro Bowler has spent his entire career in the NFC, he's certainly no stranger to his new organization. The two sides have an interesting, if somewhat brief, history that is worth revisiting.
Feb. 2, 2014: A Super Bowl rout
Outside of preseason games and the Super Bowl, AFC teams only play specific NFC teams (and vice versa) every four years. For example, the Broncos, an AFC West team, will play NFC West teams in 2022 for the first time since 2018. That year, it'd marked the first time Denver had played the likes of Seattle or the Arizona Cardinals since 2014, and so on.
Why is this relevant? The AFC West and NFC West squared off in 2002, 2006, and 2010 after the league expanded to 32 teams following the 2001 season. Wilson, a third-round selection in 2012, missed out on facing the Broncos in his first two regular seasons. However, he did play them in the preseason each year.
Of course, everything changed on Feb. 2, 2014, when Wilson and the Seahawks faced Peyton Manning's Denver Broncos in Super Bowl 48. Despite entering as +2.5 underdogs, Seattle scored the game's first 36 points en route to a 43-8 rout at MetLife Stadium.
Wilson completed 18 of his 25 passes for 206 yards, two touchdowns, and no interceptions in the victory. He also rushed for 26 yards on three carries en route to becoming the second Black starting quarterback in NFL history to win a Super Bowl.
As of publication, Wilson is only one of three Black starting quarterbacks to win a Super Bowl. Barring injury, he'll face the club's other active member, the Kansas City Chiefs' Patrick Mahomes, twice next season.
Sept. 21, 2014: Russell Wilson 2, Broncos 0 (or 0.5)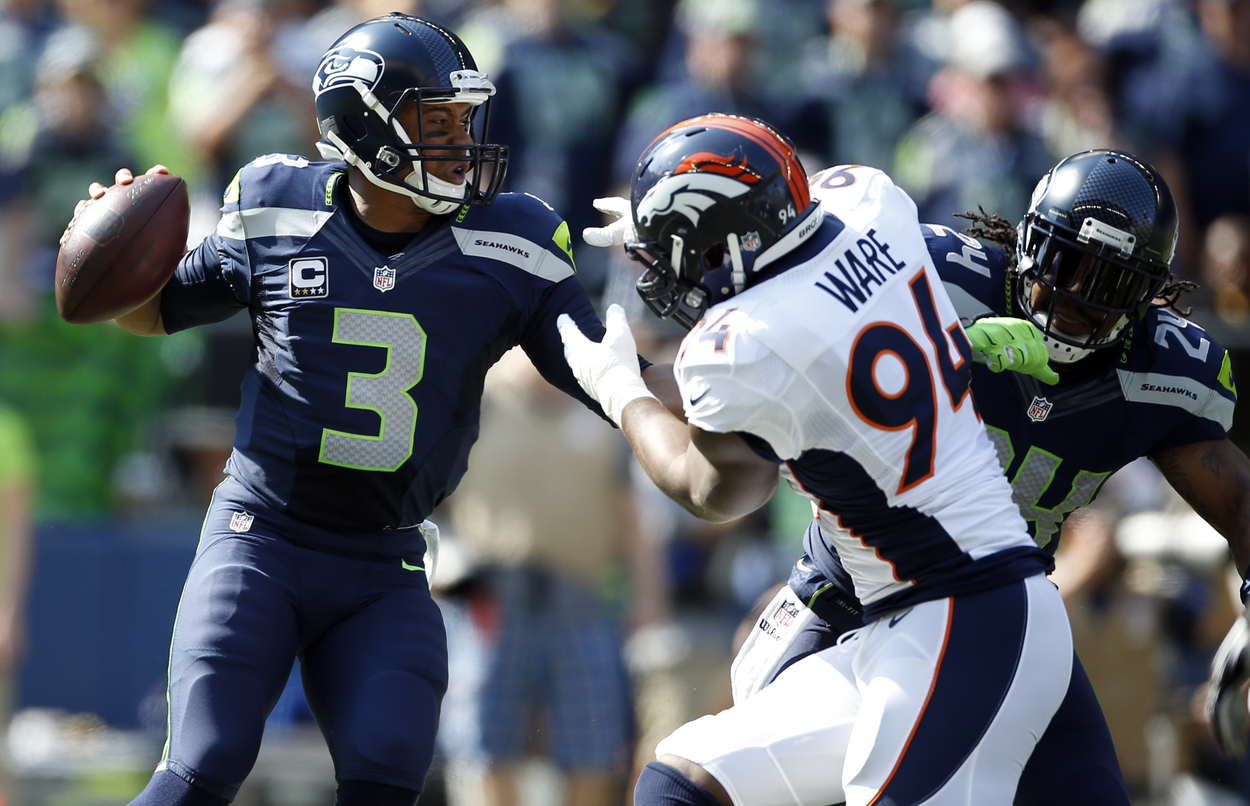 Remember that nugget about the Broncos and Seahawks playing every four years? Less than seven months after facing off in Super Bowl 48, Seattle hosted Denver on Sunday, Sept. 21, 2014. Interestingly, the game also took place over a month after Denver defeated Seattle, 21-16, in an Aug. 7 preseason showdown in Colorado.
This time, the Broncos had no intention of going down without a fight. Trailing 17-3 when the fourth quarter began, Manning engineered three scoring drives and fired two touchdown passes within the game's final 9:20 to force overtime.
After winning the coin toss, Wilson immediately led the Seahawks downfield. Facing 1st-and-goal from the Broncos' 6-yard line, Wilson handed off to Pro Bowl running back Marshawn Lynch, who plowed into the end zone and gave the Seahawks two victories in less than a year against their former AFC West rivals.
Wilson completed 24 of 34 passes for 258 yards, two touchdowns, and an interception in Seattle's 26-30 victory. He also rushed for 40 yards on nine carries and even had a 17-yard reception.
Sept. 9, 2018: The Broncos' long-awaited revenge … maybe
Any hopes of a Broncos-Seahawks rivalry effectively ended because of the AFC-NFC scheduling format. Seattle next faced Denver on Sept. 9, 2018, over two years after Manning retired. Instead, Wilson faced off against Case Keenum, a journeyman quarterback making his Broncos debut.
Wilson struggled on a hot afternoon in Denver, completing 19 of 33 passes for 298 yards, three touchdowns, and two interceptions. The two teams traded scores throughout the second half until Keenum connected with Demaryius Thomas, one of the few Broncos left from the Super Bowl 48 loss, for a 4-yard touchdown and a 27-24 lead early in the fourth quarter.
Denver's defense forced two punts by Seattle's offense before intercepting Wilson on a game-ending Hail Mary attempt.
The scheduling format, by the way, ensures Wilson and the Broncos will face the Seahawks in Seattle next season. As of publication, neither a date nor TV time had been announced. However, one should reasonably expect to see that game on national television, especially if NBC and Sunday Night Football get involved.
Like Sportscasting on Facebook. Follow us on Twitter @sportscasting19.
RELATED: With Russell Wilson Traded, Jared Goff Makes Even More Sense For Seahawks