Concussions Cost Kevin Kolb His Starting QB Role With 3 Different Teams
Kevin Kolb knew something about injury luck, and how bad it could get.
A record-setting quarterback at Houston, Kevin Kolb was originally going to replace Donovan McNabb as the Philadelphia Eagles' starting quarterback.
Then, injuries struck, and Kolb became fully acquainted with the trainer's table across his various stops, especially when he had a chance to earn a long-term starting gig.
Kevin Kolb had a stellar college career at Houston
In hindsight, the Philadelphia Eagles drafting Kevin Kolb when they did was a strange move. Not as strange as the Packers drafting Jordan Love, but still an odd decision because the Eagles were still playing in Donovan McNabb's prime.
The Eagles had reason to be high on Kolb, though. He had a brilliant career at Houston under future Baylor head coach Art Briles.
Kolb completed 61.6% of his passes for nearly 13,000 yards, 85 touchdowns, and 31 interceptions in four years with the Cougars. He had a staggering 30-4 TD-INT ratio in 2006, his senior season.
Kob also ran for 21 touchdowns, albeit on 1.6 yards per carry.
Houston went 26-24 in that time. The Cougars lost all three bowl games they played in with Kolb at the helm.
Kolb battled concussions with three different NFL teams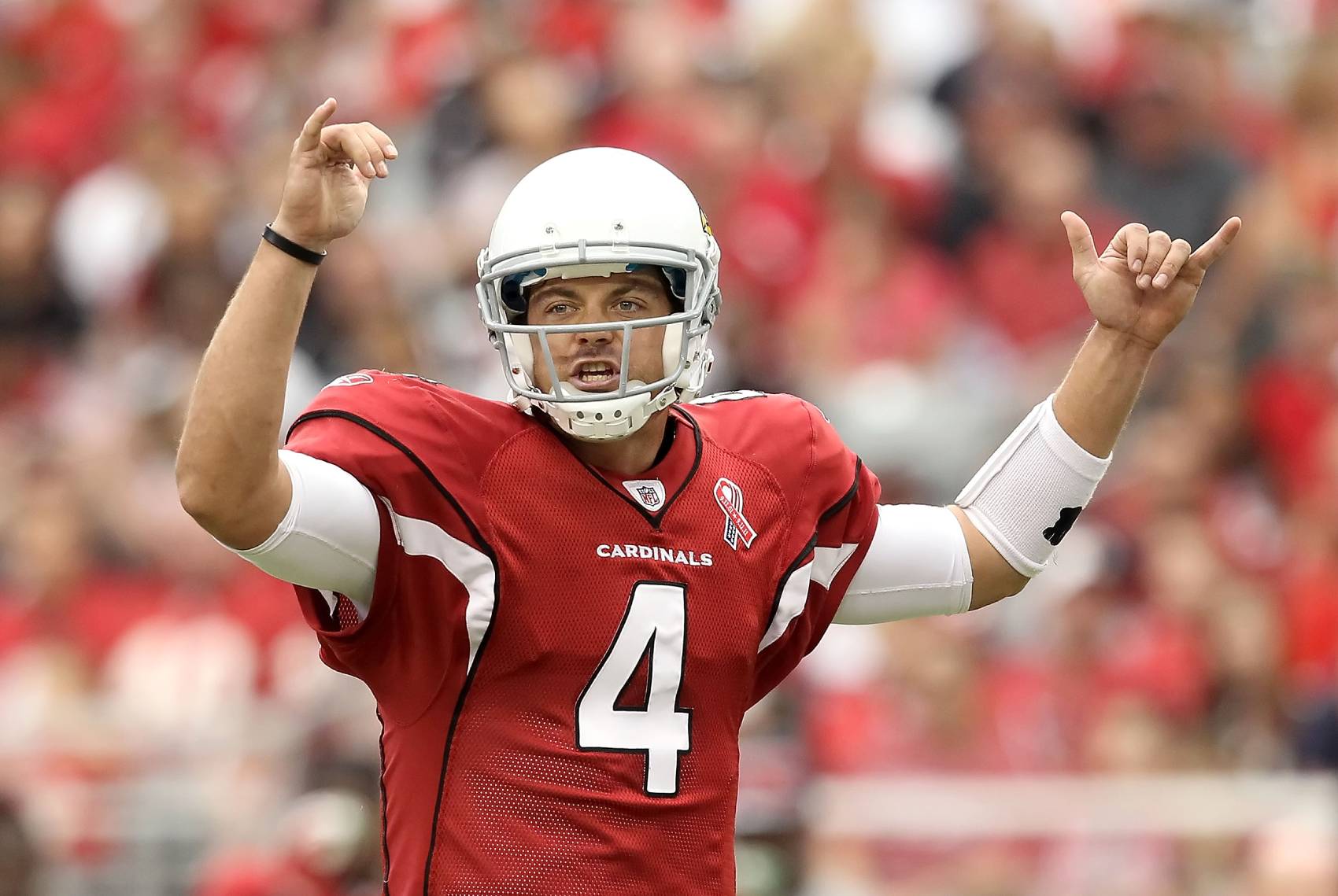 Kevin Kolb didn't play much in his first three seasons. He went 1-1 in two starts during the 2009 season, but is best known for throwing a 107-yard pick-6 to Baltimore Ravens star Ed Reed in 2008.
Kolb finally got his chance in 2010, the same year that Philadelphia traded McNabb to Washington. Unfortunately for Kolb, he suffered a concussion in a Week 1 loss to the Green Bay Packers.
Kolb returned to the starting lineup in Week 6 when his replacement, Michael Vick, missed time with a chest injury. Still, it was clear by season's end that Vick was the Eagles' long-term starting quarterback and Kolb could use a new home.
That new home happened to be in Arizona. Kolb battled several injuries that year before suffering a second concussion, this time against the San Francisco 49ers. After nine games, Kolb's first season with the Cardinals was done.
Arizona went 3-2 during Kolb's five starts in 2012 and he impressed with eight touchdowns to only three picks. Another injury, this time to his ribs, cost Kolb seven games; Arizona lost all of those games.
Kolb joined the Buffalo Bills in 2013 and had an opportunity to win the starting job. But when he suffered a third concussion in a preseason game against the Redskins, his time in Buffalo ended before it truly began.
The EJ Manuel era shortly began thereafter in Buffalo, and Kolb watched from the bench.
Where is Kevin Kolb now?
After three concussions before the age of 30, Kevin Kolb wisely retired in 2014.
In an interview with Sports Illustrated that same year, Kolb acknowledged he had post-concussion syndrome. Kolb also explained, in-depth, what it felt like having a concussion.
With concussions, sometimes you don't know what is a symptom and what is not. But some symptoms are impossible to ignore. The ringing is like someone shooting a shotgun right next to my ear, every second of every day. It doesn't go away.
Kolb has strayed away from football in recent years. He sometimes appeared on the sidelines of Baylor Bears games to support former head coach Art Briles, but that's been the extent of his return to the gridiron.
According to his LinkedIn, Kolb now founded a construction company, Breakin' New Ground, in November 2015. He also founded a real estate company, Twelve Stones, in February 2016.
Both companies are based in Fort Worth, Texas.