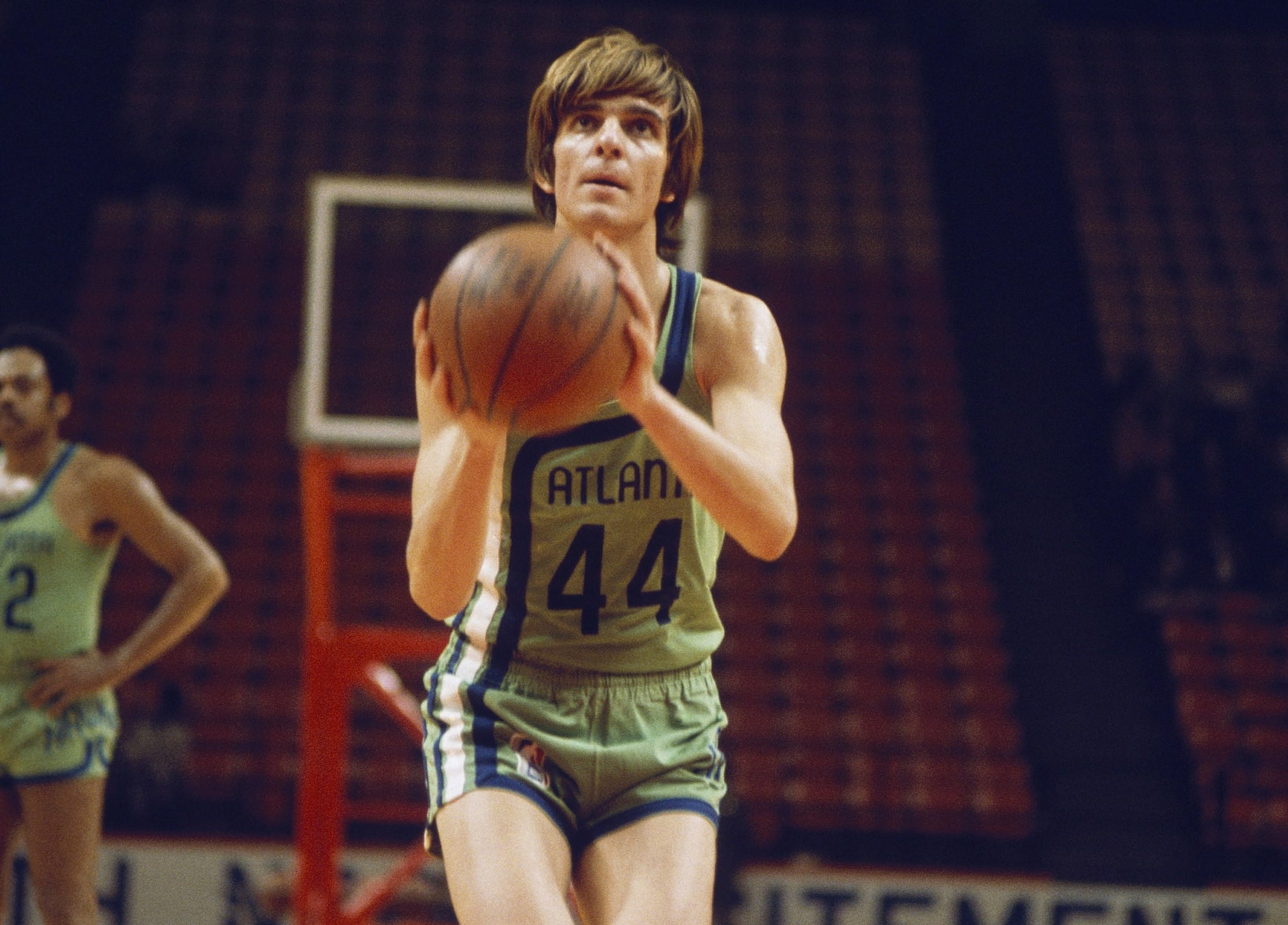 Confidence Quickly Turned to Frustration for Pete Maravich as an NBA Rookie
Pete Maravich, still the all-time scoring leader in the NCAA, had a rough rookie season in the NBA.
Let's face it, for three years, Pete Maravich was college basketball. A three-time NCAA scoring leader and two-time player of the year, Maravich wowed college basketball fans in his three seasons at LSU, despite never making the NCAA tourney.
Fans flocked to see Pistol Pete play. He rarely ever disappointed with his flashy passes and his 44.2 point-per-game career average. The Atlanta Hawks made Maravich the third overall pick in the 1970 NBA Draft. All that hype over Maravich quickly turned to frustration for the 6-foot-5 point guard.
Pete Maravich was an entertainer, a prolific scorer, and a playmaker
Pete Maravich played three seasons for his father at LSU. Press Maravich became the coach of the Tigers for the 1966-67 season. He and Pete came together as a package deal, but freshmen weren't allowed to play at the varsity level back then. Without his son running the show on the court, Press and the Tigers struggled through a 3-23 season.
In Pistol Pete's first college season, he helped turn around the struggling program. He averaged 43.8 points in 26 games and guided LSU to a 14-12 record. It was the Tigers' first winning campaign since the 1961-62 season.
In his three-year career at LSU, Maravich scored a whopping 3,667 points. It's a record that still stands. Antoine Davis of Detroit Mercy flirted with the record this year, falling three points shy of tying the mark. It took Davis five seasons (with a three-point line and shot clock) to rack up 3,664 points.
While Maravich was known for his scoring, he once said passing and putting on a show is what he loved to do best.
"There's one misconception I'd like to clear up," Maravich wrote in a first-person Sports Illustrated article in 1969. "When most people hear the name Maravich, all they think of is a skinny kid who shoots all the time. Well, I do shoot a lot.
"But, and this may sound funny, shooting is not really my game. Passing is. Passing and ball handling and dribbling. That is the most exciting part of my game, the most devastating part, the part that people come out to see, the part I like to talk about."
Maravich was quickly frustrated as a rookie with the Hawks
Maravich was selected third overall in the 1970 NBA Draft. Although he averaged 23.2 points in his first year as a pro and was named to the 1970-71 All-Rookie Team, his first NBA season was far from a dream come true.
His first regular-season NBA game was at home against Lew Alcindor and Oscar Robertson of the Milwaukee Bucks, a team favored to win the championship. According to Mark Kriegel's book PISTOL: The Life of Pete Maravich, ABC's Wide World of Sports paid $75,000 to broadcast the game to show Pistol Pete's debut.
He came off the bench at the beginning of the second quarter and earned the loudest cheer of the game when he picked off a pass and hit a foul-line jumper for his first NBA field goal. When all was said and done, however, Maravich finished with seven points on 3-for-13 shooting in a 107-98 loss.
"I felt like a ghost was sitting on me," Maravich said, per Kriegel.
He spent plenty of time on the bench as a frustrated rookie. It was a far cry from his LSU days.
"I was so frustrated… I couldn't see straight," he said. "It seemed like I'd go crazy."
Even his opponents sensed the frustration.
"You try to get him angry at himself," Knicks star Walt 'Clyde' Frazier said in the book. "If he makes a bad pass or you steal it from him, you might be able to break downcourt for an easy layup because he's at the other end talking to himself."
The losses mounted, and there was tension among the team. Two of his former LSU players, Hal Blondeau and Pete Coker, saw a significant difference in Maravich since his college days.
"It was four Black guys and Pete," Blondeau said. "It was like he wasn't there. They just wouldn't give him the ball."
"I saw a lonely guy," Coker said. "He was separate, and he knew it."
Eventually, NBA life got better for Maravich, who was traded to the expansion New Orleans Jazz before the 1974-75 season. He led the league in scoring in the 1976-77 season. He was a five-time All-Star and was inducted into the Naismith Memorial Basketball Hall of Fame in 1987.