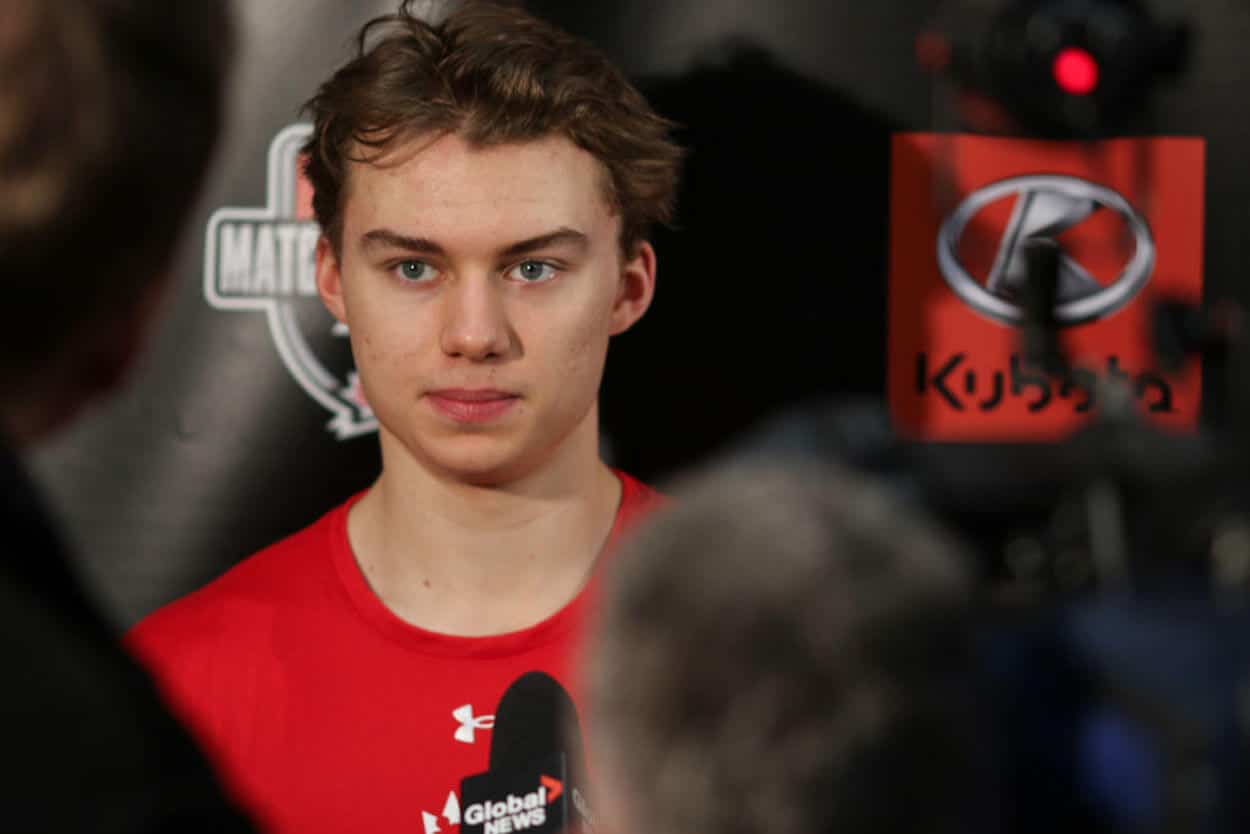 Connor Bedard Is Disappointingly Prepared to Follow In Some Rather Bland Footsteps
If you were hoping that Connor Bedard would be marketing gold for the NHL, you might not want to hold your breath.
Even though he's yet to set foot on the NHL ice, Connor Bedard seems like a truly special player. If his Major Junior stats and World Junior performance are anything to go by, the forward possesses incredible footwork, a lethal shot, and offensive skill that allows him to (metaphorically) punch above his weight. If all goes well, the North Vancouver native should be must-see TV once he reaches the pros.
If you're a hockey fan who's familiar with the sport's struggles — the NHL frequently comes in fourth place in a four-horse marketing race among major North American leagues — it's easy to look at Bedard as the answer to those problems. He's young, exciting, and (theoretically) possesses plenty of personality. That's someone who can attract fans for years to come, right?
Well, there's a problem with that. If we take Bedard at his word, it sounds like he's going to play things in classic hockey style, which, unfortunately, means we won't be seeing much individuality moving forward.
Connor Bedard wants to emulate Sidney Crosby, which is great for on-ice success but bad for showing personality
Since professional athletes can seem like superheroes, it's easy to forget that the biggest stars enter the pros as teenagers. That often means they'll end up playing alongside their role models, and Connor Bedard will be no exception to that reality.
While he's emulated elements of Auston Matthews' shot, the Regina Pats product also thinks rather highly of Sidney Crosby. Allow ESPN's Emily Kaplan to explain.
"Bedard draws the most holistic inspiration from Crosby," she wrote. "Bedard studies Crosby's puck protection and 200-foot game on the ice, and watches Crosby's news conferences and social interactions off the ice."
The teenager also spoke to No. 87's influence a bit more directly.
"[Crosby is] just incredible," Bedard explained. "You see him with kids, you see him with the media, and he never really makes a mistake. He carries himself so well, always. There's a humbleness to him. He doesn't love talking about himself. He always tries to involve his teammates, involve people that have helped him."
That all sounds well and good, right? Who wouldn't want a rising star to make sure to stay humble, take time for kids, and share the spotlight with his teammates?
The thing is, though, Crosby is a pretty bad role model when it comes to showing personality and resonating with a larger audience. The Penguins star is known because of his incredible on-ice accomplishments; there's nothing about his off-ice actions that speak to a wider audience.
The fact that Bedard specifically mentions the veteran's interactions with the media and the fact that he doesn't make mistakes suggest that the teenager views Crosby's bland presentation as the goal. And, elsewhere in the article, Kaplan notes that the highly touted prospect is already rather comfortable playing things by the book.
"The only person not gushing about Bedard is Bedard himself," she wrote. "The teenager is well-mannered and trained in dealing with the media, following the unwritten rules of hockey — thou shalt not talk about thyself — as if they are scripture. Good luck getting him to admit what the world has already assumed. Every conversation about Bedard's NHL future includes qualifiers such as 'if I am lucky enough to get drafted.'"
Given that he hasn't even entered the pros yet, that's not ideal.
It's a disappointing statement about hockey culture that Bedard has already learned to be bland
To be clear, any athlete, whether it's Connor Bedard, Sidney Crosby, or anyone else, can behave however they choose. My objection, however, arises when we trace a particular trend. In hockey, being bland and avoiding anything that could even gently rock the boat is considered to be the ideal course of action.
That's problematic for a few reasons.
First, let's return to the marketing aspect that I mentioned before. Hockey, like it or not, is a niche sport. In order to expand beyond those who already like the ice game, the NHL needs to present something for the neutrals to latch onto. On-ice skill can be part of that appeal — it would need to be allowed to flourish and be actively promoted — but player personality also have a role.
I'm not asking NHLers to stop practicing or start filming TikToks or start performing stand-up routines during postgame interviews. Instead, I'd place the focus on simply speaking genuinely. To return to Bedard's quote about Crosby, it's OK to make mistakes if you're actually expressing something beyond a tired cliche.
I'd also hope that if players showed a bit more personality, the general oppressiveness of hockey culture would start to melt away. Celebrations and shows of skill should be encouraged, not forced out of the game with critical coverage and threats of on-ice retaliation.
Beyond that, it's also worth considering the player's perspective. While there's surely an element of taking the path of least resistance, it's probably not ideal that NHL athletes are conditioned to avoid showing personality. To, once again, return to Bedard, he's still a teenager. He has had different experiences than Sidney Crosby. They (presumably) view things differently. They should be speaking to that, not trotting out the same cliches.
Ultimately, and I am saying this as a hockey fan, I want the sport to be as compelling as possible. And while Connor Bedard may spice things up on the ice, he won't be doing that away from the rink.
That, ultimately, is a shame.