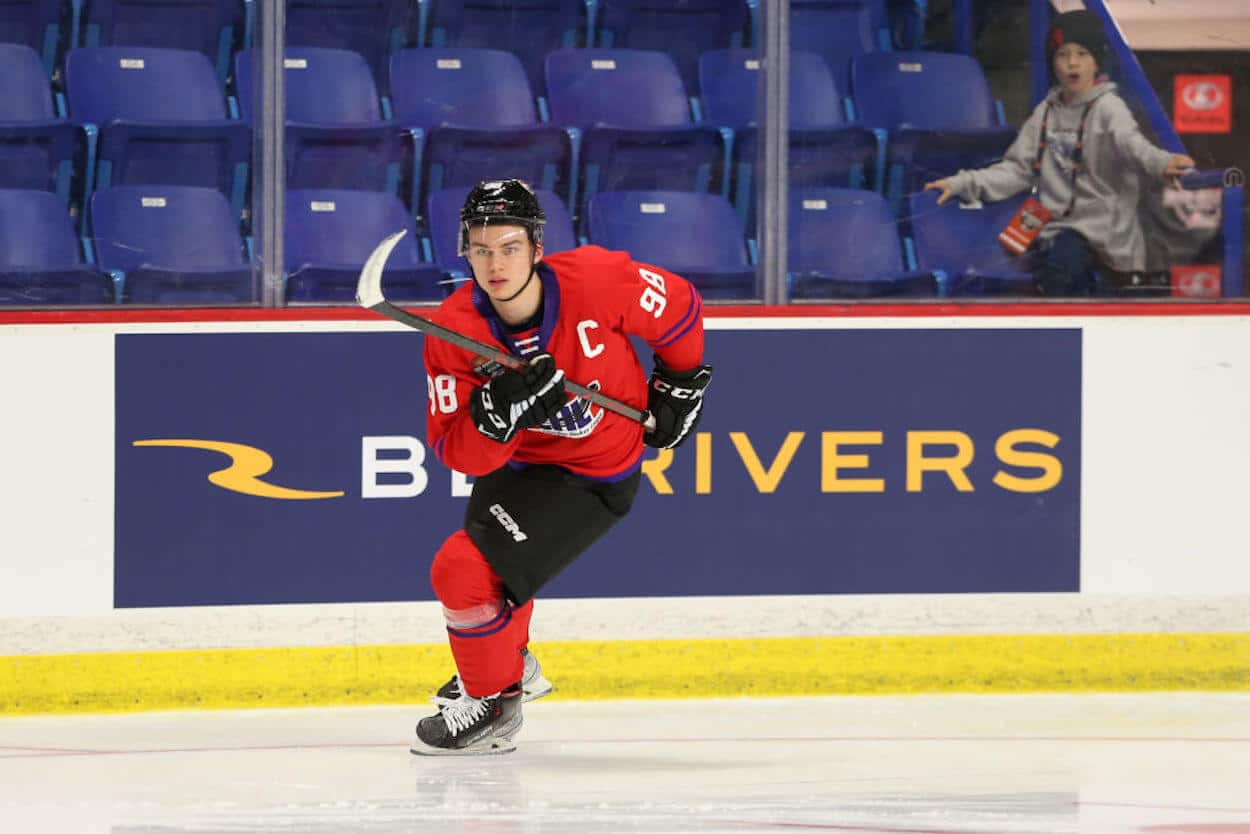 Connor Bedard Said Goodbye to Junior Hockey In Unprecedented Style
Before he starts life in the NHL, Connor Bedard managed to make Major Junior history one final time.
Every professional athlete checks off multiple milestones during their career. Let's use NHL players as an example. Time in Major Junior (or college/European hockey) starts, then comes to an end. Then there's (usually) the honor of being drafted, signing your first contract, and stepping onto the NHL ice for the first time. Connor Bedard, for all of his fame, is still relatively early in that timeline.
The North Vancouver native, who joined the Chicago Blackhawks as the first overall pick of the 2023 NHL draft, has left junior hockey behind, but he did depart in grand style. On Saturday, June 3, however, Bedard wrote his name in hockey history with an unprecedented feat.
Let's check it out.
Connor Bedard swept the CHL Awards in his final season with the Regina Pats
At this point in time, Connor Bedard's high-flying career with the Regina Pats is done. With the prospect of millions of dollars in NHL contracts ahead of him, who can blame the teenager for leaving? That departure, however, came with a final flourish.
Although the Pats' season came to a disappointing end in the postseason, Bedard still made history one final time before heading to the pros. On Saturday, June 3, the forward became the first player in history to claim all three of the CHL's major awards — Player of the Year, Top Prospect, and Top Scorer — in a single campaign.
While there are obviously some sizable mitigating factors — not every NHL star played junior hockey or did so before all three awards existed, making some all-time greats ineligible to claim all three — it's still quite the accomplishment. Connor McDavid, for example, only claimed two of the three prizes during the 2014-15 campaign. Sidney Crosby also missed out on the feat, although that's probably because the Top Prospect title wasn't awarded when he was at the height of his QMJHL powers.
Even with those caveats, though, being the first player ever to accomplish a feat still speaks volumes. And when you consider Connor Bedard's 2022-23 campaign featured 143 points (71 goals and 72 assists) in 57 games plus an explosive World Juniors, it's a well-deserved accomplishment.
Talk about leaving the Major Junior stage in style.
It's safe to assume that Bedard will earn some more silverware in the NHL, but it might take some time
With those trophies in his metaphorical pocket, Connor Bedard has put a bow on his CHL career. Now, he'll just have to wait to sign on the dotted line and officially start the next chapter of his hockey career. And while it's tough to predict what will happen when he steps up to the next level, it's safe to assume he'll add some additional silverware to his trophy case … eventually.
At this point in time, a Stanley Cup and, in turn, the Conn Smyth Trophy are probably off the table. Bedard may be incredibly talented, but the Blackhawks are probably a bit early in their rebuild for a deep postseason run. Similarly, the Campbell Bowl is likely a bridge too far, and Chicago is ineligible to win the Prince of Wales Trophy.
But what about individual awards?
Unless there's a sudden position change, the Norris, Vezina, and Jennings Trophies can be removed from this discussion. A rookie, whether it's fair or not, isn't going to receive the Mark Messier Leadership Award, the King Clancy Trophy, or the Bill Masterton Memorial Trophy.
Then there's the batch of honors that Bedard can win at some point, but the forward will need to truly explode to earn them early in his NHL career. The Hart Trophy and the Ted Lindsay Award will require a perfect storm — the young forward will need to shine, the Blackhawks will need to make serious improvements, and other stars, like Connor McDavid, will need to concurrently have a down year — making it hard to predict the teenager winning them ASAP. Similarly, the Art Ross and Maurice Richard Trophies will require a bit more NHL experience; Bedard could win them later in his career, but it's tough to see any rookie, no matter how talented, outscoring the league's best players.
It's unlikely that Bedard will ever put in the defensive work to win the Selke Trophy, but it's possible that a Lady Byng could be on the cards in his future.
In the meantime, though, the most apparent prize is the Calder Trophy as the NHL's Rookie of the Year. While it might not seem groundbreaking to predict that the first overall pick will win the title, Bedard does seem to be in a strong position. The former Regina Pat has proven his offensive potential — whether it's fair or not, a gaudy points total will win you the Calder — and will be handed plenty of ice time right off the bat. The catch, however, is the presence of Adam Fantilli. The Michigan Wolverine looks like a legit talent and could have been the first overall pick in another year, meaning that Bedard won't simply claim the trophy by showing up; there could be a rather intense race on the cards.
While that might sound like a cloudy outlook, that shouldn't be interpreted as an indictment of Bedard's talent. The young forward clearly possesses plenty of potential, and there's no reason to think his NHL career won't be successful. Winning major awards, however, can be tricky when you're playing for a rebuilding team, and Connor McDavid is in his prime.
If nothing else, though, the North Vancouver native has notched this historic CHL triple.