Conor McGregor's Kindness Extends Beyond the Ring With $1 Million Worth of PPE Donations
Conor McGregor did not have a great 2019, but he's already doing a lot to improve himself for the better. The Irish athlete has done some good for the world before. But now, during the COVID-19 pandemic, he's doing even more. Here's a look at how McGregor is helping fight COVID-19 with an incredible donation.
Conor McGregor's $1 million donation
RELATED: Dana White, Conor Mcgregor, and UFC Alumni Honor Bruce Lee as the 'Father of Mixed Martial Arts'
For doctors, nurses, and other frontline workers, personal protective equipment, or PPE, is vital to staying safe as they help others. But, due to how sudden and devastating COVID-19 has been, those workers have experienced PPE shortages around the world. This has caused many to help give PPE to those who need it. This is exactly what McGregor did. 
As Yahoo Sports reports, in March, the former champion pledged to donate $1 million worth of PPE to Ireland's Leinster province. Leinster is the largest province in Ireland, and it's where the capital city, Dublin, is located. McGregor is also from Dublin, so this was a personal choice as well. 
Not only has McGregor been vocal about the importance of quarantine, but he's also been keen on getting into the fight himself. He and his team personally delivered PPE to hospitals and clinics in need. A director at one of those clinics said, "I would have had no gowns today if not for the charity."
McGregor wants unity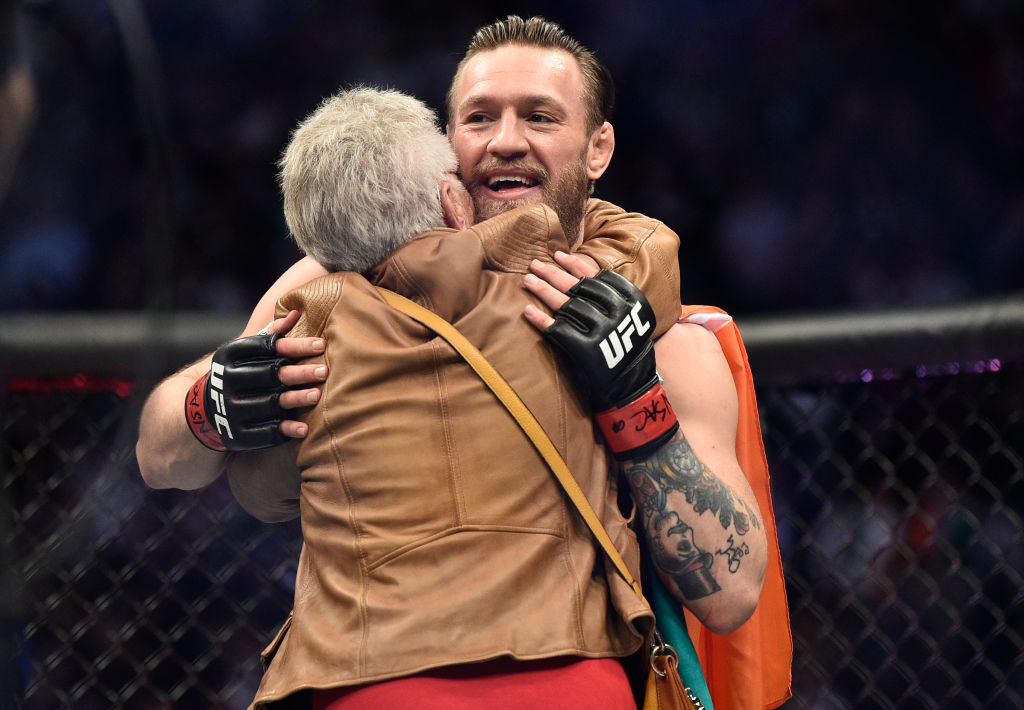 RELATED: Conor McGregor Brought Back the Forgotten 'Marquess of Queensbury Rules'
Like Yahoo Sports said, the Irish former champion sees this pandemic as a fight between humanity and the virus. McGregor said, "We are all in the red corner together awaiting the bell." While his donations went to his native Ireland, he's also done other uncharacteristic things in the spirit of unity. 
For example, his rivalry with the current champion, Khabib Nurmagomedov, has been the stuff of legend. There has been a lot of bad blood between the two men and their teams, including multiple fights and brawls outside of the octagon. When it comes to trash-talking, McGregor took it up a notch as he tried to expose dirt on Nurmagomedov's agent during the build-up to the fight.
Despite McGregor's love for trash-talking, he's still human and he still recognizes that, like he said, humanity is all on the same side here. That's why, when Nurmagomedov's dad tested positive for COVID-19 and was put into a medically induced coma, he only had good things to say about his rival and his family. 
What Conor McGregor said to Khabib Nurmagomedov
RELATED: Conor McGregor Got Into Boxing When He Was Only 12 Years Old
As South China Morning Post reported, after news broke that Nurmagomedov's dad had tested positive and was in a coma, McGregor posted on his social media that he was "praying for the Nurmagomedov family at this time." The Irish former champion also praised Abdulmanap, Khabib's father, for helping train world champions in the UFC as well as in other sports and martial arts.
Abdulmanap has currently awoken from his coma, but his situation remains serious. And, as The Guardian explains, the rest of the Nurmagomedov family isn't doing too well, either. The Russian champ told his fans that as many as 20 family members have COVID-19.
This good gesture from McGregor to his former rival is a good sign of things to come. He likely won't fight again in the octagon in 2020. But he continues to help his country and his people fight COVID-19. And, he may even inspire others to do the same.