Cori "Coco" Gauff Has Become an Overnight Sensation at Wimbledon
On the men's side of professional tennis, the old guard of Novak Djokovic, Rafael Nadal, and Roger Federer are still at the top of their game, holding off the next generation with their continued success. All three of these veteran stars are still alive and well in this year's Wimbledon tournament and are likely to clash in some exciting head-to-head battles in the later stages of this event.
But the women's side is a different story. Serena Williams is the undisputed greatest of all time, but she may be past her prime at this stage of her career as she hasn't won a Grand Slam tournament since the Australian Open in 2017. Eight different women have won a Grand Slam title since then. Women's tennis is starving for a new star, and it appears to have exactly that in the 15-year-old sensation Cori "Coco" Gauff.
The 15-year-old defeats her childhood hero to captivate the nation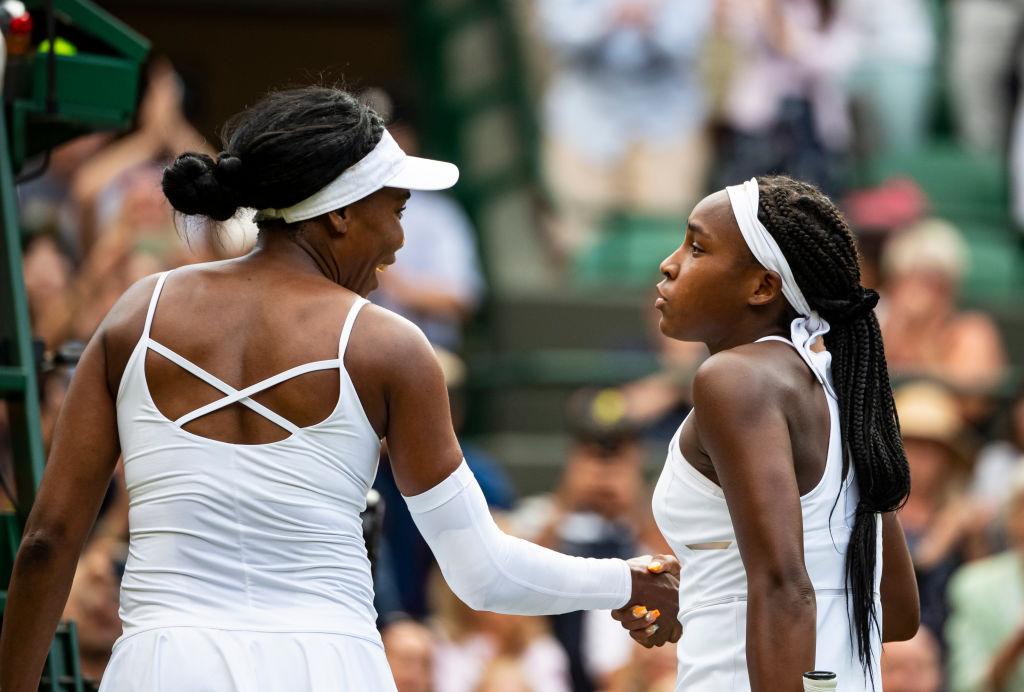 Coco Gauff already had plenty to be proud of before she set foot on the court on Monday. At just 15 years old, she became the youngest competitor ever to qualify at the All England Club in the professional era.
In a wonderful stroke of seeding luck, Gauff found herself opposite Venus Williams in the first round. Venus and her sister Serena were the reason why the 15-year-old ever picked up a tennis racket in the first place. And here, in her first ever Grand Slam match, she was staring down her idol, a 39-year-old Williams that has five Wimbledon Championships under her belt.
Gauff's power, athleticism, and court IQ made her an intriguing prospect coming into this tournament. But plenty of players with tremendous skill have come and gone without making a splash in this sport as the mental game plays such a critical role in a player's long term success.
This is what made Cori Gauff's performance on Monday such a memorable one. In a spot against a far more experienced player, no one would have faulted Gauff for making some mistakes or getting caught up in the moment. But she did the exact opposite, playing with the poise and grace of a seasoned veteran as she dispatched of Williams in straight sets, 6-4, 6-4.
The crowd was elated. The 15-year-old broke down in tears of joy. Williams said after the match about Gauff that "the sky's the limit, it really is." Gauff, just as composed and professional after the match as she was during it, was gracious in victory. "I was just telling [Williams] thank you for everything she's done for the sport," Gauff said. "She's been an inspiration for many people. I was just really telling her thank you."
Incredibly, she wasn't done yet
When asked after her upset win over Venus Williams how far she thought she could go in this tournament, Coco Gauff confidently replied, "my goal is to win it."
The line wasn't delivered as a joke. It wasn't delivered with ego. It was delivered by a young woman confident in her game and her abilities. And so far, she hasn't given us any indication that she shouldn't be.
Gauff followed up her victory against Williams with another straight sets victory in the second round, defeating Magdalena Rybarikova 6-3, 6-3 on Wednesday. Rybarikova had upset No. 10 seed Aryna Sabalenka to advance into the second round, but she was no match for the young phenom.
It was in the third round against Polona Hercog that this Cinderella story appeared to be coming to its end. Hercog won the first set 6-3 and had a 5-2 lead in the second set. But Gauff showed off her resiliency in an amazing come-from-behind win, saving two match points en route to a 7-6 win in the second set and a 7-5 win in the match's final set to move on to the Round of 16.
It's one thing to ride the momentum when everything is going your way. But to overcome adversity, earn a break with your tournament on the line, on the Centre Court as a 15-year-old? This run is truly something special.
What's next for Coco Gauff
Cori Gauff will team up with United Kingdom native Jay Clarke in a mixed doubles match on Saturday morning. The two will have the England crowd in their corner against Robert Lindstedt and Jelena Ostapenko.
Gauff's singles run continues on Monday when she faces No. 7 seed Simona Halep, the 2018 French Open winner. Halep will be the betting favorite in this one, but Gauff will be the fan favorite.
Regardless of how Wimbledon wraps up for Gauff, it is difficult to believe that this will be the last we hear about the sensational 15-year-old. Her future looks awfully bright, but so does her present. As Venus Williams said, "the sky's the limit."