Could Giannis Antetokounmpo's Age Be a Sign That the Bucks Are About to Take a Big Step Forward?
Giannis Antetokounmpo is one of the best players the NBA has seen in quite some time. His long build, combined with his ever-growing skills, has turned him into one of the league's best success stories since coming in as a role player at just 19 years of age. Now, as defending MVP and the leader of a juggernaut in the East, Antetokounmpo is looking to take the next step and win it all. His age could be a sign that he is about to do just that.

Giannis Antetokounmpo's rise to NBA superstar
Giannis Antetokounmpo wasn't the most sought after player in the 2013 draft. He was just 19 years old and made his name overseas. That might explain why he became the 15th pick of the draft just out of the lottery range. That didn't stop Antetokounmpo from proving that 14 teams might have made a drastic mistake, however, and he began a growth that continues.

It seems crazy to see Antetokounmpo today and remember that just seven years ago, he was a bench player who was averaging only seven points a game and four rebounds. He was young, raw, and rail-thin, but he had the heart to become so much more. After working into a starting role during his second season and showing his star potential in year three, Antetokounmpo became the first inklings of the player we see today during the 2015-16 season, his fourth year in the league.

Antetokounmpo had spent his first three seasons as a point guard, shooting guard, and small forward, but now he was looking more like a full-time forward. He was averaging nearly 23 points per game, grabbing nearly nine rebounds, throwing five assists, stealing the ball every game, and blocking it nearly as often. Antetokounmpo was an All-Star at just 22 years old.

Fast forward to today, and the growth has continued. Antetokounmpo has improved his points and rebounding every year since he started in the league, is a soon-to-be five-time All-Star, and the defending MVP of the league. The league has taken notice, but they might need to be nervous about what's yet to come.

Antetokounmpo's age shows the Bucks could soon dominate the NBA
Kirk Goldsberry of ESPN recently highlighted just what makes Giannis Antetokpounmpo and the Bucks different this year. He highlighted the fact that Antetokounmpo is developing a reliable jump shot, the growing depth of the club, and the team's legendary interior defense that has teams struggling to put shots away near the basket. His fourth and final point, however, is what should make people quite nervous.

Antetokounmpo is just 25 years old. That was the age when LeBron James won his first ring. It is three years younger than Michael Jordan was when he won his first title (after falling in the conference finals the year before), and two years younger than Steph Curry during his. None of these players had the consistent rise that Antetokounmpo rise, yet they continued to get better.

In a world where somebody has all of these accolades, it is frightening to think about what could still be to come, but it doesn't mean that Antetokounmpo doesn't have to put in work to make it happen.

How Antetokounmpo's faults can shape him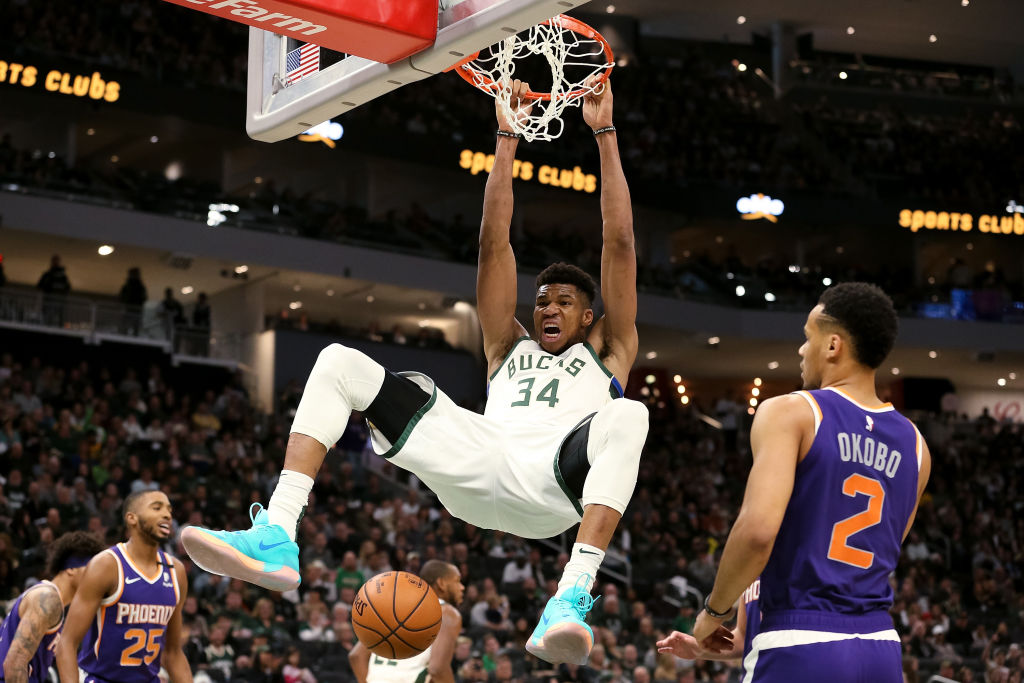 Even though he's an athletic marvel, Giannis Antetokounmpo has faults hidden beneath his dominance in the NBA. His shooting still isn't where it could be, although he has taken a massive leap from last year to this year. Furthermore, he can still tend to fade into the back at times, even though he is one of the league's top players. From Kobe Bryant to LeBron James, every player who wants to be the best needs to find their take on the killer instinct, and Antetokounmpo might not have his yet.

While the faults are few and far between, the best players in NBA history have always worked through these and made sure that they came back stronger. Without any rings or signature playoff moments, Antetokounmpo will have to fix these faults and continue to grow his game if he wants to hoist the trophy in June.