NBA
Could Isaiah Thomas Be the Next Allen Iverson?
Athletes are always chasing ghosts of the past. It doesn't matter what sport we discuss, this is just the way things are. Even the greatest players on the planet — who today's youth aspire to be like — have their own idols.
They remember the players who influenced them. To defy the odds and reach for the stars, they mold their games after those who inspired them. They try to be like their heroes despite often coming up short. Yet, sometimes, the exact opposite happens. Sometimes, the heroes take notice. And that is exactly what happened to Boston Celtics point guard Isaiah Thomas.
When the Sacramento Kings selected Thomas with the No. 60 overall pick in the 2011 NBA Draft, the odds of the player blossoming into an NBA superstar was a long shot at best. Not only do second-round picks rarely make the grade, but teams rarely (if ever) consider 5-foot-9 point guards a hot commodity.
It's 2017, however, and Thomas is the Boston Celtics' franchise player. He's averaging a cool 28.9 points per game, and receiving text messages from his idol, Allen Iverson. One text message read: "Keep doing your thing. I'm watching." Yes, this is real life. As it were, A.I. might not just watch Thomas play the game, he might actually witness the second of himself.
If you think gestures like Iverson's text are lost on Thomas, think again. After all, A.I. is the ghost he's chasing:
It was real early in the morning that he texted, like 8:30, so he must have been watching highlights [of the Minnesota game] or something. I told him, "I appreciate it and that I'm just trying to be like you." He was like, "Say no more." Those texts man, it just motivates me to keep going. Someone like that is watching me without me even reaching out to him, so I guess I'm doing something right.
Thomas is definitely doing something right. We actually wonder if he realizes how right. If you line the two players up next to each other through the first six years of their respective careers, their eerily similar numbers are pretty staggering.
In 41.1 minutes, Iverson tallied 26.9 points, 5.6 assists, and 2.3 steals per game while shooting 42.1% from the field. Thomas, on the other hand, is shooting 46.3% from the field and has career averages of 19.1 points, 5.2 assists, and one steal per game. Of course, the Celtics point guard has averaged less than 30 minutes a night over his six-year career. Considering how important he's become to his team's success, we expect that number to continue rising.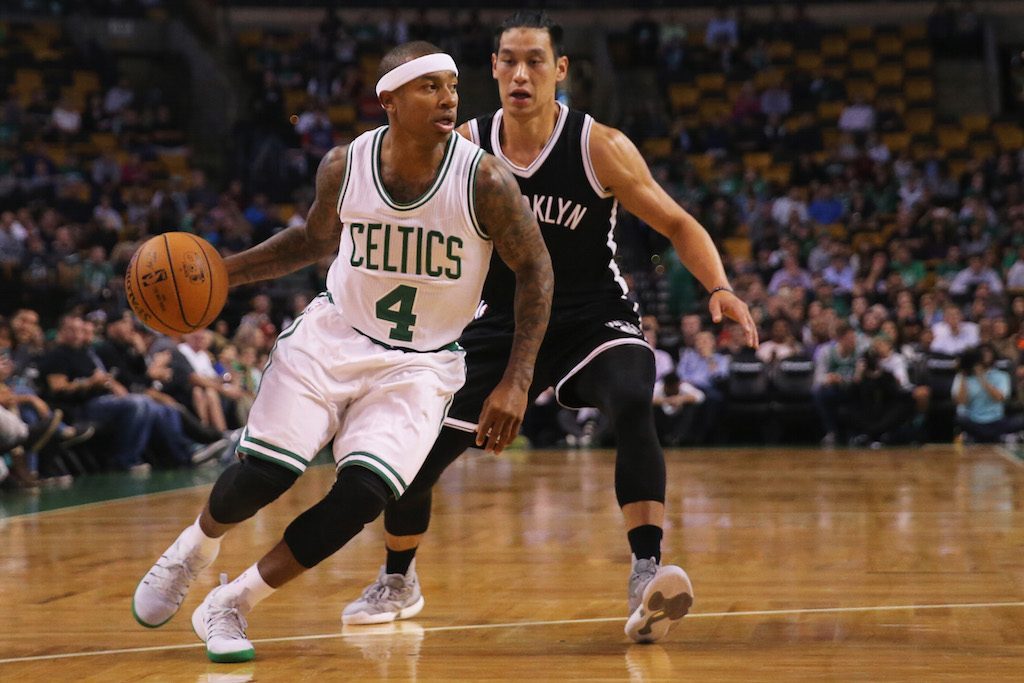 Of course, if you want the ultimate proof that Thomas is slowly taking his talents to the "Iverson" level, look no further than his numbers so far this season. Through the 2016–17 regular season, Boston's No. 4 played 33.8 minutes per game, shot 46.3% from the field, knocked down 37.9% of his triples, and averaged 28.9 points, 5.9 assists, and 0.9 steals a night.
Yet, when questioned about how it feels to put up these sort of numbers — A.I.-like numbers — Thomas remains as hungry and motivated as ever: "I'm getting close. I'm trying. I'm trying. I'm going to keep going, and to have guys like [Iverson] in my ear that tell me to keep grinding and keep doing my thing is only motivation to continue to get better."
The best players in the game are never satisfied; they always strive for greatness. They attack the game as if they still have something to prove. If you ask us, numbers withstanding, this trait demonstrates that Iverson and Thomas are cut from the same cloth.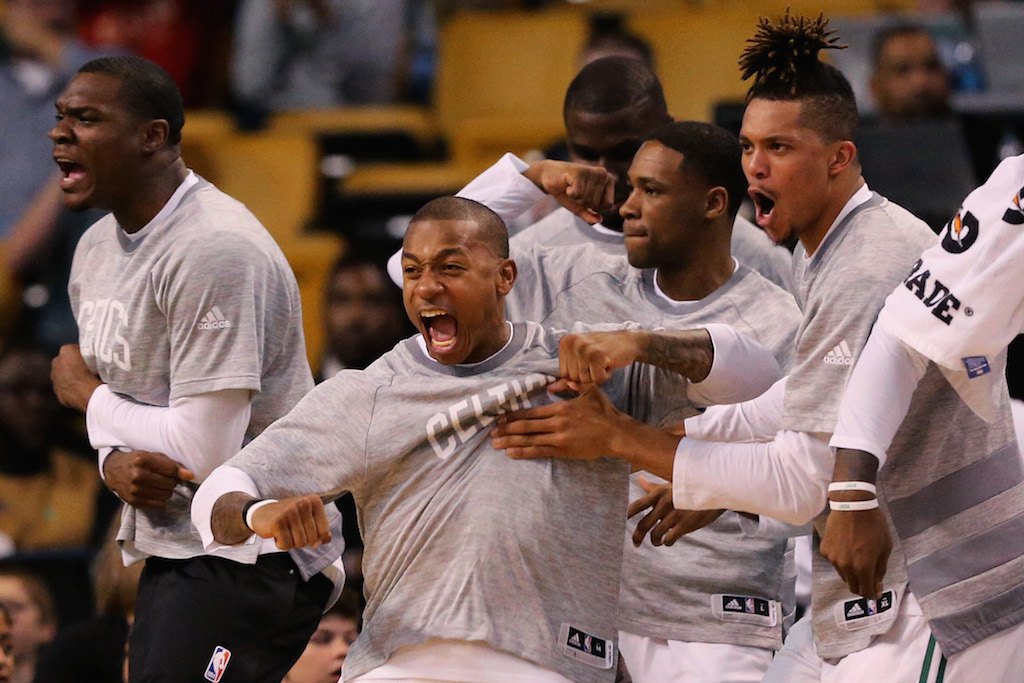 The truth is, it's not likely that Thomas will ever reach Iverson status. No one ever will. The cultural phenomenon's style and swagger affected the game of basketball in a revolutionary way. It would require more than numbers to be the next Allen Iverson.
But, if we're talking about an individual who plays bigger than his height, competes as if his life depends on it, and attacks the competition with fearlessness and ferocity, then, yes, Thomas has more "A.I" than any other player in the National Basketball Association, as well as the respect of the man himself:
It's just like, when you have a stamp from arguably the pound-for-pound best player ever, it's like, I'm not going to listen to nobody else. I already got the stamp. [Iverson] already said I was pretty good and that I'm cut from the same cloth as him. And those type of things only motivate me to keep going.
If you're an Iverson fan, you couldn't have asked for a better "Answer."
Statistics courtesy of Basketball-Reference and ESPN.