Could Michael Strahan Fill Void Left by Troy Aikman on Fox's NFL Broadcast Team?
Sports media networks have engaged in an all-out bidding war in preparation for the 2022 NFL season. CBS, NBC, ESPN, and Fox share similar goals, but they are direct competitors during football season. The latter certainly has its work cut out for it to keep up. Michael Strahan could be the answer to Fox Sports' problem.
Longtime broadcast duo Troy Aikman and Joe Buck have officially jumped ship, leaving a massive void heading into the upcoming campaign. With the other networks loading up with big names, Fox likely wants to make a splash themselves. Locking in Strahan could be just what the doctor ordered.
Fox Sports lost Troy Aikman and Joe Buck to ESPN
Joe Buck and Troy Aikman form one of the most recognizable broadcast teams in sports today. The duo worked together at Fox Sports for nearly 20 years. Now, they'll be taking their talents to the worldwide leader.
Aikman was the first domino to fall. The Dallas Cowboys Hall of Fame quarterback inked a five-year, roughly $90 million contract with ESPN. He signed on to become the primary NFL analyst for the network's Monday Night Football broadcast.
According to Andrew Marchand of the New York Post, Buck is also leaving Fox to reunite with his longtime broadcast partner. He had one year left on his contract, but the company allowed him to speak with ESPN. Buck will reportedly sign a five-year, $60-75 million contract.
It's pretty surprising that Fox didn't fight harder to keep Aikman and Buck on board. The two have held it down for almost two decades, and "America's Game of the Week" will no longer be the same.
ESPN got a massive addition, leaving Fox to ponder its next move.
Hall of Famer Michael Strahan reportedly a candidate for lead analyst vacancy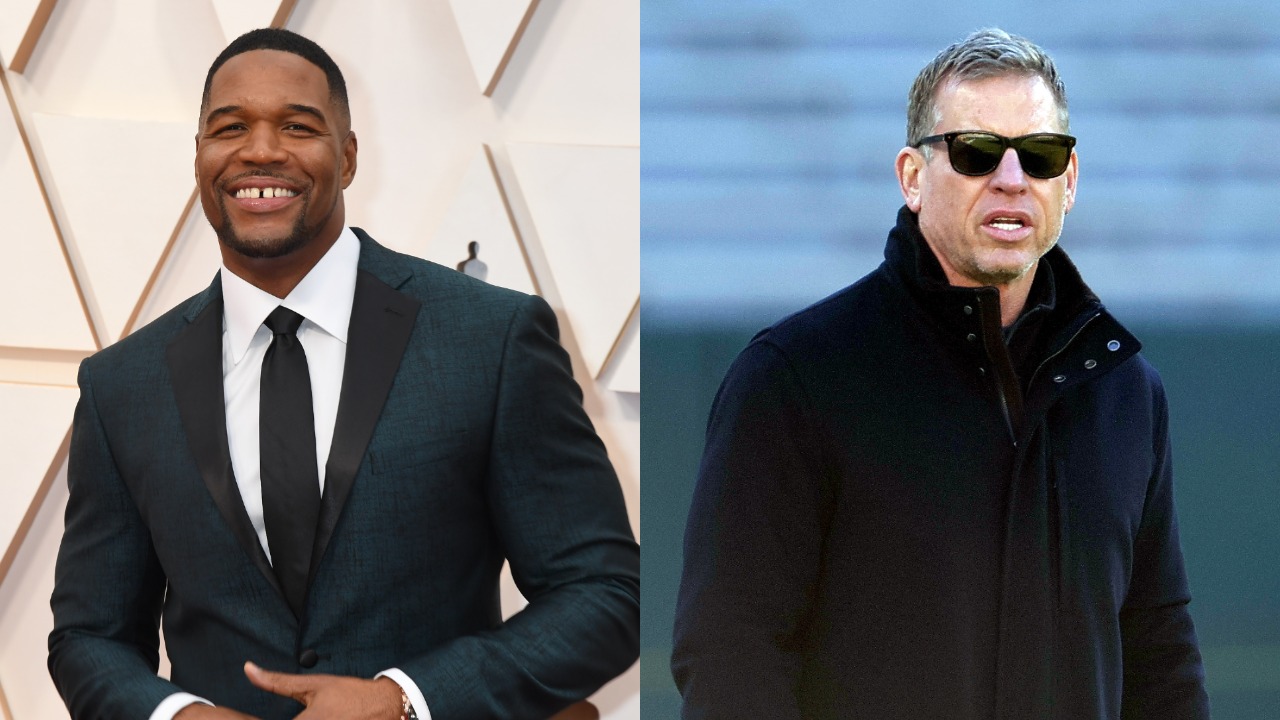 Michael Strahan had no problem finding success after retiring from the NFL in 2008. The New York Giants legend joined the Fox NFL Sunday pregame show before the 2008 season. He's also making noise outside of sports.
Strahan served as Kelly Ripa's co-host on Live! with Kelly and Michael for four years before joining Good Morning America in 2016. The Hall of Famer has been a mainstay on GMA, and he's also pursued other media opportunities.
Now, Fox could be eyeing Strahan for another big-time gig. According to Front Office Sports' Michael McCarthy, the network is pursuing the retired defensive end to replace Troy Aikman as the lead NFL analyst.
TV personality and columnist Jason Whitlock reportedly knows of the situation and believes Strahan is a real contender.
"Strahan's an option," said Whitlock. "Along with Sean Payton and [No. 2 analyst Greg] Olsen. And I'm sure they will reach out to Tom Brady. It's either got to be a big name like Brady or Strahan."
To land Strahan for "America's Game of the Week," Fox would have to work some things out logistically. Good Morning America is his primary job, which could make travel difficult. Still, Michael Strahan seems like an ideal fit.
Fox likely needs to make a splash to keep up with the competition
Whether it's Michael Strahan or someone else, Fox Sports needs to swing big this offseason. All the other networks will have big names in their broadcast booths.
ESPN has Troy Aikman and Joe Buck. CBS still has Jim Nantz and Tony Romo. Cris Collinsworth and Mike Tirico will be running the show for NBC's Sunday Night Football coverage. Amazon just locked in longtime college football analyst Kirk Herbstreit for Thursday Night Football. Legendary play-by-play announcer Al Michaels is a strong candidate to join him.
Kevin Burkhardt appears to be the frontrunner to replace Buck at Fox. Now, the top brass must land a partner for him. The network can't just go after anyone. It has to be a notable name that rivals the competition.
Many people would love to see Sean Payton or Tom Brady in the booth, if not Michael Strahan. While Brady seems to be a long shot, it's certainly worth looking into.
Fox will broadcast two of the next three Super Bowls. Whoever the network is hoping to land, it better be a big swing.
All stats courtesy of Pro Football Reference.
RELATED: 'Monday Night Football' Will Be Watchable Again Thanks to Joe Buck and Troy Aikman