Could NASCAR Pull Out of Atlanta in Response to Georgia's Controversial New Voting Laws?
Earlier this week, Major League Baseball sent shockwaves through the sports world by pulling this year's All-Star Game from Atlanta. This move comes on the heels of Georgia's controversial new voting laws which were signed into law in late March. Now that MLB has set the precedent, other major sporting events in the Peach State are under threat. Even a deep-south tradition, NASCAR, may be next to flee.
NASCAR has been in Atlanta since 1960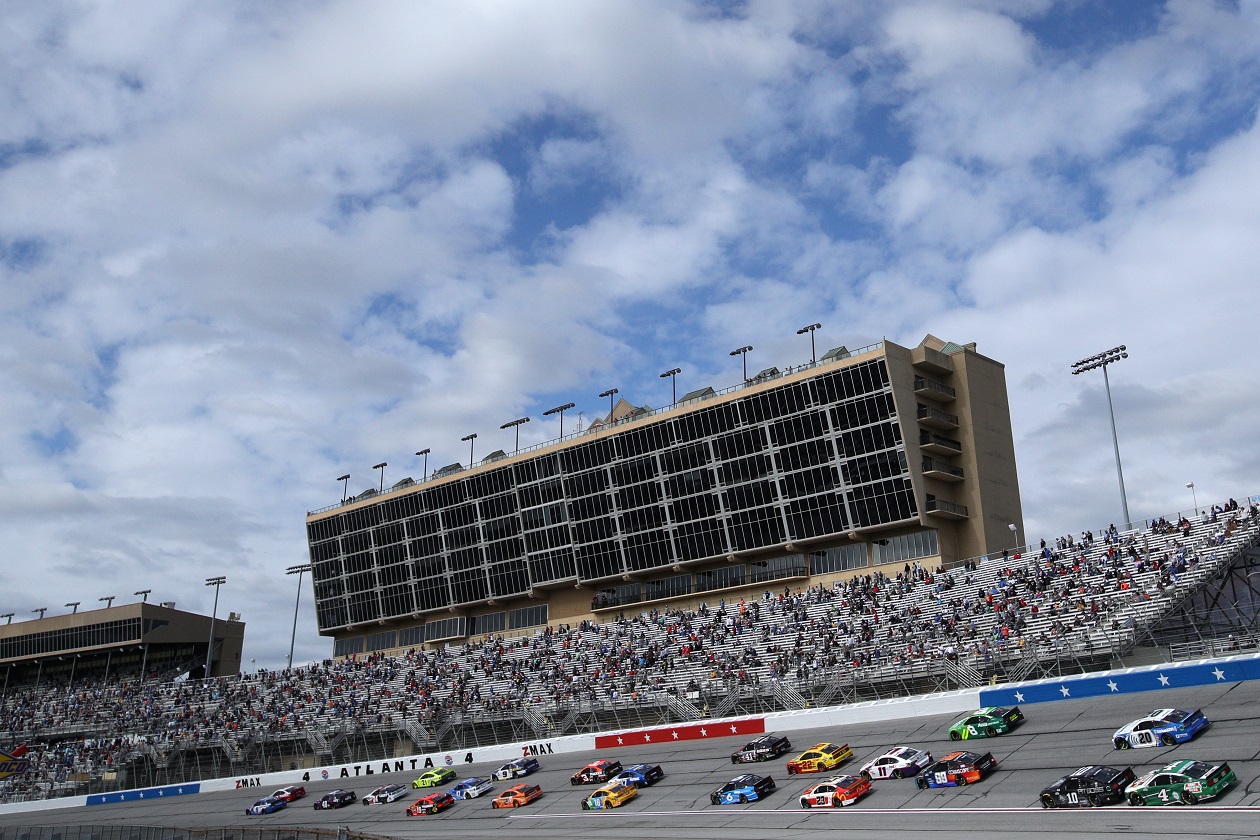 RELATED: Darrell Waltrip Regrets Retiring From the FOX Broadcast Booth, Still Calls NASCAR Races From His Couch
For decades, NASCAR has been a major part of the Atlanta sporting landscape. The Cup Series has held events at the Atlanta Motor Speedway since its construction in 1960. While the track is officially called "Atlanta Motor Speedway," it's actually situated in the town of Hampton, Ga. — 26 miles away.
Atlanta Motor Speedway has two race weekends on the NASCAR calendar in 2021. The first weekend took place in mid-March, with Martin Truex Jr. taking the win in the Cup race on March 21. Five days later, the "Election Integrity Act of 2021" passed in the Georgia legislature.
NASCAR is scheduled to return to Atlanta in July in a race weekend headlined by the Cup Series' Quaker State 400 on the 11th. As of Tuesday, no one in NASCAR or close to it has broached the subject of pulling out in response to the voting laws. This may change in the coming months as the race weekend draws near.
NASCAR has plenty to lose by leaving Atlanta behind
RELATED: Dale Earnhardt Jr. Disobeyed Budweiser's Orders In His Emotional First Race Win After His Dad's Death
Let's get this out of the way. Yes, NASCAR has its roots in the Deep South. It is a Southern sport, always has been, and likely will be until the sun burns out. In the past few decades, it has gone out of its way to shed its image as the sport for rednecks, expanding northward and westward with mixed results.
The idea of NASCAR pulling out of Atlanta thanks to a political situation completely out of its control seems absurd. Furthermore, Atlanta Motor Speedway is one of the few tracks allowing limited numbers of fans in the grandstands. If NASCAR abandons Atlanta, it risks leaving some gate receipts on the table.
However, if NASCAR goes ahead with the race in July, it may risk backlash from national sponsors. It's likely that Major League Baseball faced a similar kind of pressure when they moved their All-Star Game out of Georgia.
As we saw last year in NASCAR's quick response to the (presumed) noose in Bubba Wallace's garage stall, the organization is no longer afraid to risk infuriating its predominantly white and Christian fanbase if it means doing the right thing. Even if its leadership trips over itself in an attempt to do the right thing.
Bubba Wallace will be the first one to speak up
The one figure in NASCAR who has both the incentive and the platform to speak up in this matter is Bubba Wallace, driver of the No. 23 Toyota. As previously mentioned, Wallace has gone through a tumultuous year both on and off the track. Nevertheless, he has never been afraid to speak his mind on social media, which has earned him both respect and grief.
It was partially thanks to his activism that NASCAR banned the Confederate flag at all of its tracks starting in May 2020. This led to the atmosphere of tension in the NASCAR garage which led many — including, unfortunately, seasoned journalists — to believe that a garage door pull was, in fact, a noose.
Despite his mediocre results so far this season, NASCAR and its broadcast partners have still put Wallace front and center in their marketing. This gives Wallace plenty of leverage with NASCAR's brass if he feels compelled to say something about the upcoming Atlanta event.
This is all hypothetical, of course. But if NASCAR does pull out of Atlanta in July, it will happen when Bubba Wallace says so.