Could Odell Beckham Jr. End Up Being the Next Jerry Rice?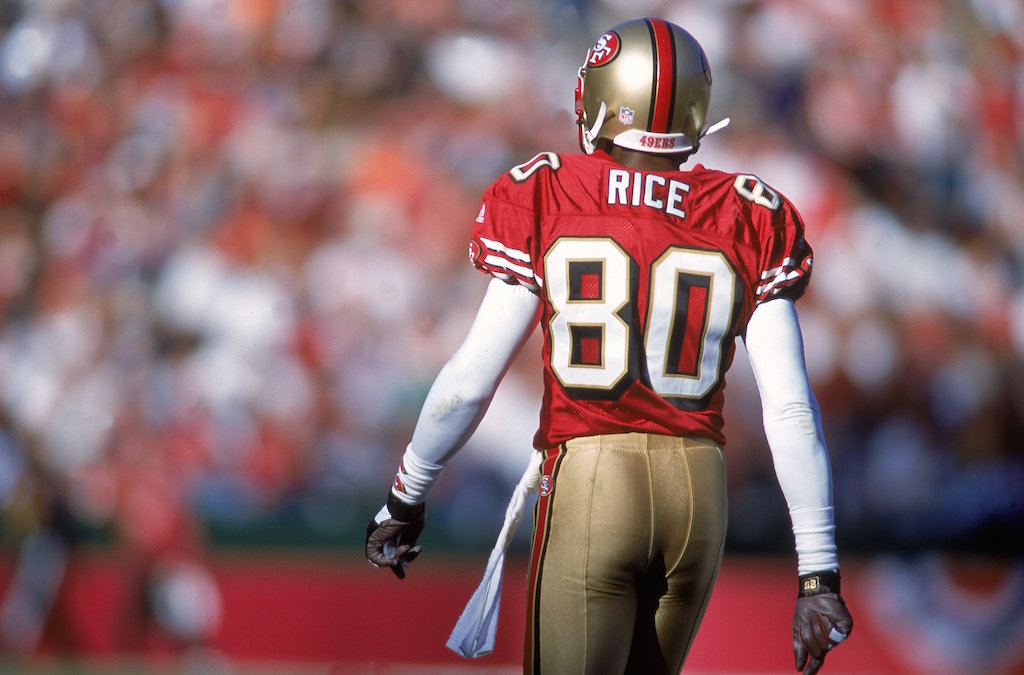 Former San Francisco 49ers and Oakland Raiders wide receiver Jerry Rice is considered by many to be the greatest ever at the position — or simply the greatest ever, period. Playing 20 NFL seasons before retiring at the age of 42 in 2004, Rice totaled some absurd numbers. He led the league in receptions twice, receiving yards six times and receiving touchdowns six times.
A big part of his greatness is not only his longevity, but how well he played at a late age. Rice caught 92 passes for 1,211 yards at the age of 40. Can anyone come close to Jerry Rice's kind of production?
Some say that Odell Beckham Jr. is the closest in today's NFL, putting up astounding numbers and not yet turning 25 years old. We took a look at other wide receivers in recent history who stack up well with both Rice and Beckham to see what it takes to stand toe to toe with the greatest ever.
6. Randall Cobb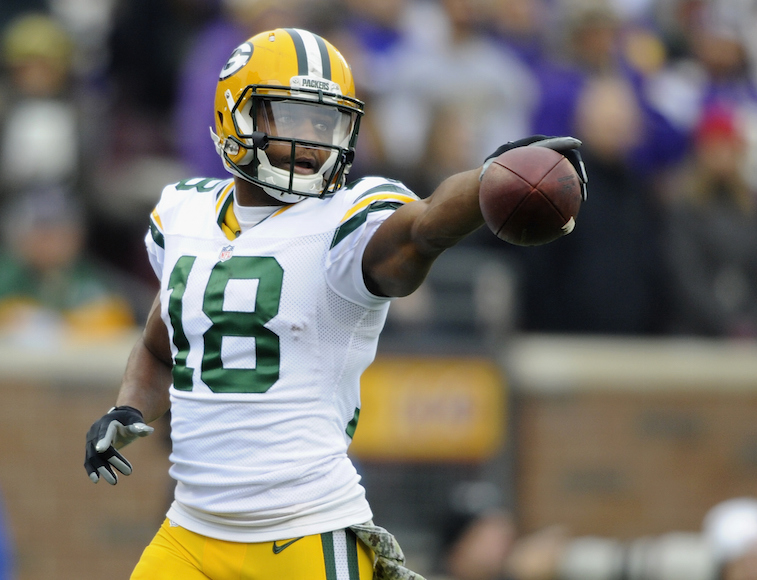 Green Bay Packers wide receiver Randall Cobb may be one of the most underrated receivers in the game. While he is a solid four inches shorter than Rice, Cobb compares well physically with the legendary 49ers wideout. Prior to turning 25 years old, Cobb caught 227 passes for 3,049 yards and 25 touchdowns. Injuries have limited him in a few seasons, but when he's healthy Cobb is an absolutely deadly weapon downfield.
People tend to look past Cobb because Aaron Rodgers is his quarterback, and there is somewhat of an unproven mythos that Rodgers can make just about anyone look like a star. While Rodgers may make those around him better, Cobb is a real talent. He just turned 27 years old and already has 4,488 career receiving yards to go along with 35 touchdowns and 366 receptions.
6. Dez Bryant
Although Dez Bryant is a very different type of receiver, using his massive size and catching ability rather than the blazing speed of Rice in his prime, you can't deny the type of numbers that the Dallas Cowboys' No. 1 receiver put up in his early career.
In three seasons, before turning 25 years old, Bryant had 200 receptions, 2,871 receiving yards, and 27 touchdowns. Bryant has made three Pro Bowl's in his seven-year career, and he is averaging 76 receptions, 1,092 receiving yards, and 11 touchdowns per year.
He went from Tony Romo to Dak Prescott at quarterback, so there is no reason to believe that Bryant will begin slowing down. The only thing that could keep him from the kind of astronomical numbers that Rice put up in his career is that bigger receivers tend to break down sooner. Will Bryant play long enough and stay healthy?
5. Andre Rison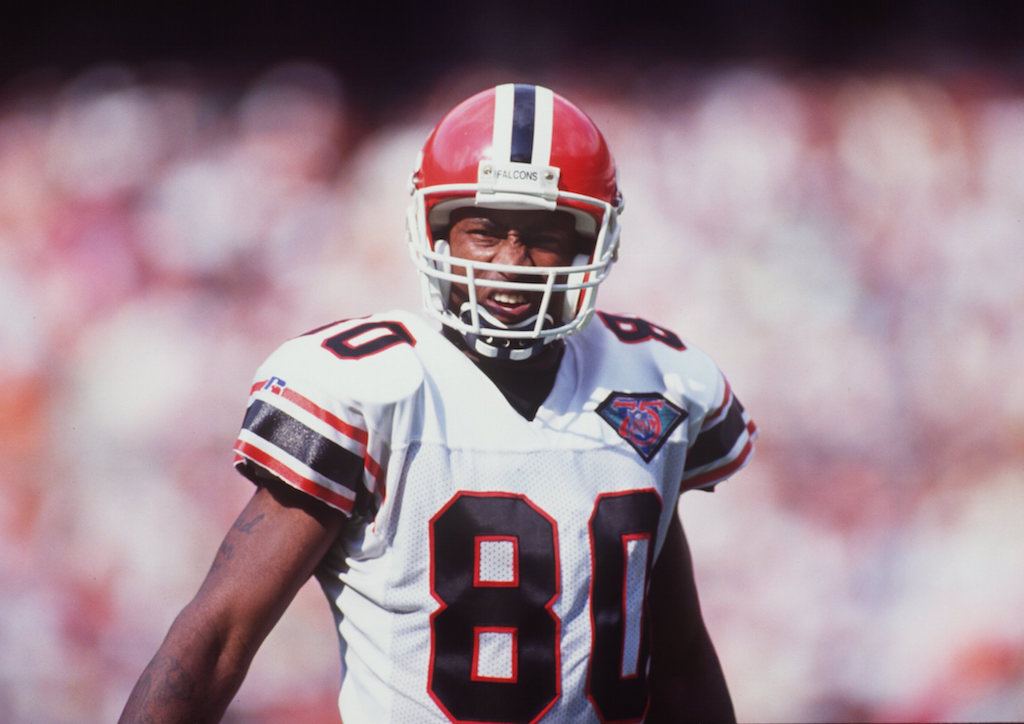 Five-time Pro Bowler and Super Bowl champion Andre Rison put up some major numbers early in his career. Prior to turning 25, Rison totaled 215 receptions for 3,004 receiving yards and 26 touchdowns in seasons with the Indianapolis Colts and Atlanta Falcons.
Rison played 12 years in the NFL, retiring at the age of 33 after adding time with the Cleveland Browns, Jacksonville Jaguars, Green Bay Packers, Kansas City Chiefs, and Oakland Raiders. He won his only Super Bowl ring in 1996 with the Packers.
Rison compared well physically with Rice, but he wasn't able to play at his peak long enough to finish his career like Rice. He led the NFL with 15 receiving TDs in 1993 and averaged 1,076 receiving yards per season from 1989–94. But over the final six years of his career, Rison averaged just 38 receptions for 536 yards per season.
4. Andre Reed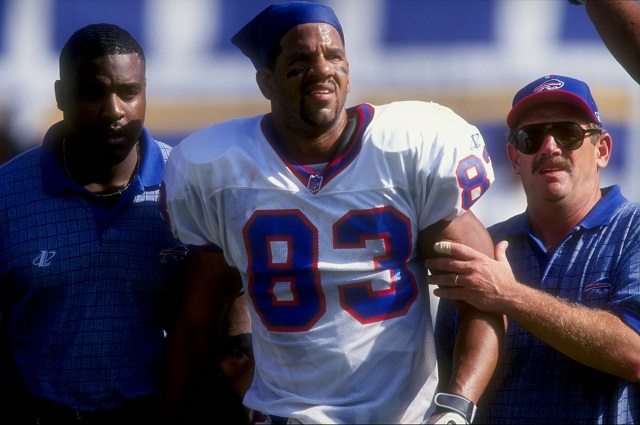 A Hall of Famer most known for his time with Buffalo, Andre Reed played with the Bills from 1985–99 before finishing out his career with one season with the Washington Redskins. Reed, like others on the list, compares well physically with Rice. He had a similar body type and was able to average a solid amount of yards per catch in his prime, thanks to his tremendous quickness.
Prior to turning 25 years old, Reed totaled 229 receptions, 3,096 yards, and 22 touchdowns. The best years of Reed's career were pretty spread out, with the wideout never completing back-to-back seasons of more than 1,000 receiving yards. His career-high in receiving touchdowns was 10, achieved in 1991, which pales in comparison to even the most mediocre years by Rice's standards.
Reed was an excellent wide receiver in his day and deserving of the Hall of Fame. But he never came close to Rice's status despite his great early numbers.
3. Randy Moss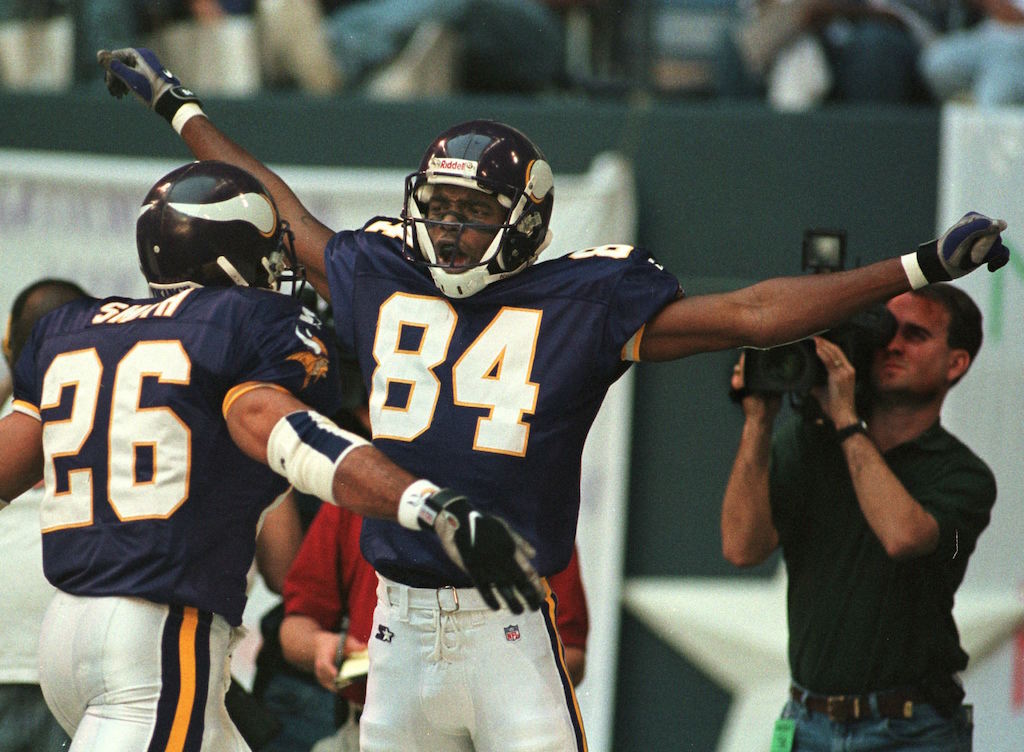 Widely considered to be one of the greatest ever, Randy Moss was a combination of tall, powerful, and blazing fast. Originally with the Minnesota Vikings, but later with the Oakland Raiders, New England Patriots, and others, Moss put together some of the most impressive numbers ever before turning 25. In four seasons, he compiled 308 receptions, 5,396 receiving yards, and 53 touchdowns.
Many would argue that Moss would have a case as the greatest wide receiver of all time, but the final eight years of his career just don't match the excellence of the first six. Over the last eight years prior to retiring in 2012, Moss averaged 46 receptions and 692 receiving yards per season. He still had some individually great years mixed in, but nothing compared to the consistency of Rice.
2. Larry Fitzgerald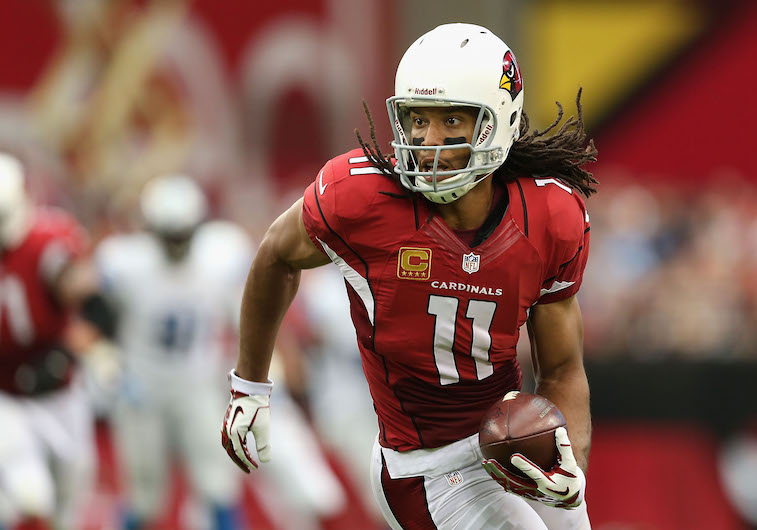 Arizona Cardinals wide receiver Larry Fitzgerald is a future Hall of Famer with a strong case as one of the best ever, as well. Prior to turning 25, Fitzgerald played four seasons in the NFL and led the league in receptions once (with 103) while totaling over 1,400 receiving yards twice. At the time that he was turning 25, Fitzgerald was on pace to have a very Jerry Rice-esque career.
Although Fitzgerald has remained healthy and has stellar career numbers, a statistical lull from 2012-2014 work against him. But if we discussed merely longevity and consistent greatness, Fitzgerald has that in spades. In 2016, at the age of 33, Fitzgerald led the NFL in receptions for the second time in his career with a career-high 107, while crossing the 1,000 yards barrier for the second consecutive season.
1. Odell Beckham Jr.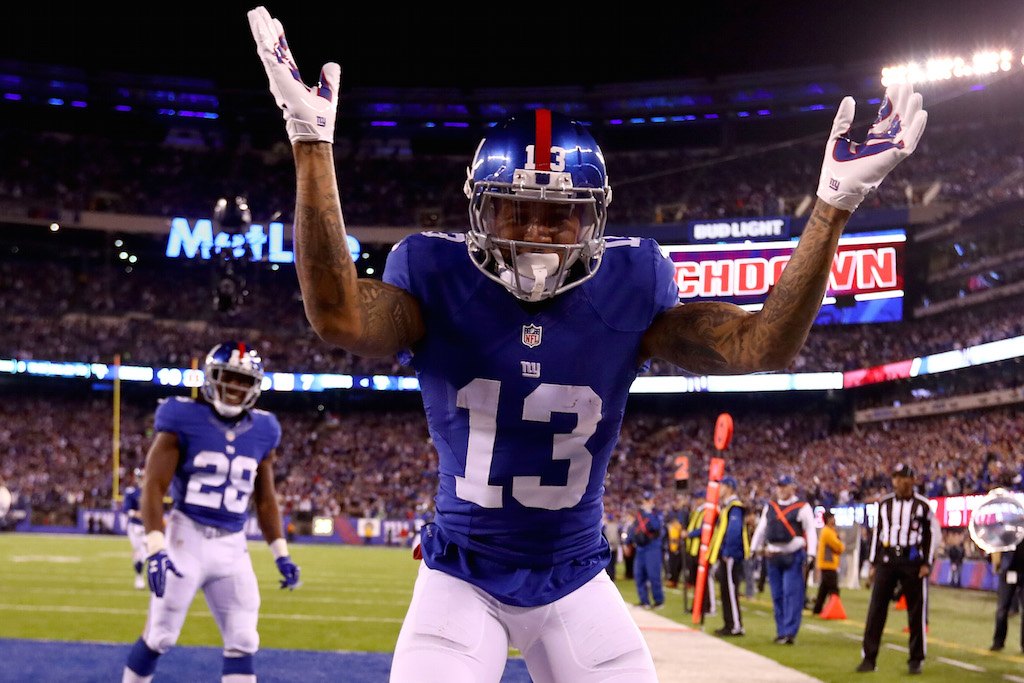 Beckham, who the New York Giants drafted No. 12 overall back in 2014, has been one of the very best in the game since arriving in the NFL. He was the 2014 Offensive Rookie of the Year and has been to the Pro Bowl three times in three seasons. In total, Beckham has 288 receptions, 4,122 receiving yards, and 35 touchdown catches since arriving in the league, and all of that was done prior to turning 25 years old, which he will do on November 2.
The comparisons between Beckham and Rice are obvious. Both wide receivers combine speed with athletic ability. The only major difference in body size at their peak is that Rice is about three inches taller than Beckham.
There is no doubt that Beckham is on a historic pace in his first three seasons, but will he be able to have the long career that Rice enjoyed? If he can, we may be saying his name alongside Rice as the greatest of all time.
Statistics courtesy of Pro-Football-Reference.