Could the Kentucky Wildcats Beat an NBA Team? Who Cares?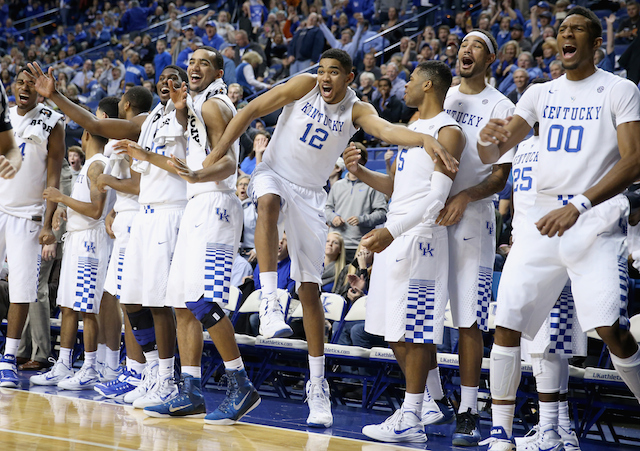 The whole debate is stupid. It's pointless. It's not original. It's irrelevant. It's not practical. There's no right answer. It shouldn't exist. And yet, it does.
Could the 2014-2015 Kentucky Wildcats beat an NBA team?
Some say "yes." Some say "no." Some say "maybe." Honestly, they're all wrong. Wrong for weighing in on a debate that will never be solved and serves absolutely no purpose.
Could the 2014-2015 Kentucky Wildcats beat an NBA team?
In case you missed it, the current edition of this discussion started Sunday when John Calipari's Wildcats blew out overmatched NAIA foe Georgetown College 121-52 in an exhibition tune-up. Now, to be clear, this is not a typical NCAA Division I power vs. NAIA bottom-feeder blowout, of which there are and have been plenty each November. Georgetown won the 2013 NAIA national championship, is ranked in the top 10 in the country at that level, has won three regular-season games already this year by 40 points a contest, and threw a scare into Louisville once or twice in exhibitions over the past decade. Going into Sunday's contest in Lexington, the Tigers owned a respectable .300 winning percentage all-time against the Wildcats, one of college basketball's blueblood programs.
So, yes, Kentucky's 69-point margin of victory was impressive. And yes, John Calipari's team is loaded with talent at every position. Yes, UK has such an embarrassment of riches that Coach Cal can use a platoon system to run McDonald's All-Americans on and off the floor at a whim if he so chooses.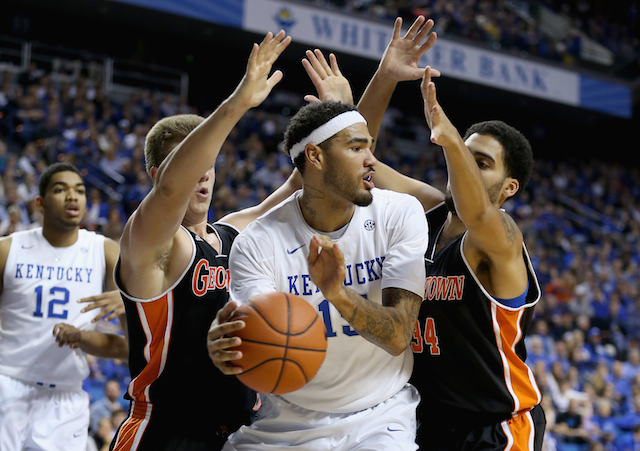 Could the 2014-2015 Kentucky Wildcats beat an NBA team?
We're blaming Georgetown College coach Chris Briggs for the whole storyline, such as it is. He's the one who told reporters after Sunday night's lopsided defeat that UK "could have beaten some NBA teams tonight, there's no question in my mind." We don't blame Briggs for telling his team that: After a morale-crushing, embarrassing loss where Kentucky shot 63.9% from the floor and Georgetown 27.9%, he needed to tell them something to feel better about themselves. But, making that statement in the postgame press conference has set off the latest round of this worthless debate from coast to coast.
Could the 2014-2015 Kentucky Wildcats beat an NBA team?
To Briggs' credit, he obviously believed what he was saying, because he doubled down a few minutes later, "Honestly, I don't see how they're going to get beat this year," the Tigers' coach said. "I don't like to say that, because I know people have off nights, and things can happen…injuries, and things like that, but if they play like they did tonight, they're an NBA playoff team."
Uh-oh, new storyline: Could the 2014-2015 Kentucky Wildcats make the NBA playoffs?
It doesn't matter which question we tackle: They're both dumb. Who cares whether or not Kentucky could beat an NBA team? Why does it matter in the slightest whether or not the Wildcats could make the NBA playoffs? They're not going to get the chance. Let's all say that together one more time so it sinks in: They're not going to get the chance.
You can talk until you're (bluegrass) blue in the face about how Calipari's stacked roster might fare against the injury-ridden Lakers. You can spend plenty of time around the water cooler breaking down a hypothetical matchup between the 2014-2015 'Cats and the clearly-tanking 76ers. Knock yourself out, but nothing will change. That matchup you're wasting time debating will remain forever and always hypothetical. And, to make matters worse, it's a tired comparison. Does Alabama's football team look extra-impressive this year? Let's wonder out loud if they can beat the Jaguars. Or the Raiders. Or whomever. It's just like the "Who would win one-on-one: Michael Jordan in his prime or LeBron?" question. News flash: Both players will never be in their prime at the same time. Ever.
All Briggs's comments really did Sunday night was make John Calipari's life more difficult. Now, instead of trying to help his players win the 2015 college basketball national championship (the only goal that really should matter to his team), Calipari is stuck answering questions about a level of competition he doesn't have to face. That's probably why Calipari's first comment Sunday after Briggs's bold proclamation was, "Coach, did you do that to me?" He echoed the sentiment on his Twitter feed this week, posting, "Let me be clear: If we played ANY NBA team, we would get buried. ANY."
Could the 2014-2015 Kentucky Wildcats beat an NBA team?
Calipari shouldn't have to answer that question, because no one should be asking it. And, less than 12 months after UK fans started stocking up on 40-0 shirts before the season even began (only to win less than 30 games), the UK vs. NBA dream matchup is just another distraction the head coach has to eliminate for his team. At least 40-0, while unrealistic, was a possibly obtainable goal. Beating an NBA team is not. So, please, let's move on already.
Could the 2014-2015 Kentucky Wildcats beat an NBA team?
Who cares?