Could Tom Brady and the Buccaneers Actually Benefit From Chris Godwin's Devastating Knee Injury?
The Tampa Bay Buccaneers have endured a rough week. First, Tom Brady got shut out for just the third time in his career as the New Orleans Saints frustrated the Buccaneers on Sunday night.
Then, Mike Evans, Chris Godwin, and Leonard Fournette suffered injuries and will be absent from the Week 16 game against the Carolina Panthers.
Fournette landed on IR, Godwin is out for the season, and Evans could return in the regular season at some point. However, there is a possibility that Godwin's knee injury could actually benefit Brady and the Buccaneers in the long run.
Chris Godwin out for the year after suffering a torn ACL on a questionable tackle
Godwin left the game against the Saints after taking a brutal hit to his knee, although he was able to walk off under his own power. The day after the game, the news came in that his season was over after a torn ACL. This is just a brutal blow for Godwin, who was playing on the franchise tag and registering the best season of his career.
The hit on Godwin also became a talking point, with Brady voicing his displeasure on the situation after watching another impact player suffer a brutal blow.
Godwin led all Buccaneers players with 1,104 receiving yards and was likely on his way to beating his career-high (1,333 in 2019). Now, he heads for a long rehab process to get back as soon as possible, but this could severely damper his free-agency prospects.
Godwin's injury could play a major role in his free-agency process
Godwin was well on his way to cashing out in free agency, especially given his season. After winning the Super Bowl alongside Brady and Evans last season, the Buccaneers gave him the franchise tag and a nice one-year paycheck along with it.
But there is no denying that Godwin would have cashed out in 2021 free agency if he entered it.
He's proven worthy of a huge contract, but this ACL injury could prevent him from earning a big payday. On the other hand, this past offseason, Tennessee Titans edge-rusher Bud Dupree was given a substantial five-year deal worth $82.5 million despite tearing his ACL in his final season with the Pittsburgh Steelers.
It can go either way, but the fact of the matter is that the torn ACL might scare some teams from throwing the bag at him, which they likely would have done if it weren't for the severity of the injury.
Along those lines, the injury could make a return to Tampa Bay more likely — which is exactly what Brady wants.
Tom Brady and the Buccaneers might be able to benefit from the severity of Godwin's injury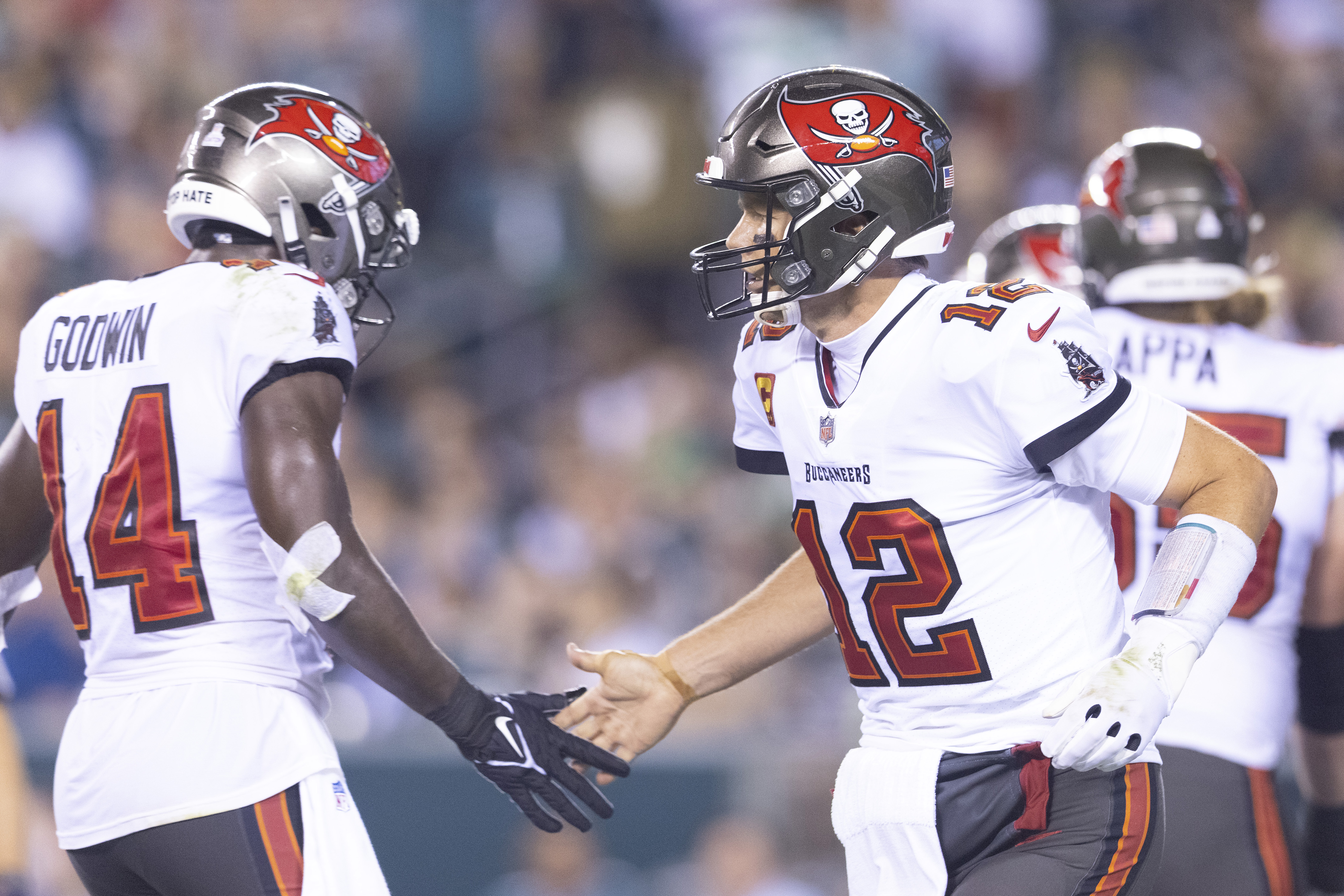 Any injury — and especially one like Godwin's — is never anything to be excited about. The hit on the Tampa receiver was questionable, and Brady was just one of the players to voice his opinion on it.
However, this could end up working in Tampa Bay's favor in the long run. Teams could hesitate to give Godwin the money he rightfully deserves if they are worried about his injury. In turn, that would make it easier for the Bucs to sign him to a new deal.
According to Spotrac, the Bucs have a projected $32,191,980 available in the 2022 free-agency period, which doesn't sound like a whole lot.
For some perspective, the New York Giants signed Kenny Golladay to a four-year, $72 million deal, and Godwin is far and away a better player, especially with the way the Giants receiver has played this year.
Godwin deserves that — if not more — and the Bucs more than likely wouldn't have been able to afford that.
But now they just might be able to land a deal with Godwin if teams back off due to the ACL injury. Furthermore, other names such as Allen Robinson, Davante Adams, Odell Beckham Jr., Michael Gallup, and possibly Mike Williams are expected to hit the free-agent market for the position group.
It will be interesting to see how much money Godwin gets after the injury, and this just might mean a return to Tampa Bay.
Stats Courtesy of Pro Football Reference