Country Music Star and Former 'Survivor' Contestant Chase Rice Previously Played College Football and Worked in NASCAR Pit Crews
College football is a breeding ground for players finding success in pop culture, and Chase Rice is no exception.
Much like ex-Miami Hurricanes defensive lineman Dwayne Johnson and former UAB quarterback Sam Hunt, Rice is known more for his entertainment career than what he did on the gridiron. But his journey to becoming a famous country music star involved a lengthy career in the ACC.
Chase Rice played college football at North Carolina
At 6 feet 3 inches and 230 pounds, Chase Rice had the perfect size to play linebacker at a legendary college football program.
After redshirting in 2004, Rice saw action at linebacker and on special teams at North Carolina over the next four seasons. He totaled 56 tackles, one sack, and an interception during that span.
The Tar Heels likely hoped they had a rising star on their hands after he recorded 31 tackles and a sack during the 2006 season. However, Rice injured his ankle in the 2007 opener against James Madison and missed the remainder of the season. He returned to tally 20 tackles in 11 games as a redshirt senior in 2008.
The Tar Heels went 18-29 in his first four seasons, counting the redshirt year. However, UNC improved to 8-5 in his senior year and lost to West Virginia in the Meineke Car Care Bowl.
Rice also worked in NASCAR pit crews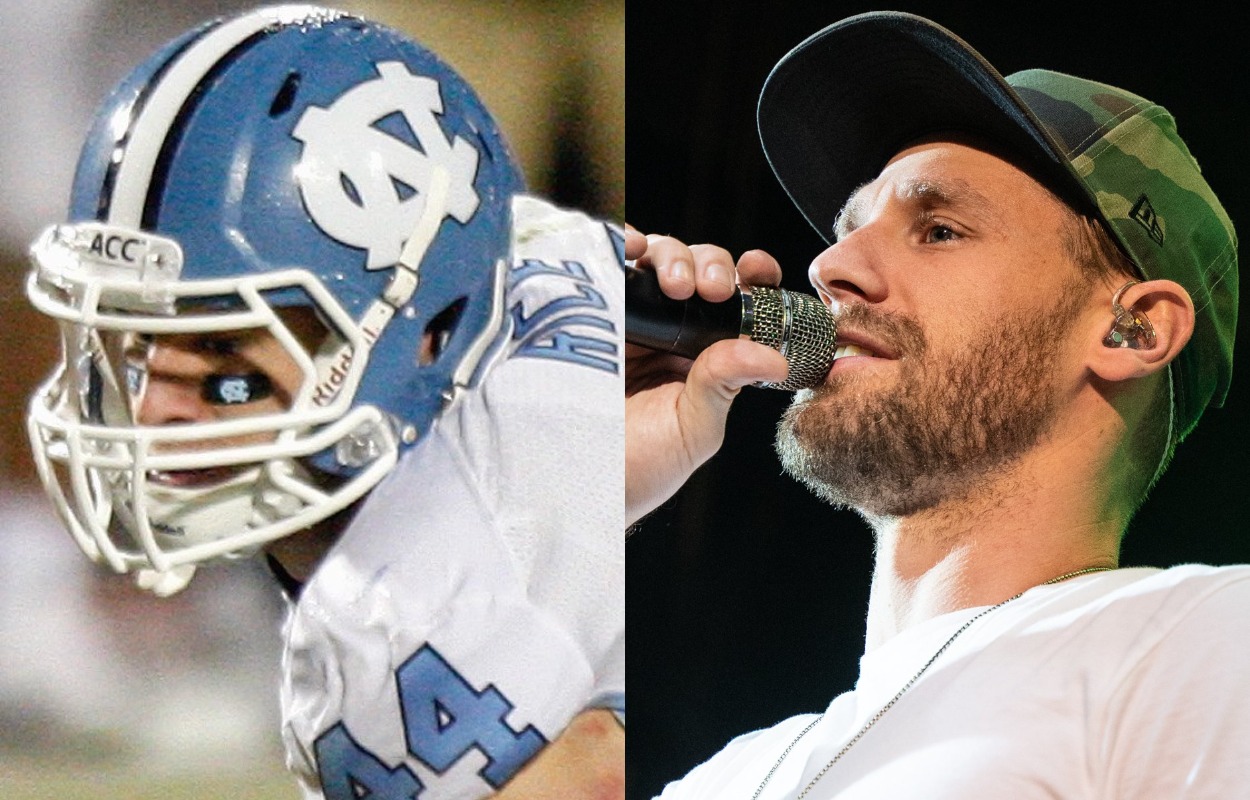 Although his football career was over, Rice nonetheless had an opportunity to stay in the sports world after he graduated from college.
According to Sports Illustrated, Rice briefly worked as a NASCAR pit crew member for Hendrick Motorsports. He served as a rear tire carrier for Ryan Newman.
Later, Rice worked with Jimmie Johnson's crew and helped the NASCAR legend win a Cup Series championship. Although he enjoyed the camaraderie of the racing world, the former college linebacker felt drawn to music, too. Eventually, he focused on becoming a country music singer after seeking advice from a chaplain.
Rice is a country music singer and former TV star
Rice's current life as he knows it truly began in 2010. He released his first album, Friday Nights and Sunday Mornings, that September.
That same year, he also appeared as a contestant on Survivor: Nicaragua. The season premiered only days after his album was released. Rice finished as the runner-up and lost to Jud Birza.
Rice spent the 2010s focusing on music, releasing four total studio albums and three extended plays. His most recent project, The Album, debuted on May 28, 2021.
Sports often provide strange and unexpected career paths. Few, if any, who had to block Dwayne Johnson at the University of Miami would have guessed he'd become one of the most prolific actors of his generation. Any of Rice's former North Carolina teammates who enjoy country music, Survivor, or both can undoubtedly relate to those former Hurricanes players.
Like Sportscasting on Facebook. Follow us on Twitter @sportscasting19.
RELATED: Wyatt Russell, the New Captain America in 'The Falcon and the Winter Soldier,' Saw His Pro Hockey Career End the Same Way His Famous Father's Pro Baseball Career Did