Cover All the Bases: 17 World Series-Worthy Recipes
The World Series has arrived, meaning it's the perfect time for baseball fans — even those not rooting for the Royals or Giants — to gather for a baseball-themed party. A successful gathering should include sensational stadium food, as well as a mix of fun baseball-shaped dishes. We've covered all of the classics, including hot dogs, Cracker Jacks, and peanuts, and have even included novelty desserts that transform cupcakes, strawberries, and ice cream into all things baseball. Knock your party out of the park by using these 17 recipes.
1. No baseball fan should be without Worth Pinning's Major League Baseball Cupcakes. You'll create this decadent dessert by molding Tootsie Rolls into gloves and bats, and using gum paste to make mini baseballs.
2. A baseball game isn't complete unless you have Cracker Jacks on hand. To prepare your own caramelized snack, follow The Kitchn's recipe, which was adapted from DamGoodSweet and Southern Living.
3. You can easily create your own mouth-watering hot dogs by following Martha Stewart's instructions. Celery seeds, peperoncini, veggies, and savory sauces separate this delicious dog from the pack.
4.  There's no way you'll be able to resist Mini Brat Corn Dogs with Cheddar Beer Sauce. Half Baked Harvest's recipe via Wisconsin Cheese is a gooey, fried dish of pure deliciousness.
5. Better Homes and Gardens' Baseball Glove Cupcakes are almost too cute to eat. You'll be amazed at what you can make using cake mix, food coloring, peanut butter cookies, and vanilla wafers.
6. If you're rooting for the San Francisco Giants, prepare a batch of Ballpark-Style Garlic Fries to eat while you cheer them on. Food Republic's recipe is bursting with glorious garlic and fabulously fresh parsley.
7. Whether you're attending or hosting a World Series party, these Chocolate-Covered Baseball Strawberries are a must-have dessert. Creativity goes a long way when making this sensational sweet — red and white melted candies will create the baseball and its stitching.
8. You'll hit a home run when you prepare Serious Eats' sweet, salty, and spicy Honey-Roasted Peanuts.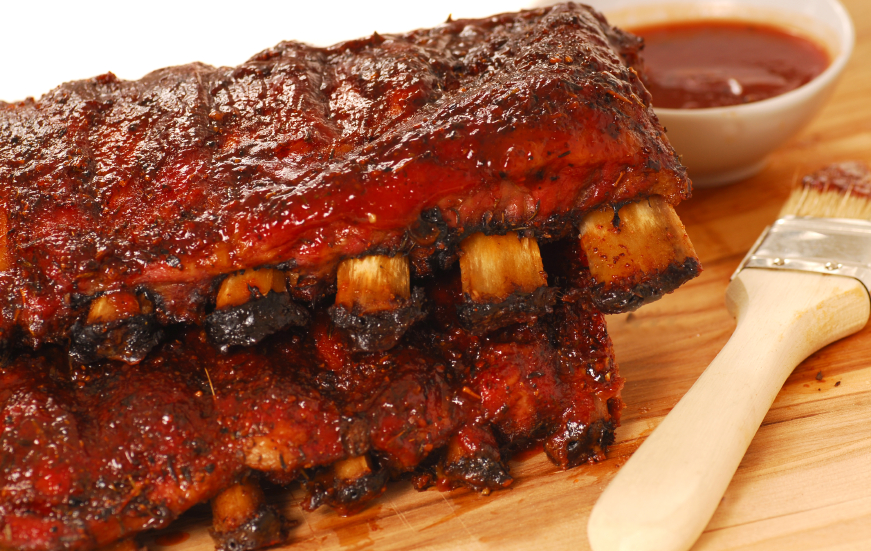 9. This one's for the Kansas City Royals fans out there. Sweet Baby Ray's suggests preparing Fortified Spare Ribs, which are flavored with whiskey, barbecue sauce, honey, and zesty seasonings.
10. Sally's Baking Addiction presents a soft pretzel that only takes 30 minutes to prepare. Top these palate-pleasing pretzels with salt or cinnamon sugar, or dunk them in a delicious cheese dip.
11. She Knows recommends preparing a saucy plate of CrockPot Teriayki Chicken Wings to enjoy while watching the World Series. This sweet and spicy dish creates tender meat that'll melt in your mouth.
12. You'll love everything about these unbelievably cheesy Barbecue Chicken Nachos. With Half Hour Meals' recipe, the more toppings you pile on, the better it becomes!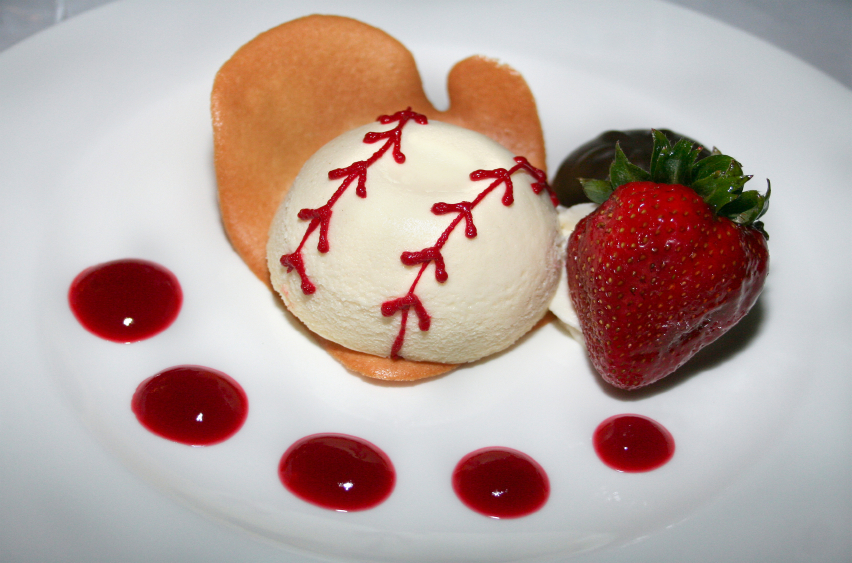 13. Satisfy your sweet tooth by making Baseball Ice Cream Cake. Breyers' recipe uses licorice, hot fudge, marshmallow cream, food coloring, and decorating gel to create an edible baseball.
14. Royals fans looking to replicate the Royal Blue Dog will love Aramark's recipe via The Daily Meal. Bacon, Gorgonzola cheese, and blue cheese dressing complete this specialty dish.
15. Wilton's delicious, unbelievably festive, and buttercream-frosted Baseball Cake is guaranteed to be a big hit with your party guests.
16. Giants fans will appreciate Sea Salt With Food's recipe for a Dungeness Crab Sandwich, which is bursting with crab meat, tomatoes, asparagus, creamy sauces, and a crunchy baguette.
17. Topped with chili, onions, Fritos, shredded cheese, and a gigantic beef patty, A Spicy Perspective's towering burger combines several baseball favorites, creating a dish that's unlike anything you've ever eaten.